Aaron Hernandez: Is The Rising Football Star's Shady Past Catching Up With?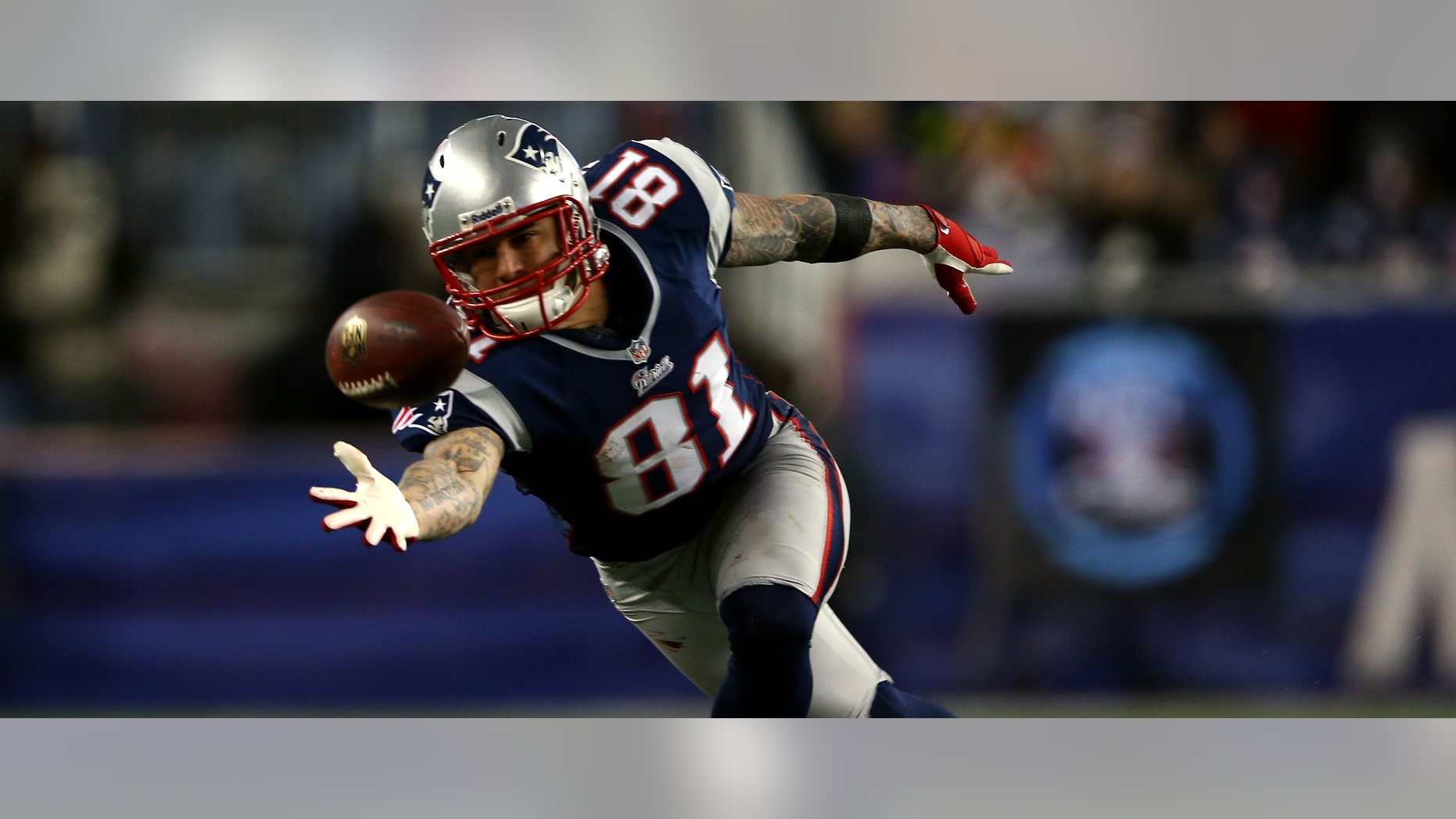 In his three seasons as a professional football player, Aaron Hernandez has built a solid reputation for his spectacular catches and ability to take hits.
The combination of Rob Gronkowski and Hernandez as tight ends for the New England Patriots revitalized the team into a steady Super Bowl contender.
But off the field, Hernandez, 23, just shocked his fans after news broke of the murder of semi-pro football player Odin Lloyd, 27. Reports have surfaced that authorities may want to question Hernandez in connection to the murder and that an arrest warrant was issued for him, for obstruction of justice in the murder investigation.
Just before Hernandez went to college in Florida, the 23-year-old Puerto Rican  from Bristol, Conn., had lost his father,  Dennis, when he was 16.  His father died at 49 from hernia surgery complications.
Many believe this gave Hernandez motivation to act out.  He started hanging out with questionable people.
"It was a rough process, and I didn't know what to do for him," Hernandez's mother Terri told USA Today in 2009. "He would rebel. It was very, very hard, and he was very, very angry. He wasn't the same kid, the way he spoke to me. The shock of losing his dad, there was so much anger."
The following year, Hernandez decided to turn down an offer to play football at the University of Connecticut, opting instead for the University of Florida, where he spent three years under coach Urban Meyer, winning a national championship in 2009.
Hernandez had failed a drug test at Florida and was suspended one game but had a close relationship with coach Meyer,who, according to reports, tried to keep Hernandez's shady friends away from him.
Yet Hernandez kept latched on to those friends, according to The Boston Globe.
In 2007, Hernandez was questioned in the shooting of two men after a loss to Auburn.  Hernandez never commented on the situation.
"There were certainly some off field concerns when he was leaving Florida for the NFL," Doug Kyed, a writer for New England Sports Network, told Fox News Latino. "But no one really knew about any further issues until this week."
His marijuana use and "maturity issues" were known to the public as he dropped from a possible second round pick to the fourth round when the Patriots picked him, Kyed said.
But what wasn't revealed until now was that many teams removed him from their draft boards as drug use and a connection to shady or violent characters tarnished his reputation.
"It was pretty well known that he had failed some drug tests at Florida, and there were questions about his maturity that come along with that," an unnamed scout told the Globe. "You worried about the people he hung out with."
And while the Patriots, led by coach Bill Belicheck, have become known for their nonsense attitude, they were also known to take risks on some players.
"I don't think the team was in the dark about it," says Kyed.  "They've been known to take some risks."
While Hernandez flourished in the Pats system there was distance between himself and the rest of his teammates and the term "maturity issues" would arise occasionally.  He opted for his friends back home over his teammates
"It seems like he didn't really hang with his teammates off the field like the rest of the team did," said Kyed.
"It was a thug life," is how one teammate described some of Hernandez's friends, according to Sports Illustrated.
For the Patriots, the reward they've been given over the past three seasons now turns toward what to do with Hernandez at the worst possible time.
Gronkowski recently had back surgery, in addition to four forearm surgeries this off season.
Hernandez, who received a $40 million, 5-year contract extension last season, was expected to hold the Patriots over until both men were healthy and ready to lead the team's offensive attack than is now missing wide receiver Wes Welker, who left New England for the Denver Broncos.
"It's a huge deal, it really is," Kyed said.  "The two biggest contributors in the passing games were Gronkowski and Hernandez."
Hernandez has yet to comment on the Lloyd murder. Hounded by reporters while pouring gas, he climbed into his car and drove away without saying a word. And though he has yet to be charged, the murder connection is already having an impact on his professional career.
Cytosport, a nutrition company, announced Friday it was dropping its sponsorship deal..
Follow us on twitter.com/foxnewslatino
Like us at facebook.com/foxnewslatino