Aaron Hernandez Fends Off Murder Charges In Letters To Fans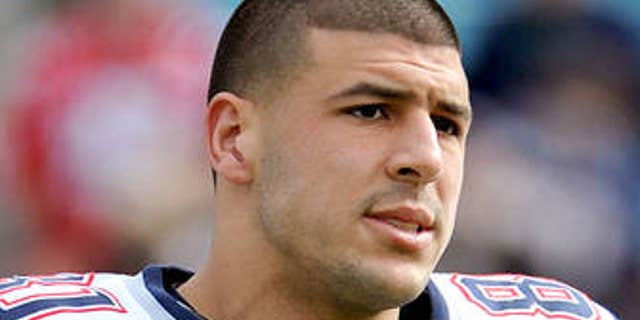 He continues sitting in jail and there haven't been any significant developments in his legal case, but somehow former New England Patriots tight end Aaron Hernandez continues to make news.
The faces various murder charges, including for the killing of 27-year-old semi-pro football player, Odin Lloyd.
His top jail cell hobby seems to be corresponding with fans who are now selling the letters he writes back to gossip web sites.
Earlier this month, Hernandez said he was innocent and can't wait to prove "all the haters and down talkers wrong," in a letter obtained by TMZ.com.
Hernandez added: "I know 'God' has a plan for me and something good will come out of this…I've always been a great person an[d] known for having an amazing heart!"
Another leading gossip site, RadarOnline.com, released a letter where he talked about missing his daughter.
"I miss my little girl terribly an[d] my biggest fear of all is she won't daddy," Hernandez wrote, complaining he heard his daughter say "Da Da" while he was behind bars.
He continued to profess his innocence in his fan letters.
"I'm a great dude," Hernandez told one fan. "Don't believe all the negative publicity."
In the meantime, police have not found the weapon that killed Lloyd but may have found a gun linking Hernandez to another case, a much publicized double-murder in Boston, which may be the reason Hernandez executed Lloyd.
The gun was found in the car of Jailene Diaz-Ramos after she was involved in an accident in June. Court documents say Diaz-Ramos told police the gun was left in her car after she gave a ride to some "football players" whose names she didn't know.
According to the CBS News affiliate in Springfield, Mass., ballistics tests show the gun is the same one used in July 2012 when Daniel Abreu and Safiro Furtado were fatally shot outside a Boston club.
The shooting took place after an altercation inside the club.
Follow us on twitter.com/foxnewslatino
Like us at facebook.com/foxnewslatino