A pair of twins hopes their long, shared journey continues to the NFL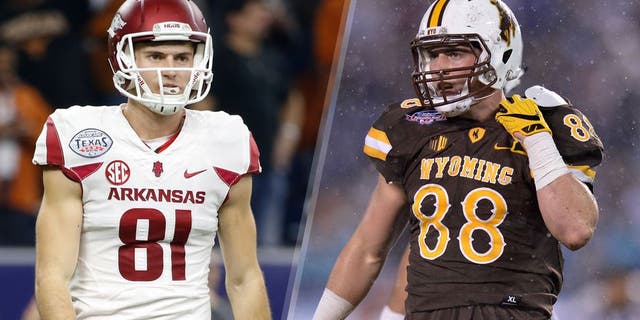 NEWYou can now listen to Fox News articles!
There are hundreds of players whose lives will be highlighted andultimately changed by this week's NFL Draft. Each of these players has their own unique story, but for the Hollister twins whose paths weaved through three colleges it's an ideal window to spotlight a relationship that is truly rare.
Jacob, a tight end, ended up at Wyoming. Cody, a wide receiver, finished up at Arkansas. Both are hoping to hear their names called. It probably won't happen until Day Three, if at all, but don't be surprised if these two former walk-ons who started their careers at Nevada end up around the NFL for a long time.
On Nov. 18, 1993, Jennifer Connolly gave birth to twin boys. First came Jacob.
"He was in such a rush, he shot out so quick, the nurse dropped him," Connolly said.
Ninety-eight minutes later, it was Cody's turn. "But he was stuck and they couldn't clear his lungs, he was stuck. It seemed like forever and everything just stopped. It was surreal. It took 90 seconds."
As close as twins often are, the Hollister brothers whose last name comes from their father developed a unique bond that was strengthened through some challenging times at home. When they were three years old, their parents divorced, and then they went through subsequent divorces by each of their parents later in their upbringing.
"When you're that young, we really didn't know what was going on," said Cody. "Us kids had to stick together."
For much of their lives in Bend, Oregon, Jacob was always the quarterback and Cody was his go-to receiver. That combination came up big for Mountain View High, leading the school to the 2011 Oregon Class 5A championship the town's first state title in 71 years. Jacob had a 31-3 TD-INT ratio and Cody caught 64 passes for 15 of those touchdowns.
The brothers, who describe themselves as late bloomers physically, had some recruiting interest from Idaho, but no FBS programs offered them a scholarship, so they opted to walk-on for Chris Ault's team at Nevada.
The plan was for the twins to get in a good college weight program and develop so they could sooner than later earn scholarships. However, when Ault stepped down in their first season, the Hollisters looked for Plan B.
"We were paying for Nevada on our own," Jacob said. "When Coach Ault left, we thought, 'We gotta get out of here. It'll take longer to earn scholarships. So I Googled 'Top JUCO football in the country.' Arizona Western popped up. I emailed Coach (Tom) Minnick."
In junior college, the twins got another curveball thrown at them. Arizona Western already had a pretty good QB (Tyler Rogers, who later started at New Mexico State). The staff asked Jacob to switch to tight end even though he only weighed about 210 pounds.
In 2013, as a redshirt freshmen, Cody shined. He had 69 receptions for 934 yards and five touchdowns and made all-conference. Jacob's numbers as he adjusted to his new position were modest: 10 catches, 96 receiving yards. Both were extended scholarship offers to Wyoming. But then Arkansas also came in for Cody, who had a hard time imaging life away from his twin, especially since Jacob had always acted like the big brother for him, whether that meant doing all their cooking or being the outgoing one.
"I really took the role of being the front man and introducing ourselves to people," Jacob said. "I wouldn't say protective but just a little more outgoing. I knew it would be hard for him to leave. I tried nudging him, 'Hey, you can't pass up this opportunity to play in the SEC.'"
The brothers split in 2014. Jacob had to report to Wyoming first and had a 14-hour car ride to Laramie.
"I remember the day he left. It was a couple of days before I was to leave," Cody says. "It was such a sad day. It was really tough. I made him a little bro CD. I put on there 'Brother' by Matt Corby; Brother by Needtobreathe and our favorite song, 'Where is the Love?' I don't know if he'll admit it, but I bet he was crying listening to it."
Cody started seven games as a sophomore wideout at Arkansas, but the guy who knows him best said the real eye-opening part was when Jacob visited him in Fayetteville. "It was like, 'Whoa, this is whole new dude,'" Jacob says. "He got really involved with the church. The way he was carrying himself was different. He became his own man. I was just so proud of the path he was on."
The twins would talk on the phone every day, often two to three times a day.
"Honestly, in the beginning it was really hard," Cody says. "We're naturally such home bodies. He's kind of been the big brother. I never had to deal with things on my own. I really had to mature into my own man. We both needed it. Growing up as twins you grow up as a part of each other. I really thank God every day for (how it's played out)."
A broken foot derailed his junior season. In 2016, he shared the team's Special Teams MVP award after making eight tackles.
Jacob got to Wyoming just as Craig Bohl had come from winning national titles at North Dakota State. Bohl inherited a roster with only one tight end.
"Our standards weren't terribly high (with tight end prospects)," said Wyoming offensive coordinator Brent Vigen. "When we first got here, he was probably 210, 215 pounds at the most. He was shorter and skinnier than what we'd like, but he just kept working his tail off. And we're super happy with the decision we made because from his junior to senior year, his leadership really blossomed and that was a big part of our jump from last year (when the Cowboys went from 2-10 to 8-6 as Jacob caught 32 passes for 515 yards and seven touchdowns.)
The twins trained for the draft in Fayetteville, which helped Jacob produce some eye-catching results at Wyoming's Pro Day, where at 244 pounds, he clocked a 4.64 40, vertical jumped 36.5 inches and broad-jumped 10-1. Cody, coming off toe surgery before the Hogs bowl game, didn't have his Pro Day until earlier this week. He weighed in at 208 pounds and, not shockingly, he produced almost identical workout numbers: running a 4.53 40; vertical-jumping 36 inches and broad-jumping 10-0.
NFL personnel people view Jacob as the more likely to go earlier in the draft with Cody as a possible seventh rounder/free agent type. "He's smart, tough and can run," said one NFL scout. "The main thing is he's a very good special teamer. All NFL teams are looking for that back-end of the roster guy and can play on all four special teams and you can bring him along and develop his as a receiver.
Jacob really gets offensive football. He sees everything through a quarterbacks eyes and he can do everything. You can line him up in the backfield. You can put his hand in the dirt and he plays so hard, so when he lines up to block you, hes going to be really competitive at the line of scrimmage.
"I think both guys will stick around the NFL for a long time," the scout added. "They're mature and ready to be professionals. And that's gonna help them big time because when rookie camp rolls around, they're not gonna need a bunch of extra reps."