49ers' Hayne may be ready to make impact sooner than later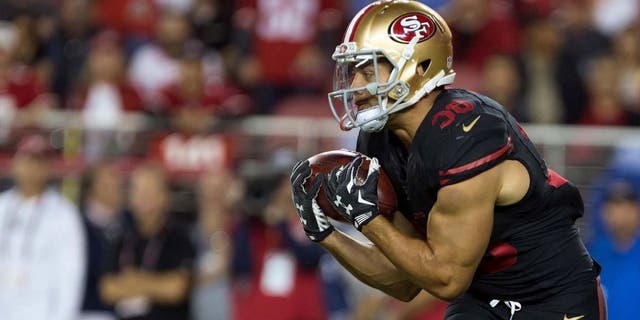 NEWYou can now listen to Fox News articles!
Jarryd Hayne could be in line for an expanded role in the backfield Sunday. Kelley L. Cox USA TODAY Sports
Jarryd Hayne could see his learning curve - and workload - accelerated when the San Francisco 49ers host the Baltimore Ravens on Sunday.
Hayne, the former Australian rugby star who announced he would take a crack at the NFL exactly one year ago Thursday, may be in line for some substantial duty in the backfield with starting running back Carlos Hyde nursing a foot injury and backup Reggie Bush dealing with a calf strain.
Hyde is expected to start and his absence from Wednesday's practice was view more as precautionary, but the second-year back already has 83 carries through five games - matching his entire output from his rookie campaign.
"I think each week he's getting comfortable," 49ers special teams coordinator Thomas McGauhey said of Hayne, who is averaging 10.3 yards on punt returns. "I think every rep he gets in practice and the games, I think he's getting more and more comfortable. He's starting to understand the game a little bit more offense and special teams-wise. He's getting better every week in the coverage units. So he just needs to keep going in that direction."
Hayne has seen only sparse action at running back with eight rushing attempts for 25 yards, but he nearly scored his first touchdown on a eight-yard run in last week's loss to the New York Giants. McGaughey reminded the media that that Hayne has only five football games under his belt, but said he has the potential to be one of the league's elite punt returners.
"Next year, he might be leading the league in punt returns. Who knows?" McGaughey said. "He has that kind of ability to get those big averages because he's a big straight ahead, strong runner. And he does a good job making people miss in space. So, I mean, he has the ability to be a very good punt returner."
MORE NEWS: Want stories delivered to you? Sign up for our NFL newsletters.