2016 NFL Draft: Fantasy Football First Round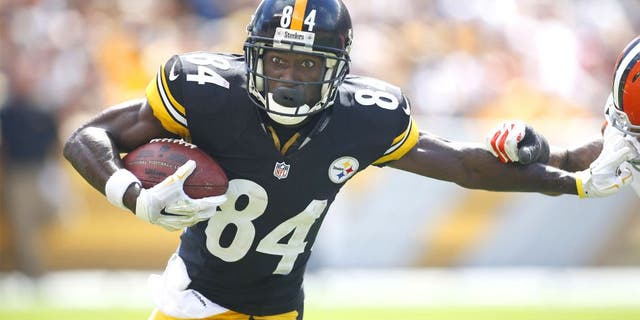 NEWYou can now listen to Fox News articles!
On Thursday, the NFL takes part in an event that millions of people all over the world try to mimic every year: the NFL draft.
For those who love fantasy football, their draft is sometimes the best time of the year. The strategy, the excitement, the unpredictability. It's all replicated.
Now, I know we are months away from your fantasy draft, but it's never too early to start preparing. Here are my Top 12 picks in the fantasy football first round, using both standard and PPR scoring.
Standard format:
1. Cam Newton, CAR (QB)
It may seem crazy take a quarterback with the first pick, but hear me out. Last year, the Top 17 scorers in standard leagues were all quarterbacks. Only six QBs tallied at least 300 fantasy points. Newton led the way with 389 points, which was 45 point more than the second place finisher, Tom Brady. Newton was able to do that without Kelvin Benjamin in 2015. With his #1 receiver returning, Newton should be able to enter the 400-point range.
2. Le'Veon Bell, PIT (RB)
He played in only six games in 2015. In that span, Bell averaged 4.9 yards per carry. He was also one of the top, if not the top, pick in most fantasy drafts in 2015. Two years ago, Bell scored the eighth-most fantasy points (288 pts). DeMarco Murray was the only skill-position player to finish ahead of him that season (294 fantasy points). Now that Bell is fully recovered from his MCL injury, I would put him towards the top of the draft board, again, for 2016.
3. Antonio Brown, PIT (WR)
4. Todd Gurley, STL (RB)
He basically missed the first month of the regular season, but it did not take too long for Gurley to get into an elite NFL RB form. In just his second game, Gurley rushed for 146 yards. Also, in the last 12 games, he scored 10 rushing touchdowns. Four running backs led the league with 11 rushing TDs. With a full season in 2016, Gurley could lead all backs in TDs and possibly yards (he was 379 rushing yards away from first).
5. Adrian Peterson, MIN (RB)
After missing almost all of 2014, the model of consistency returned in 2015. Peterson rushed for 1,485 yards and 11 touchdowns. Entering the 2016 season, he is 31-years-old and is showing zero signs of regression. Last year, ADP scored the 23rd-most fantasy points (230) and was second to only Devonta Freeman among running backs.
6. Julio Jones, ATL (WR)
7. Odell Beckham Jr., NYG (WR)
8. David Johnson, ARI (RB)
When Johnson was healthy, you could make a case for him being a Top Five running back. After injuries to Chris Johnson and Andre Ellington, DJ became the man. In December, he rushed for 417 yards, tallied 182 receiving yards, and scored five touchdowns in four games.
9. Jamaal Charles, KC (RB)
Those who drafted Charles last year (or in 2011) might avoid him, but he'll be tempting to everybody else at the nine-spot. Before 2015, Charles had back-to-back seasons where he rushed for over 1,000 yards and at least nine rushing TDs.
10. Devonta Freeman, ATL (RB)
11. Lamar Miller, HOU (RB)
Remember how excited you were to draft Arian Foster, before the hamstring injuries? Or, last year, when you thought Miller was finally going to get his carries in Miami? Combine that excitement into one package and you have Miller's ceiling for 2016. Foster's best season for the Texans was 1,616 rushing yards with 16 TDs. He also had 327 carries in that 2010 season. Miller averages 4.6 yards per carry in his career and hasn't had more than 216 rushing attempts in a season.
12. Rob Gronkowski, NE (TE)
PPR format:
1. Antonio Brown, WR (PIT)
When Ben Roethlisberger was healthy enough to play, Brown was phenomenal. He finished the 2015 campaign with 388 fantasy points, only one point behind Newton for the most. Big Ben missed four games last year. With Roethlisberger back in action, Brown could be the highest-scoring fantasy player of 2016.
2. Julio Jones, WR (ATL)
In a weird comparison, Jones' 2015 season was much like the San Antonio Spurs of 2015-16. Everybody was focused on the Golden State Warriors, or in this case, Antonio Brown, and people didn't really notice how great of a year the Spurs/Jones had. At the end of the regular season, Jones compiled 381 fantasy points (seven points fewer than Brown). He set career-highs in receptions (136) and yards (1,871), while also scoring eight TDs. Matt Ryan also looked his was 203 times in 2015. That was 10 more targets than Brown. Also, only three wide receivers accumulated over 180 targets last season.
3. Le'Veon Bell, PIT (RB)
4. Odell Beckham Jr., NYG (WR)
Does Beckham's value take a hit now that Josh Norman is in Washington? Not at all. Two reasons why: 1) Against Norman last year, Beckham caught six passes for 76 yards and a TD. That's 19 fantasy points. I'd take that. 2) The Giants face Washington in Week 3 and...Week 17. For most leagues, the final game of the regular season has zero impact. If you are in a league where Week 17 is your Super Bowl, we might have an issue.
5. Todd Gurley, STL (RB)
6. Adrian Peterson, MIN (RB)
7. DeAndre Hopkins, HOU (WR)
There were three receivers who dominated the target category in 2015: Jones, Brown, and Hopkins. All three notched over 190 targets last year. The fourth receiver, Demaryius Thomas, had 176 targets.
8. Cam Newton, CAR (QB)
9. Rob Gronkowski, NE (TE)
Yes, potentially missing Tom Brady for the first four games does hurt Gronk's stock. However, his back-to-back seasons with at least 70 receptions, 1,100 yards, and 11 TDs are hard to ignore. Plus, if Brady's suspension gets overturned, again, the Brady/Gronk combo will look to destroy all who dares to stand in their way.
10. Devonta Freeman, ATL (RB)
It's tough to rely on a player after a break-out season for your first round selection. Will he regress or will he improve? In PPR leagues, choosing Freeman has less of a risk because he'll get plenty of targets from Matt Ryan. Last year, Freeman had the third-most targets (97), receptions (73), and receiving yards (578) among his fellow running backs. Danny Woodhead and Theo Riddick were one and two. However, Freeman far surpasses them in the running game. Freeman also finished with the ninth-most fantasy points (317) in 2015, which was the most out of the running back pool.
11. Lamar Miller, HOU (RB)
12. Jamaal Charles, KC (RB)