10 Reasons to Watch UFC 194, TUF Finale and UFC Fight Night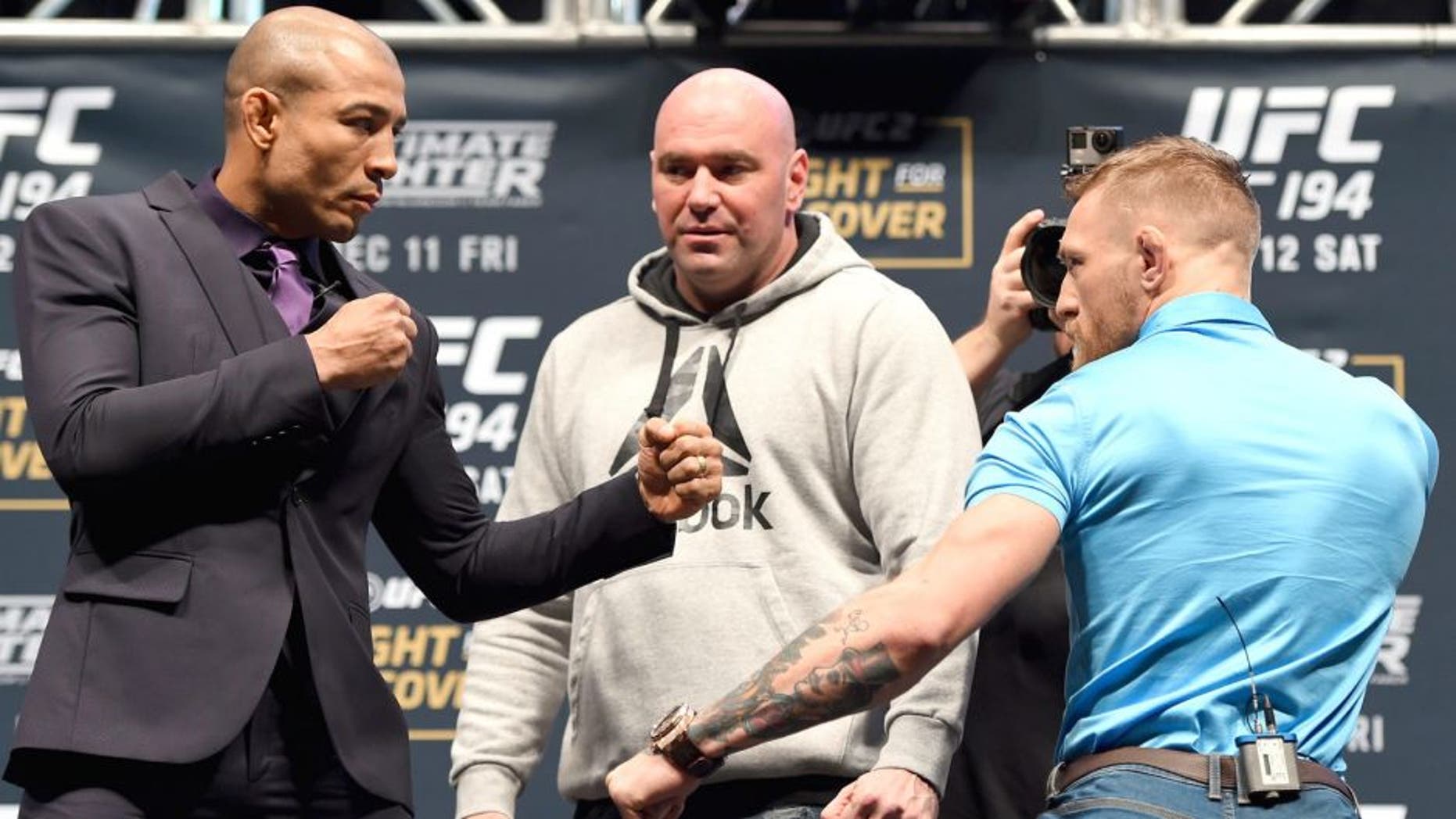 This week will mark one of the most ambitious endeavors in UFC history as the world's biggest mixed martial arts promotion puts on three cards in three days all culminating in Saturday's UFC 194 fight card headlined by featherweight champion Jose Aldo taking on Conor McGregor.
The middleweight title will also go up for grabs this weekend with Chris Weidman taking on possibly his toughest challenge to date in former Strikeforce champion Luke Rockhold.
The action doesn't slow down on Friday with featherweights Frankie Edgar and Chad Mendes doing battle as well as the finals of the latest edition of "The Ultimate Fighter".
It all kicks off on Thursday with a show airing live on UFC Fight Pass with the main event pitting rising star Paige VanZant against Rose Namajunas.
With three cards and more than 30 fights, there are a multitude of reasons to watch every last minute but we're going to give you 10 good reasons to tune into UFC Fight Night: Namajunas vs. VanZant, "The Ultimate Fighter" finale and UFC 194: Aldo vs. McGregor.
Is Paige the Real Deal?
Paige VanZant is already one of the biggest names in the UFC women's divisions but she hasn't faced a top five fighter until now to prove if she's a legit threat to the title and champion Joanna Jedrzejczyk.
VanZant takes on former title contender Rose Namajunas, who is battle tested and proved to be one of the best strawweight fighters on the planet. Namajunas is a lightning fast finisher with some of the most creative submissions in the sport and if VanZant wants to prove that she's a contender and not just the leader of the latest popularity contest, she needs to get a win on Thursday night.
The Biggest Threat to the Bantamweight Title Fights on Thursday
The bantamweight title will go up for grabs in January when TJ Dillashaw takes on Dominick Cruz, but the man who might be poised to take a serious run at the winner competes on the UFC Fight Pass undercard this Thursday night.
Aljamain Sterling is one of the most promising prospects the 135-pound division has ever produced and he's looked spectacular since joining the UFC. Sterling is undefeated and a true hybrid mixed martial artist with slick striking and nasty submissions. His manager calls him a mini-Jon Jones and that's honestly not a bad description.
If you're looking for a bantamweight contender with a title fight in their future, Sterling is the one to watch.
The Best Featherweight Fight That's Not for a Title
Frankie Edger has been one of the best pound-for-pound fighters in the sport for the last few years after winning the lightweight title by defeating UFC Hall of Famer BJ Penn (on three occasions actually) and then eventually dropping down to featherweight where he's won his last four fights in a row while looking better than ever before.
Meanwhile, Chad Mendes has proven time and time again that he's one of the strongest knockout punchers the 145-pound division has ever produced and he's given both Jose Aldo and Conor McGregor arguably their toughest tests to date.
Now these two meet in the main event for "The Ultimate Fighter" finale on Friday and this five round bout could be the bout everyone is talking about come Saturday morning. Don't forget the winner also likely stands in line to face the winner of Aldo vs. McGregor so there's plenty on the line in this one.
The Lightweight All 155-Pounders Should Know
The lightweight division is arguably the best and deepest weight class in the sport and Tony Ferguson has looked better than ever lately as he's taken over a spot in the top 10 while picking up six wins in a row.
Most recently, Ferguson put a beat down on Josh Thomson in one of the most lopsided decisions of the year and now he's storming towards title contention as he faces Muay Thai specialist Edson Barboza on Friday night at "The Ultimate Fighter" finale. Barboza is one of the best strikers in the division and if Ferguson can get past him it sends a strong message to everybody in the top five that there's a new contender coming and they need to watch out.
Can Artem Lobov Make it Four TKO's in a Row?
It's funny to think that when "The Ultimate Fighter" started this past season, Artem Lobov was eliminated in the opening round after a controversial decision gave a win to his opponent Mehdi Baghdad rather than demand a third round in a very close fight.
Lobov was given a second chance on the show and ended up winning all three of his fights by knockout or TKO -- the only three knockouts on the entire season!
Now Lobov will look to make it four in a row as he faces Ryan Hall on Friday night with a chance to join his teammates Conor McGregor, Gunnar Nelson and more on the UFC roster while hopefully wrapping up another knockout to add to his record. Lobov is a fun fighter to watch and like McGregor, he's got a sharp tongue and a lot of wit so this is a guy who could be poised for big things in the future.
Featherweight Show Stealer
There are going to be a lot of eyes on the featherweight division this weekend with Aldo vs. McGregor as well as Edgar vs. Mendes, but a real show stealer kicks off the UFC 194 main card when Max Holloway takes on Jeremy Stephens.
Holloway has put on a blistering pace lately with seven straight wins while knocking off several top contenders including a submission finish over Cub Swanson as well as Cole Miller and Andre Fili. Holloway wants nothing more than to get into title contention in 2016, but to stay on track he's going to have to get through Stephens, who is one of the most explosive knockout strikers in UFC history.
Stephens has six knockouts on his UFC record -- including a vicious finish over current lightweight champion Rafael dos Anjos -- and he would love to add Holloway's name to his resume as well. This is a barnburner of a fight and a great way to kick off UFC 194.
Possibly the Best Two Grapplers to Fight in the UFC
Mixed martial arts demands that every fighter carry a set of skills beyond one particular discipline, but when it comes to grapplers in the welterweight division there are none better than Demian Maia and Gunnar Nelson.
Maia has been a submission machine his entire career, from Brazilian jiu-jitsu competitions to his time in the UFC, but he'll go up a grappler this weekend with similar credentials and a devastating finishing style on the ground.
Nelson trained under Renzo Gracie to earn his black belt and he's not afraid to go hold for hold with anybody on the mat so if this fight hits the ground, don't blink because these two are more than capable of some of the best grappling you'll ever witness in a MMA contest.
Who's Next at Middleweight?
It's more than likely that the next challenger at 185-pounds will come out of the bout at UFC 194 between Ronaldo 'Jacare' Souza and former Olympic silver medalist Yoel Romero.
'Jacare' has been a machine since arriving in the UFC from Strikeforce while winning five fights in a row inside the Octagon and eight overall dating back to 2012. 'Jacare' is well known for his grappling, but he's developed a deadly striking arsenal with the power to put anybody's lights out at 185-pounds.
On the other side of the Octagon, Romero might be one of the best pure athletes MMA has ever seen. He's a world class wrestler, who has twice defeated Cael Sanderson (arguably one of the best American wrestlers in the history of the sport) and his evolution in MMA has been nothing short of impressive. Romero just recently dispatched Lyoto Machida by TKO and he's now poised to make a run at the belt -- if he can get past 'Jacare' on Saturday night.
Weidman's Toughest Challenge
To win the UFC middleweight title, Chris Weidman had to go through the fighter many consider to be the greatest of all time, Anderson Silva. He's also defeated Vitor Belfort and Lyoto Machida in separate title defenses, but he might be going up against his toughest challenge this weekend in Luke Rockhold.
Rockhold has destroyed the competition lately with four wins in a row, finishing all of his opponents before the final bell. He submitted Machida, Michael Bisping and Tim Boetsch while also picking up a knockout over Costas Philippou during the same four fight stretch. He also holds wins over fighters such as 'Jacare' Souza and Tim Kennedy.
Rockhold might just be the best middleweight in the world right now but to prove it he's going to have to find a way to rip the belt away from Weidman, who has looked unstoppable during his UFC career.
Biggest Title Fight in History?
It probably doesn't even need to be said that Jose Aldo versus Conor McGreogr is one of the most highly anticipated fights in UFC history, but when it's all said and done it could also be one of the biggest.
The fight will generate one of the largest gates in MMA history and pay-per-view sales are expected to reach somewhere near one million.
Aldo is the only featherweight champion the UFC has ever known and he's currently ranked No. 1 pound-for-pound in the sport. McGregor is a loud trash talker who has backed up every word he's said inside the Octagon with six straight UFC wins including victories over Chad Mendes, Max Holloway and Dustin Poirier.
The tension in the air in Las Vegas on Saturday night will be palpable as these two fighters hit the Octagon and there's little doubt that Aldo vs. McGregor will ultimately be the must see fight of 2016 so don't miss it!