What Is a High-Efficiency Washer? Going Green in the Laundry Room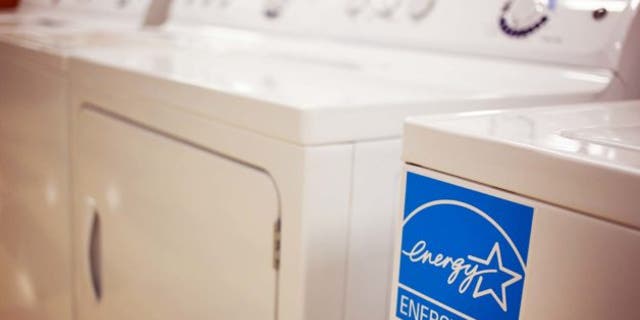 Anyone who has shopped for laundry detergent or a washing machine has probably seen "HE" on their labeling. So what does it mean? HE is shorthand for "high-efficiency," the buzzword attached to appliances and household products that are more energy-efficient and cost-effective.
So is an HE washer really worth the extra cost? And how can it help you save money on energy bills and reduce your global footprint?
"HE washers feature technology that helps substantially reduce the amount of water and energy needed to do a load of laundry," says Nancy Bock, senior vice president of education at the Washington, DC–based American Cleaning Institute. These machines use a lot less water during each wash, and both front-loader and top-loader HE washers spin faster than top-loaders with center agitators.
How are HE washers more efficient?
Energy Star, an EPA-backed labeling program that helps people save energy, says top-loading washers built before 2003 are "significantly less efficient than newer models," driving up a family's bill about $210 a year in water and energy costs.
HE washers, which first appeared in the U.S. about 20 years ago, are front-loading and top-loading machines that are gentler on clothes, use less water, and squeeze more water out of clothes, thereby reducing drying time. They have bigger tubs, so you run fewer cycles, and some have sophisticated wash procedures that flip or spin clothes through a water stream. They also rinse clothes through a spray of water rather than a letting them soak.
These machines are dubbed "high-efficiency," because they use 20% to 60% less water and 20% to 50% less energy than traditional models. Energy Star says a certified washer can save you about $45 a year on utility bills and about 3,000 gallons of water.
How long does it take for an HE washer to pay for itself?
An HE washer is more expensive than a traditional washer—the former costs between $500 to $1,600, while the latter costs anywhere from $300 to $1,000. Despite the higher price tag, studies show that a high-efficiency washer is worth it; you just won't see the payoff for a few years.
The Christian Science Monitor crunched some numbers and figured that an HE washer saves 21 cents per load in energy and water costs. Energy Star reports that the average family washes about 300 loads of laundry each year; so at that rate you'd have to do almost 2,000 loads—or six years' worth of laundry—to make an HE washer worth it. However, manufacturers say you should get at least 10 years out of your laundry machine.
What is HE detergent?
Since HE washers work differently by using less water, the detergent you use must work differently, too. HE detergent produces fewer suds and disperses quicker than regular detergent. This is important because excess suds can "cushion" the tumbling action, preventing your laundry from being properly cleaned and leaving an excess residue in the washer tub.
The prices for both types of detergents are similar.
How to make the most of your HE investment
Once you've bought an HE washer, you can still save more water and energy by following these tips:
The post What Is a High-Efficiency Washer? Going Green in the Laundry Room appeared first on Real Estate News & Advice | realtor.com®.