The White House is haunted with 'friendly ghosts,' Jenna Bush Hager says
Jenna Bush Hager may no longer call 1600 Pennsylvania Avenue home, but the former first daughter vividly remembers a spooky encounter at the White House – with ghosts.
On Oct. 15, "The Today Show" star divulged that she and her twin sister, Barbara, were possibly visited by a paranormal spirit twice during their time residing in the storied presidential mansion.
"My phone rang, it woke us up in the middle of the night. We had a fireplace in our room, and all of a sudden we started hearing, like, 1920s piano music, as clear as day, coming out of the fireplace. I jumped in Barbara's bed, we were both awake," the 36-year-old mom of two revealed on the show.
CHIP AND JOANNA GAINES MAY MOVE MAGNOLIA'S HEADQUARTERS

"The next week, we heard the same thing – but opera. And we talked ourselves out of it, but then I said to a guy, Buddy, one of my favorite men in the world, who still works at the White House. I said, 'Buddy, you wouldn't believe what we heard last night.' And he goes, 'Oh, Jenna, you wouldn't believe what I've heard," she continued.
"It's haunted! It's scary, but they came with all good intentions. They were friendly ghosts," Hager Bush added with a laugh.
Though Halloween is just weeks away, the Bush twins have told the same ghost story before – and are still sticking by it.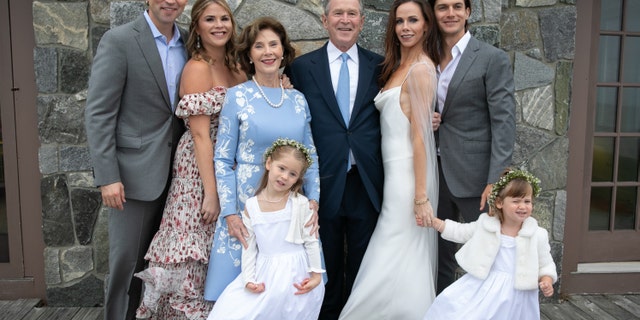 FOLLOW US ON FACEBOOK FOR MORE FOX LIFESTYLE NEWS
In October 2017 interviews with People and E! News, Barbara backed her sister's claims, which Jenna has previously described as "the wildest thing that ever happened to us living in the White House."
So scared by the music from "creepy olden times," in the wake of the aforementioned encounters, newlywed Barbara said that the pair momentarily considered running into their parents' room, before calming down.
"We talked ourselves down and did not get in bed with our parents," she told People.
The Bush twins wouldn't be the only first family members to believe the executive mansion is haunted, as the spirits of Abigail Adams, Andrew Jackson, and Abraham Lincoln have reportedly been spotted wandering through the132-room mansion through the years.