The Property Brothers find peculiar 'treasures' within a home's walls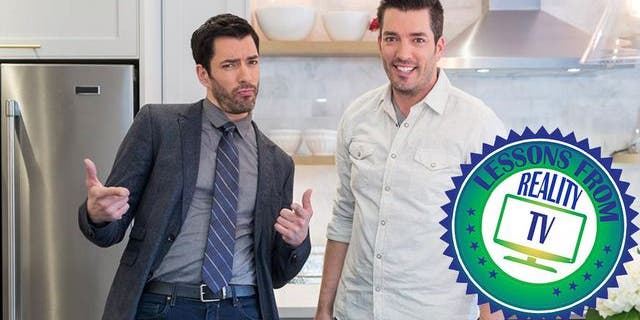 In "Property Brothers," Jonathan and Drew Scott work on a lot of historic homes, and they often hear the expression, "If these walls could talk..." But sometimes the walls do more than that—they give up valuable objects hidden within!
In the latest episode, titled "Structural Opportunity," Canadians Denise and Massimo have put up long enough with squeezing into a high-rise bachelor pad with a toddler and a newborn. They're ready to spread out in a dream house that's close to family—and Drew finds them the ideal four-bedroom, two-bath home in the perfect location. The catch? The massive renovations required are going to stretch their $1.25 million budget to its limits.
Fortunately, they're able to save a little extra cash on wall art, when Jonathan finds newspapers from the 1930s buried in the wall they're removing, and certain pages turn out to be totally suitable for framing.
They also avoid the exorbitant expense of adding an extra window when Jonathan finds an actual window hidden in the wall. All he has to do is remove the drywall hiding it, and add a frame. The couple found art and natural lighting hidden within their walls!
But the rest of the house is not nearly as cheap and easy. As the Property Bros. slave away to create the perfect home for this young family, we get some useful tips that we can apply in our own homes. Here's what we learned.
During home tours, don't leave anything behind
While showing the young family through one of the potential homes they can buy, their toddler, Callie, carrying a baggy of snacks, leaves a trail of crumbs behind her. Drew follows her, making sure nothing is left behind after they exit the house. When touring homes, it's best to apply the same rules that apply in camping: "Leave no trace."
Disappearing 'For Sale' signs can spell opportunity
Massimo and Denise notice a home in a nice neighborhood that had a "For Sale" sign on it, but the sign disappeared before a "Sold!" sign was slapped on top. It looks like a decent place, so they ask Drew to find out what the deal is. Turns out the sellers didn't get any offers at their $1.2 million asking price, so they decided to take it off the market.
Since it was unlisted when they found it, Drew encourages the couple to make a lower offer. After a little back and forth, they get the home for $1.1 million, leaving Jonathan $150,000 for renovations.
Here's how much an open concept floor plan can cost
Everyone wants an open concept floor plan these days, but can they afford it? One of the walls intended for demolition will invariably be a support wall. In this case, builders will either have to run a heavy beam across the ceiling to hold up the story above, to the tune of $10,000, or they'll have to add support pillars for $3,000. Denise and Massimo choose the latter option.
A bathroom on the main floor is a must
Jonathan offers the couple the option of putting a small powder room in between those two new support pillars. It's right against the staircase, so it doesn't take away much from the open floor plan, and he says he can do it inexpensively. "A powder room on the main floor is important, because it's a pain to run upstairs to go potty," says Jonathan. Especially for young kids!
When to carpet the stairs
Massimo has an aversion to carpet on stairs. In fact, he has an aversion to carpet in general. But with young children learning to walk, at least a carpet runner on the slippery wood stairs is an absolute must. Jonathan promises the stair runner carpet will be subtle and low profile, and tie in with the rest of the home's design concept.
Got a problem with wallpaper?
Massimo also has an aversion to wallpaper, which Jonathan learns when he suggests putting wallpaper in the powder room. Massimo thinks patterns can become rapidly dated, with geometric one week, nature the next. Jonathan suggests calling it a "high-end wall covering," and Massimo is OK with that—especially when he sees Jonathan's selection: an antiqued metallic that seems elegant and timeless.
Put the playroom in back
Jonathan has cleverly put the playroom in the back of the house, just off the kitchen near the backdoor, and Denise is very appreciative that toys and games and other kid paraphernalia are not immediately visible when guests enter through the front.
Do the Property Brothers deliver?
Jonathan only goes a bit over the estimated $150,000 reno budget, and Denise and Massimo's families generously step up to the plate to cover the extra expense. The couple is extremely grateful, especially when they see the gorgeous new home Jonathan has renovated for them.
"It's wicked awesome!" exclaims Massimo.
"Really? You're bringing 'wicked awesome' back?" Denise asks him with a smile.
"I'm bringing it back," he affirms. "Along with wallpaper."
The post The Property Brothers Find Peculiar Treasures Within a Home's Walls That You'll Never Guess appeared first on Real Estate News & Insights | realtor.com®.