Real-life Hogwarts housing for sale just outside of London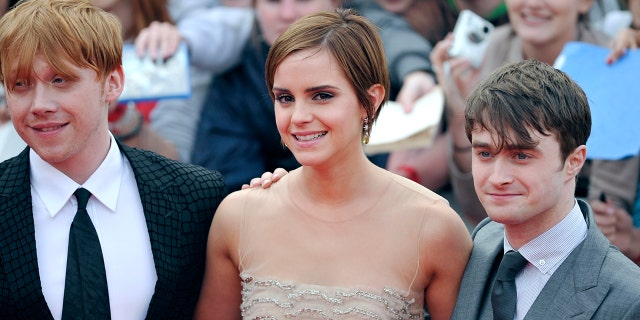 Time to run to Gringotts, Harry Potter fans, because a magical real estate opportunity has just arrived.
Travel + Leisure reports that the Royal Connaught Park in Bushey, England, has several luxury housing units for sale, so you, too can call Hogwarts home.
The spellbinding, gated, 100-acre Victorian Gothic development served as the fictional school of witchcraft and wizardry in the "Harry Potter" films, with several iconic scenes taking place in its 1,400-square-foot "Great Hall," as well as the tower-nested office that doubled as Dumbledore's chambers.
However, living like Potter is going to cost you: Properties are priced between around $860,000 and $3.7 million.
PLAYBOY MANSION'S FATE AFTER HUGH HEFNER'S DEATH
And whether you're in the market for a smaller apartment or a larger home, a perfectly bespoke space of your Hogwarts fantasies is certainly available: According to Royal Cannaught Park's website, "no two dwellings are alike."
"People just look open-mouthed when they walk through the gate; the character of the place resembles Oxford or Cambridge," said Caroline Comer of Comer Homes, a restoration and developer firm that bought the property in 1998.
"We've tried to retain as much of that character as possible. The outside of the main building is the same and we've retained a lot of the internal features too — the original staircases, windows, some original flooring, fireplaces and exposed roof beams," she told The Daily Mail in 2015.
'MONEY PIT' MANSION FROM TOM HANKS FILM HITS THE MARKET
In addition, the complex makes it easy to buckle down and begin training for your next Quidditch tournament, with an in-house gym, heated swimming pool, dance studio and spa, among other fitness amenities.
Guests shouldn't expect their new digs to look much like the Hogwarts dormitories in the films: Since Comer Homes began developing the former Royal Masonic School for Boys into high-end residences in 2009, all 380 units have been renovated to replace any wizard-like ambiance.
Nevertheless, if you need to escape the splendor of it all, Royal Cannaught Park is just a 15-minute train ride away from bustling London.
FOLLOW US ON FACEBOOK FOR MORE FOX LIFESTYLE NEWS
As "The Boy Who Lived" knew well, there's certainly something magical about a home at Hogwarts.