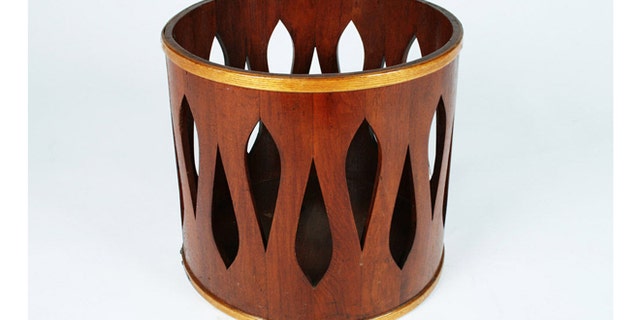 When designing a home, we must take every detail into consideration from large the furnishings down to the small things like wastebaskets. Think of it: you spend $50K, $60K or $100K on your new bathroom and you've invested in granite tile installed by the finest tile expert in the city – will you be using a cheap $10 plastic wastebasket, or will you want something that matches the look and style you've spent time and money achieving?
Whether it's for a bathroom, home office or bedroom – the wastebasket is usually right out in the open. After all, they are functional items that are used all the time and it makes sense to have them right at hand when needed. There are some astonishingly beautiful wastebaskets availa ble that will live up to the most luxurious surroundings. Here are eight that caught my eye:
Smokador Executive Wastebasket by Knoll: The Smokador Wastebasket comes from Knoll, one of the icons of mid-century modern furniture manufacturers. The simple rectangle wastebasket comes in a matte black oxide coated satin brass that is pre-plated and lacquered for a rust-proof finish, making it a great choice for a sleek bathroom as well as an office. $218
Newbury Wastebasket from Restoration Hardware: The Newbury wastebasket is a luxuriously glamorous piece made of zinc and stainless steel with a hand-polished finish. Finish options include polished chrome or nickel, or a satin nickel. $99
Raffia Square Wastebasket from Waterworks: The Raffia wastebasket has the perfect combination of modern sleekness with the warm texture of a natural raffia exterior. Made by Waterworks, one of the most luxe bathroom brands in the marketplace, this small wastebasket would work not only in bathroom settings, but also home offices or bedrooms. $120
The Etoile Round Waste Can: The Etoile Round Waste Can is one of the most luxurious products in the field. The gorgeous design, which features a lid operated by a pedal, is European inspired and classic. The piece is cast brass and is nickel plated. It is a substantial size and weight and will stay put when operated hands-free. $3,154
Jacques Adnet Wastebasket from Orange: This 1940's period vintage wastebasket from Jacques Adnet comes in black leather with a sporty plaid tartan exterior. It was made in France and has a truly continental, old-world masculine appeal. $995
Staved Teak Wastebasket by Jens Quistgaard for Dansk: This Staved Teak Wastebasket is truly a piece of art. Made in Denmark in the 1960's, it's made from teak and ash. Although it does serve a function, it's hard to imagine actually using this piece, except for larger pieces of paper, perhaps. $2,400
Pewter Damask Wastepaper Basket by Marye-Kelly: I actually own this Pewter Damask wastepaper basket and I really love it. These pieces are all made by hand in Houston, TX by decoupaging beautiful papers onto the base metal baskets. The shape of the basket makes use very easy; nothing ever falls out, even when overfilled. $116
Tassel Footed Waste Basket at Flessas Design: This vintage 1960's Italian Tassel Footed wastebasket features a highly decorative open-scroll work rope pattern and sits atop cast tassel feet. Made of brass, this is a one of a kind vintage find. $395
Linda Merrill is an interior designer who works with Boston-area remodeling contractors. Get home & garden ideas like this on Networx.