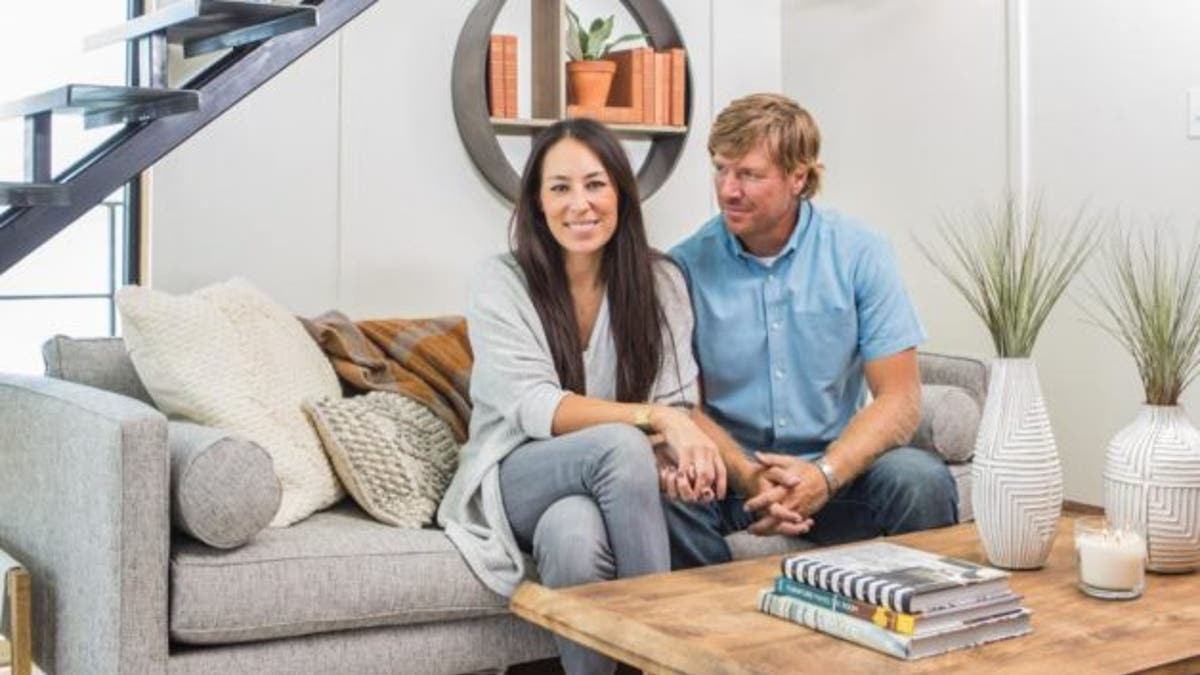 Heat makes people do the strangest things. Especially if you're Chip Gaines, who is prone to kooky—some might even say unhinged—antics anyway. Wife Joanna usually keeps a more level head, but even she takes some eyebrow-raising risks in their latest episode of "Fixer Upper" that will make you wonder: Are they crazy as coconuts, or what?
As you may surmise from the episode's title, "The Floating Fixer Upper," Chip and Jo are remodeling a houseboat. It seems their old buddy Brett Swartz wants a place on the water for himself and his four (that's right, four) kids. The challenge is to find a houseboat on Lake Waco that they can retrofit to accommodate his brood.
And apparently, it's so hot out while boat-hunting that Chip seems totally game to take it all off. When he loses a $100 bet that he can't walk a narrow railing to access the houseboat they're seeing, he actually strips to his skivvies, revealing the answer to the perennial question: Boxers or briefs? (The answer: Both! Chip wears black boxer briefs.)
So other than revealing (almost) all to the viewers, what other big risks do Chip and Joanna take? Here's the rundown, and whether they pay off.
Risk No. 1: Not knowing if the boat floats
After looking at three houseboats that have remodeling potential, Swartz picks the one that's sitting on solid ground. He has $85,000 to spend on the whole project. He buys the houseboat for $27,000, which leaves him with $58,000 to spend on remodeling.
Jennifer Boomer/HGTV
An inspection reveals that the mechanics are in good shape and there are no leaks, so they start the remodeling project on dry land, which involves demolishing the existing structure all the way down to the flat deck, and replacing everything. Once the exterior is complete, they tow it to the water's edge and untie it. Chip, who's onboard, is relieved to see that it doesn't sink or tip over.
Risk No. 2: Burning the houseboat's exterior
Swartz wants a sleek, modern look for his houseboat and favors the color black. So instead of the vinyl siding used on most houseboats, Joanna decides to use a Japanese finishing technique called shou-sugi-ban, which Chip cannot wrap his tongue around to save his life. The process involves charring wood with a blowtorch (you can imagine Chip's delight in that step of the process) to increase the wood's longevity and resistance to insects, fire, and moisture.
Jennifer Boomer/HGTV
Risk No. 3: Open shelving in the kitchen
We're still scratching our heads over this one. Joanna designs a wall of windows in the kitchen to bring in maximum light, and places open shelving above the sink and counters so the light won't be blocked. Even though they build low rails around the shelves, we can't help but wonder how anything placed above them will stay put when the water gets choppy. She even stacks china plates up there! The only thing we can figure out is that Lake Waco must be extremely placid, and that the houseboat will be firmly secured in rough weather.
Jennifer Boomer/HGTV
Risk No. 4: Oddly configuring family space
The boat is being built to accommodate Swartz and his four young children (three girls and a boy). While there is plenty of deck space outside, there is no room inside for the family to gather. Dining is done at a long bar facing the windows, and the living area has a single sofa. Not only that, but upstairs there's a bunk room containing four beds, and the master bedroom can be accessed only through the bunk room, where the children will be sleeping.
Jennifer Boomer/HGTV
And did we mention that there is but one small bathroom, located downstairs?
Jennifer Boomer/HGTV
All in all, this home seems quite tight for this family of five; however, odds are this won't be their full-time home. Swartz says his objective was to get the kids to put down their cellphones and iPads and "get them outside." And this houseboat definitely delivers: It's any kid's fantasy getaway.
"This is amazing!" Swartz exclaims when he sees the completed project. Talk about a fun place to float away the weekend, huh? There was method to Chip and Joanna's madness after all.
Jennifer Boomer/HGTV
The post Boxers or Briefs? Chip Gaines Finally Reveals All on 'Fixer Upper' appeared first on Real Estate News & Advice | realtor.com®.