7 Dream Homes for Car Collectors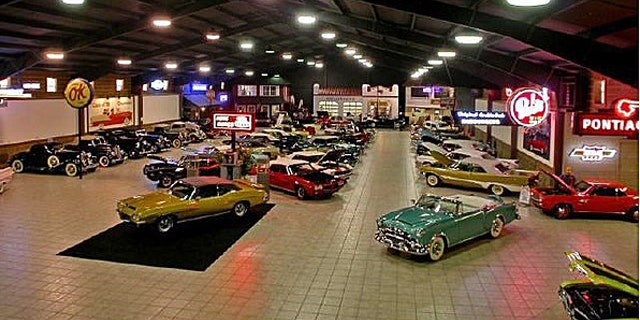 Some collections are displayed behind glass, some are perched on shelves and others, like the famed Milton Robson car collection, is displayed in a massive, 40,000-square-foot climate-controlled garage that Robson designed himself, said agent Leighann Russell of Funari Realty.
And if the sight of 1950s classic and muscle-style cars aren't enough nostalgia, the collection's setting certainly will. Robson's garage features a 1950′s-style Chevrolet and Pontiac dealership facade as well as a vintage setting of a Mobil gas station. There's also a barber shop and poodle skirt-worthy soda shop, plus a movie theater with faux ticket booth and theater marquee. And if an ice cream soda float isn't your style, Robson also has a full,1900s-style San Francisco saloon installed in the loft above the garage. In the front of the barn, a front office displays Audie Murphy's saddle.
While the garage itself is impressive, Robson's car collection is even more so. A self-made millionaire, Robson started Milton's Institutional Foods, Inc., out of high school and began collecting and restoring vehicles at age 25. In 1995, he sold his company to Performance Food Group, and devoted himself full-time to his 55-car collection, which houses some of the "rarest and best" muscle cars.
After 55 years in Gainesville, GA, Milton is selling his 13,00-sq ft home and is moving to Florida. He has auctioned some of his prime vehicles, including a 1960 Chrysler 300 that went for over $400,000 in the first hour of the auction.
Located on 435 acres, Robson's home is listed for $22 million on the Gainesville real estate market. Built in 1988, the 4-bedroom, 5.5-bath home is a European-style design with a stone exterior. Hardwood floors are featured throughout, a gourmet "European" kitchen. The property is still a working horse ranch, explained Russell, and there are barns and outbuildings in addition to Robson's garage.
While Robson's home sets a high bar for car collectors, we found plenty of other luxury spaces for cars. And, if you're looking for a Father's Day gift, here's a unique, but expensive idea: all of these homes are for sale!
Click through the slideshow to check them out!