6 Awesome Kitchen Power Tools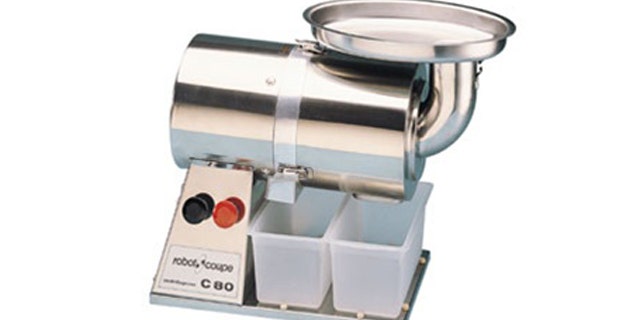 This ain't your grandma's kitchen equipment.
Souped-up and turbo-charged, kitchen gadgets these days pack enough horsepower to make a grease monkey turn green with envy (and maybe consider changing careers).
It's no surprise that the kitchen has been invaded by loud mechanical beasts. While it was once a space of quiet domesticity, TV shows like "Iron Chef America," or really anything hosted by Guy Fieri, have turned a generation of men on to cooking by making it seem more like a sport and less like a chore. And where men tread, surely power tools will follow.
So for those looking to equip their kitchen with the latest, greatest and, of course, loudest high-powered hardware money can buy, we give you the top six kitchen power tools.
Blendtec Blender ($435-$1,035)
The Blendtec became an internet sensation with the "Will it Blend?" series of videos, where the machine was pitted against seemingly unblendable items like an iPad or a laptop. This monster machine made short work of them, and won over millions of online fans in the process. Maybe it's a mere marketing gimmick, but watching a Justin Bieber action figure disappear into a cloud of pulverized dust has made me a convert, too. Oh, yeah, the Blendtec also makes pretty good smoothies.
Waring Pro Meat Grinder ($190)
Real men grind their own burgers, of course, because nothing tastes quite as good as a grilled patty made from freshly ground chuck. For those ready for a foray into sausage-making, the Waring grinder is a true champion, capable of reducing a shoulder of pork into filling for your encased meats in a matter of minutes.
KitchenAid Professional Mixer ($500)
Pumping out 575 watts of pure power, the KitchenAid Professional mixer has a motor fierce enough to launch a rocket, or whip up a batch of cookies -- whatever floats your boat. And with its bevy of optional attachments, like an ice cream machine, pasta maker and meat grinder, the KitchenAid is a true multi-tasker capable of handling nearly any job you throw at it.
Cuisinart Electric Knife ($50)
There are regular old kitchen knives, and then there are knives that you plug into the wall. Once you wrap your hands around the latter and use it to make short work of the Easter ham or Thanksgiving turkey, you'll never want to go back to that boring old manual slicer again. The dual blade Cuisinart electric knife will have you carving up baguettes and whole roasts in no time, while your family looks on in awe at your slicing prowess.
Ronco Showtime Rotisserie ($160)
Don't be fooled by the as-seen-on-TV style commercials, the Ronco Showtime Rotisserie is one serious roaster. Capable of cooking up two golden brown chickens at a time, the Showtime Rotisserie makes it easy for even kitchen novices to come up with a perfect bird time after time. Or, if you prefer, slap in a rack of ribs or a beef roast. Sure the commercials are cheesy, but boy does it ever work.
Robot Coupe Juicer ($2,500)
The centrifuge on the Robot Coupe C80 juicer is so massive, you might mistake it for the Large Hadron Collider. While it can't quite obliterate atoms, or reveal the very origins of the universe, the Robot Coupe does do a pretty good number on a pound of strawberries. However, at $2,500, this kitchen beast is better suited for pro chefs or those looking to get rid of some incriminating evidence in a hurry. For a more affordable, but still pretty power juicer, check out the Omega Vert ($379).
Click here for more from FoxNews.com Home and Garden