Women Victorious in Oklahoma Gubernatorial Primaries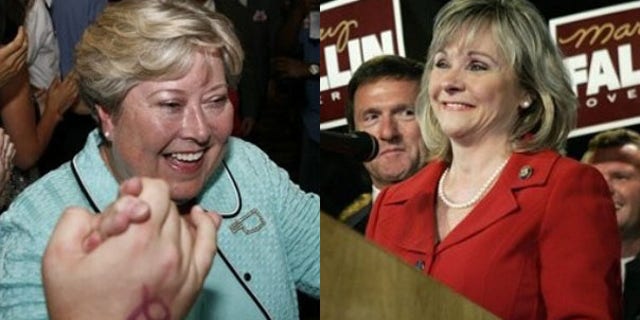 OKLAHOMA CITY -- One broke the gender barrier in Oklahoma politics, holding a statewide seat for a dozen years before winning two terms in Congress. The other succeeded her at the lieutenant governor's office and narrowly defeated the state's 16-year attorney general in the state's top political matchup -- so far -- of 2010.
Now, both will face each other in a general election matchup that has happened only three times in U.S. history: two women, each backed by a major political party, facing off for their state's top elected post.
After winning their primary elections late Tuesday, Republican U.S. Rep. Mary Fallin and Democratic Lt. Gov. Jari Askins also ensure that Oklahoma will see its first woman elected governor in November.
New Mexico's race for governor also will feature two women backed by Democrats and the GOP this year, but only Nebraska and Hawaii have had such races before.
"It's very exciting," University of Oklahoma political science professor Keith Gaddie said. "It's one of the few ever all-women gubernatorial elections in the nation's history and the first for Oklahoma. These don't happen very often. Not one, but two women nominated by the major parties, and both former lieutenant governors."
Both women gave up their posts to try to replace Democratic Gov. Brad Henry, who cannot run for re-election because of term limits.
Askins edged Attorney General Drew Edmondson in the Democratic primary by fewer than six-tenths of 1 percent -- about 1,500 votes -- with all but three of the state's 2,244 precincts reporting unofficial results.
In the GOP primary, Republicans rejected anti-Washington sentiment, selecting Fallin instead of a tea party-backed conservative who once called for the creation of a state militia to protect state sovereignty.
Oklahoma voters also decided Tuesday nominees in races for U.S. Senate and Congress, state House and Senate, and eight statewide posts, including five open seats.
"This race is about electing a conservative governor," Fallin said after winning the Republican nomination with about 55 percent of the vote. She defeated state Sen. Randy Brogdon of Owasso, who had 39 percent, and two poorly funded candidates.
Edmondson threw his support to Askins in a concession speech that resolved a tightly run contest.
"To her credit and mine, this primary has been one on the issues, on the record, clean, positive, straightforward," Edmondson said. "I think it will be written down in the history books as a testament to both Jari Askins and Drew Edmondson that the Democratic Party comes out of this primary united and unfractured and ready to win this state."
Edmondson's spokesman said a request for a recount was highly unlikely, and Askins told her supporters she welcomed Edmondson's support.
"He congratulated me and pledged his support to help us in any way possible," Askins said.
Fallin was the state's first woman -- and first Republican -- to serve as lieutenant governor, a post she held for 12 years before being elected to Congress from the Oklahoma City area in 2006. She previously served two terms in the state House.
Askins replaced Fallin as lieutenant governor by defeating the House speaker in 2006. She had previously served as a special district judge in Stephens County, was a member of the pardon and parole board, and spent 12 years in the statehouse.
Askins also enjoyed a last-minute endorsement from former University of Oklahoma football coach Barry Switzer, a state icon who backed Henry in 2002.
James Sieber, a retired Department of Defense worker, said he voted for Fallin and was most concerned about the economy.
"It is the economy and the direction this economy is going and the need to change that direction," Sieber, 65, said after voting in the Oklahoma City suburb of Moore.
Marie Mahoney, a homebuilder who said her business has suffered during the economic downturn, said she voted for Askins.
"I just went for the ladies today," Mahoney said outside her voting precinct in northwest Oklahoma City. "I'm hoping she'll do a good job."
Fallin was unable to vote for herself after being called back to Washington for a vote on a supplemental funding bill for the war in Afghanistan. She returned to Oklahoma City late Tuesday to address supporters.
Brogdon put up a pesky fight against Fallin, accusing her of making a "liberal compromise" by voting in 2008 for President George W. Bush's plan to bail out the nation's financial industry. He told The Associated Press in April that he backed the creation of a new state militia to address an "overreaching federal government," but after a public backlash said he was speaking only about a National Guard-style militia to help during civil emergencies.
"People are concerned about what is going on in their government," Brogdon said at his watch party in Tulsa. "I think we will be in this freedom fight for a long time to come."
Also in the Republican race Tuesday were Oklahoma City-area businessmen Robert Hubbard and Roger Jackson.
Edmondson raised the most money among all the candidates, amassing nearly $2.6 million in contributions through July 12, according to campaign finance reports. Askins topped the $2 million mark by loaning her campaign $675,000 during the most recent reporting period, while Fallin raised more than $2.4 million.
In the U.S. Senate primary, incumbent Republican Tom Coburn was nominated and will face Democratic nominee Jim Rogers of Midwest City in the Nov. 2 general election.
Three incumbent congressmen on the ballot each won their party's nominations. One was unopposed Tuesday.