With Troubles Mounting, Paterson Unlikely to Survive Term, Analysts Say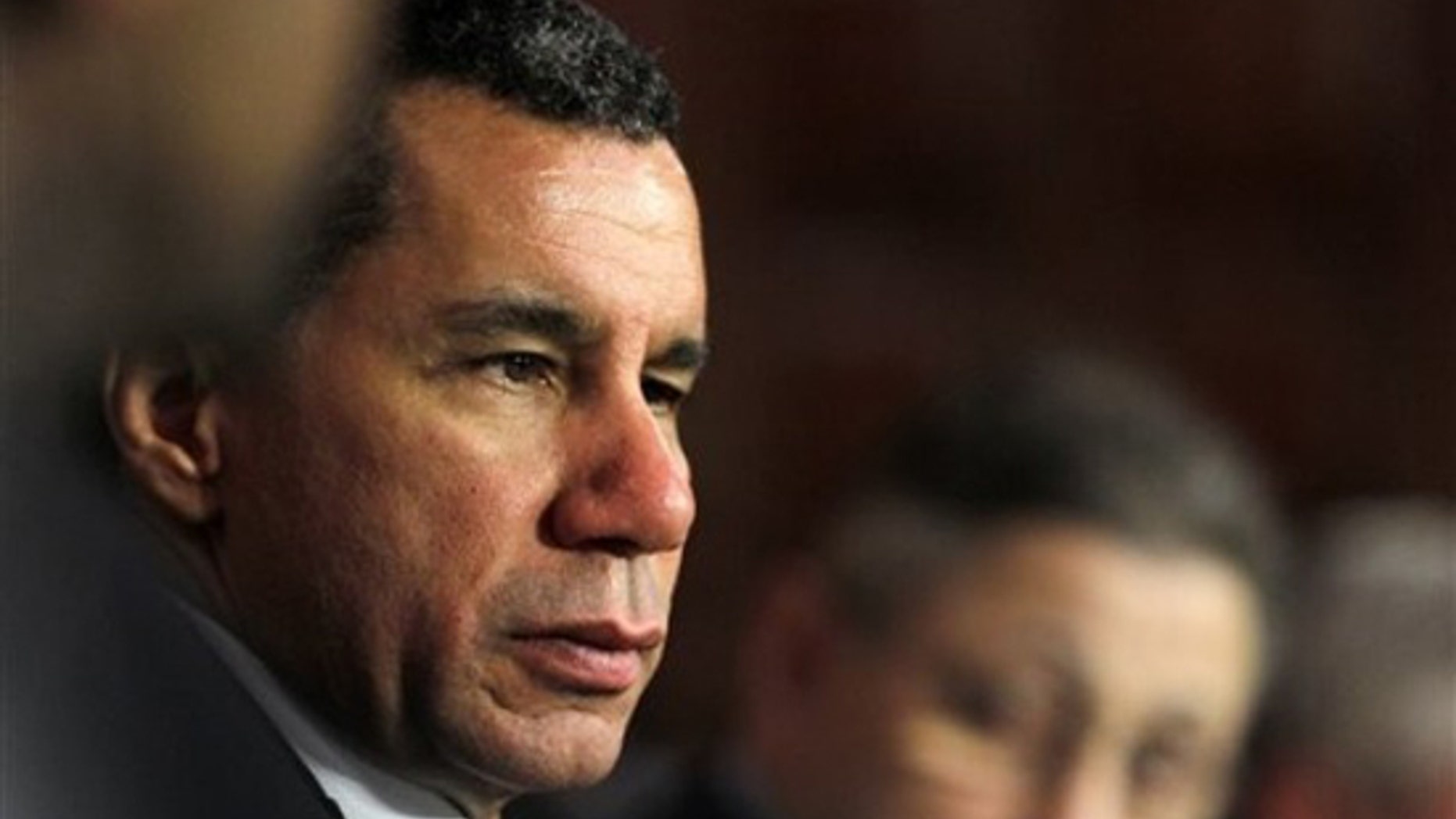 As New York Gov. David Paterson fends off one scandal after another, political analysts are sensing blood in the water and wondering when, not if, he will resign.
"We have a death watch going on, no question," New York Post state editor Fred Dicker told Fox News. "A lot of people thought he would get out yesterday. He didn't. He had press conference a few minutes ago vowing to tough it out and hold on through the end of the year. ...
"The attitude here is just wait, that you cannot anticipate what's going to happen because so much incredible stuff has already occurred."
On Wednesday, Paterson was accused of violating state ethics laws when he sought and obtained free Yankees tickets for the 2009 World Series and then may have lied about his intention to pay for them, according to a state report.
He faces potential penalties of nearly $100,000, and the case was referred to the Albany County prosecutor's office and the state attorney general for possible criminal investigation into whether Paterson or anyone else gave false answers to questions by the Public Integrity Commission or backdated a check to pay for the tickets.
The charge isn't directly related to the scandal already plaguing Paterson, over contact he and others in his administration had with a woman who accused a top Paterson aide of domestic violence. But the panel said the aide in the scandal, David Johnson, was one of Paterson's four guests, along with Paterson's son and a son's friend, who got tickets for the Oct. 28 World Series game provided by the Yankees.
Four days after the baseball game, Johnson was accused of domestic violence by his then-girlfriend, a case that now threatens Paterson's job and administration. But the ticket scandal ultimately may be more damaging to the governor, especially given the timing.
"I just don't think he can survive all of this," Justin Phillips, a professor of political science at Columbia University and expert on state politics, told Fox News.com.
"This seems to me death by a thousand cuts," he said. "There's sort of the sense there's no end to this. He has no support left in the party. A lot of people are going to want him out. I doubt he's going to provide much in the way of leadership over much of the year."
Phillips expects Paterson to resign by the end of the month.
But Paterson apparently hasn't received that memo yet. He said Wednesday he intended to fight to keep his job.
"I, at all times, upheld the oath of my office and never at any point attempted to influence or coerce anyone to do anything they didn't want to do," Paterson told reporters.
The damage is mounting, however.
"The net effect of this is the drum beat is awfully loud right now and not getting quieter," said Lee Miringoff, a political science professor at Marist College who oversees the college's Marist Poll. He noted that the Yankees tickets case is clearer, and therefore potentially more politically dangerous.
Paterson could face a penalty of $80,000 for violating the state gift ban for elected officials. The commission's investigation also charged that Paterson violated a provision prohibiting the governor from using his official position to secure unwarranted privileges. That could cost another $10,000.
The governor and his aides, including Johnson, allegedly solicited free tickets from the Yankees and submitted a letter to make sure it didn't appear to be a gift. But the commission's report states Paterson never acted in an official capacity at the game.
Paterson told investigators that he always intended to pay the $850 for tickets for his son and the son's friend. They were paid for with a post-dated check. The five tickets, three of which were complimentary, were valued at $2,125. The governor paid for them only when confronted by a reporter for the New York Post, the report said.
Days later, on Halloween, a woman named Sherruna Booker told police she was roughed up by Johnson, but she later decided not to press charges. The office of state Attorney General Andrew Cuomo is investigating whether Paterson or anyone from his staff or security detail influenced her decision.
"My side of the story will not be unsourced, it will not be in inaccurate, it will be the truth," Paterson said Wednesday, taking a swipe at some media reports.
Chief of Staff Lawrence Schwartz said that the governor was meeting with legislative leaders and staff Wednesday and that the fiscal crisis is Paterson's top priority.
"The governor is the governor," Schwartz said. "He's in charge."
New York Post's Dicker told Fox News that Paterson may not resign until he is given a pass by Cuomo.
"He may get a pass in exchange for getting out," Dicker said.
FoxNews.com's Stephen Clark and The Associated Press contributed to this report.