Wisconsin Security Tight as Rhetoric Takes Inflammatory Turn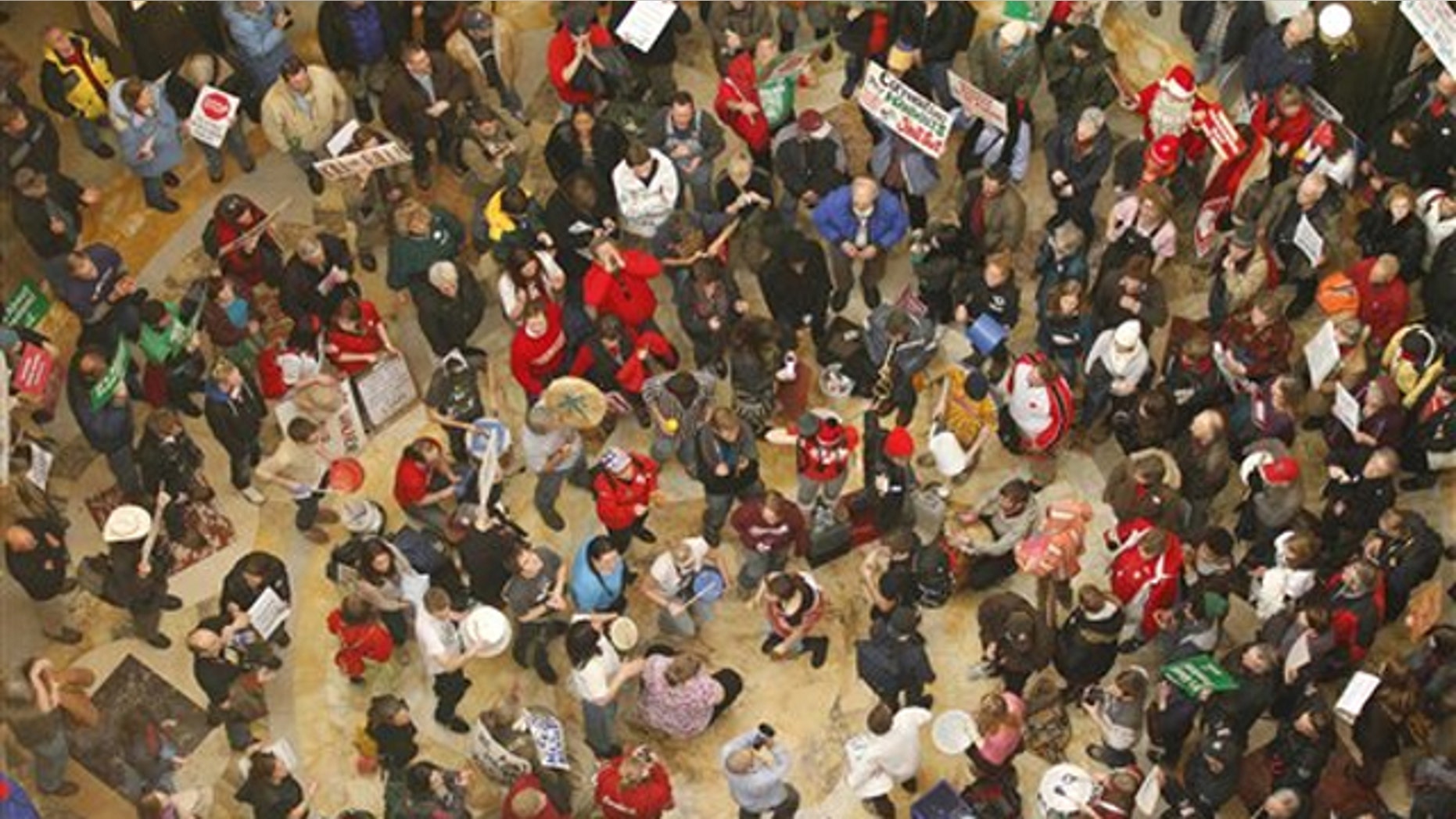 Wisconsin Gov. Scott Walker's security detail is taking "every measure necessary" to ensure his safety, a state official told FoxNews.com, as protests over the governor's budget bill spread and some of the rhetoric being used gets overheated.
Officials in Madison would not go into detail about what precautions are being taken to protect the governor, though his Capitol conference room has been under heavy guard. In the week since 14 Senate Democrats fled Madison to block a vote on Walker's proposal to cut union benefits and rights, the tone of the debate has taken an inflammatory turn.
Though many of the protesters and counter-protesters have kept their slogans civil, some have been spotted carrying signs comparing Walker to Hitler. Others have compared him to ousted Egyptian autocrat Hosni Mubarak. One Democratic lawmaker, state Sen. Lena Taylor, has done both.
On Twitter, the rhetoric has gotten particularly graphic. A number of Twitter users, apparently unhappy with the budget plan, have publicly pleaded for somebody to kill Walker. "Someone please shoot him?!" one user Tweeted. "Crazy people wanted!!!! Please have sniper skills," another wrote, later adding: "Some one please take out the governor Scott Walker."
Asked about the messages, Wisconsin officials said they could not comment on whether any investigations had been launched.
"We cannot comment on specific threats to the governor, but his detail does take every measure necessary to ensure the safety of Governor Walker," said Carla Vigue, spokeswoman for the Wisconsin Department of Administration, which includes the Wisconsin Capitol Police. That agency and the State Patrol are securing the capital during the protests.
The overcharged rhetoric comes a month after politicians and others called for a return to civility in the wake of the shooting of U.S. Rep. Gabrielle Giffords, D-Ariz., and 18 others in Tucson.
Toni Massaro, a University of Arizona professor who is working on the board of the newly launched National Institute for Civil Discourse in Tucson, said the debate in Madison will be "grist for our mill" once the institute starts meeting. She said the standoff in Wisconsin is the result of a "serious problem the nation is facing with respect to the budget crisis," but she added: "We have to think about what's a desirable way to have a conversation about this."
Hitler imagery doesn't help either side, she said. "It's hard for people to be heard when they're so whipped up that their brains are not functioning, in a way that doesn't let information in," Massaro said.
Walker's office, which would not comment on security matters, issued a statement Wednesday saying some are trying to "disrupt the civil debate Wisconsin is having." That was after the governor was prank-called by a blogger posing as libertarian billionaire David Koch. Walker apparently thought he was talking to the real Koch, and the impostor subsequently posted their conversation online.
The bizarre tactics aren't confined to the Walker detractors. The Associated Press reported that one of the Democratic senators hiding out in Illinois said protesters had shown up at the hotel where some of the lawmakers are staying. State Sen. Chris Larson also told the AP he received an e-mail from somebody threatening to burn his house down.
A deputy attorney general in Indiana also was let go after reportedly, on a Twitter account, urging police to "use live ammunition" on Wisconsin protesters.
Outside of Wisconsin, one lawmaker dialed it down a notch after he was quoted telling union workers in Boston that "every once in a while" they need to "get a little bloody."
Rep. Michael Capuano, D-Mass., said he regretted using the language.
"I strongly believe in standing up for worker rights and my passion for preserving those rights may have gotten the best of me yesterday in an unscripted speech. I wish I had used different language to express my passion and I regret my choice of words," he said Wednesday.
Comparisons to the unrest in Egypt, where hundreds died before Mubarak was forced out of office, continue. One website popped up labeling Walker as the "Mini-Mubarak." Filmmaker Michael Moore has several references to Mubarak on his website, which is largely devoted to covering the union protests.
Taylor, one of the 14 Democrats who left the capital, also compared the struggle in Egypt to the struggle in Madison during an interview with Fox News on Monday. Asked whether she was specifically comparing working conditions in Wisconsin to those in Egypt, she said she wasn't. She said the fact that both places hosted workers' rights rallies was just "ironic."