Wisconsin Dems Accuse Walker of Blocking Pro-Union Website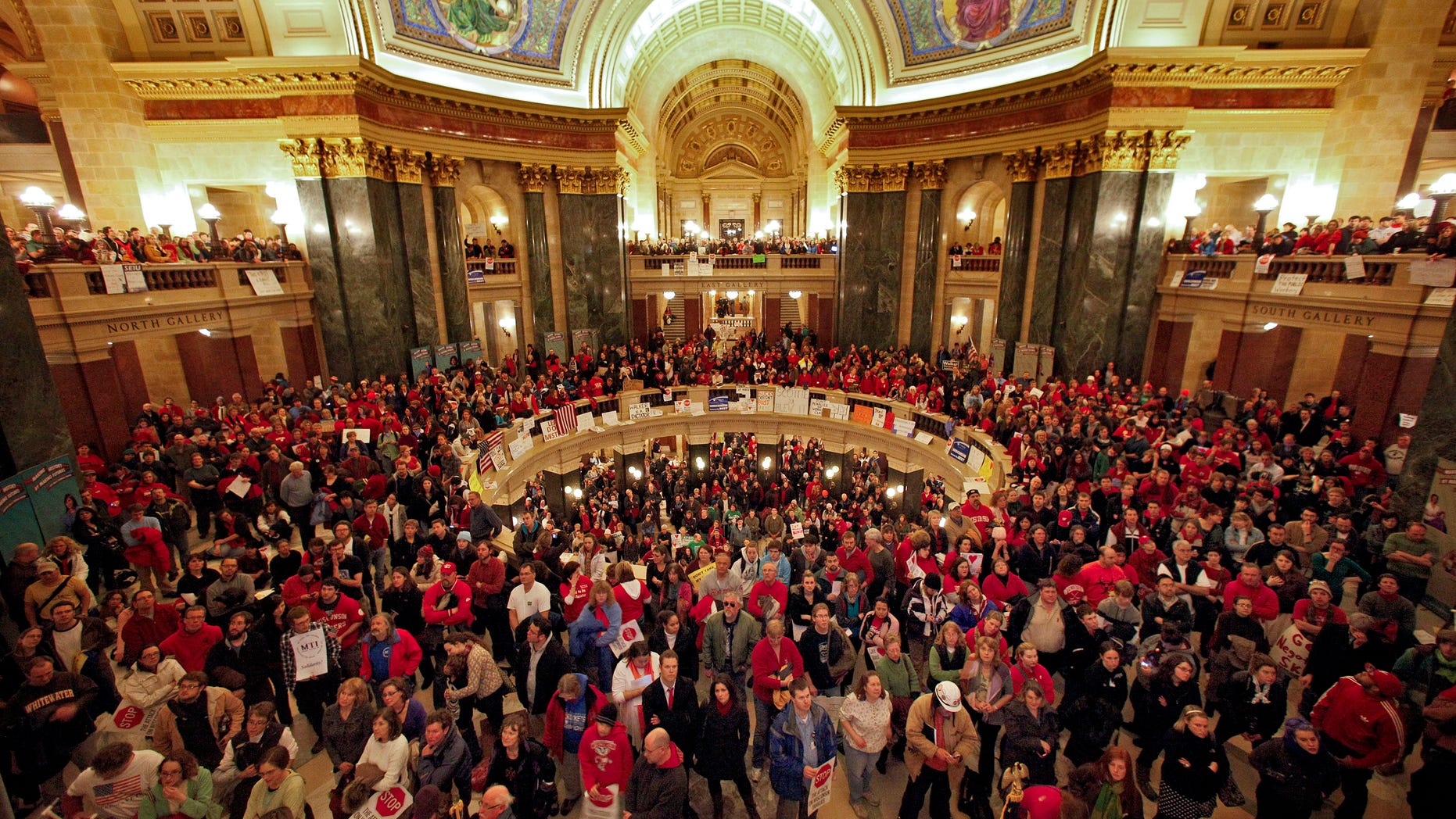 Wisconsin Democrats are accusing Republican Gov. Scott Walker of trying to crack down on protesters of his anti-union bill by blocking access to a website that supporters of the labor movement used to rally demonstrators at the state Capitol.
The website, defendwisconsin.org, was not available inside the Capitol building on Monday and part of Tuesday as thousands of protesters gathered to oppose a bill that would force public employees to pay more for their health care and retirement benefits and curb their collective bargaining rights.
"It's a total First Amendment violation," Graeme Zielinski, a spokesman for the Democratic Party of Wisconsin, told FoxNews.com, arguing that this was part of a pattern of anti-Democratic moves that Walker has made since he was sworn in to the state's top job last month.
Zielinski said Walker restored access to the site shortly after receiving media inquiries on Tuesday.
"The implications are pretty chilling if you care at all about liberty," he said. "It doesn't sound like Wisconsin; certainly not like America. It sounds a little like Texas."
But Walker's camp said the website was blocked by the Department of Administration, which restricts access to all new websites shortly after they are created, until they go through a software approval program. The department circumvented the software and made the website accessible within 30 minutes of being notified of the blockade, a spokesman for Walker said.
"Over the last week and a half, Gov. Walker has repeatedly talked about protesters having every right to have their voice heard," spokesman Cullen Werwie said. "Hours for the State Capitol have been changed to allow protesters extensive access to the statehouse to voice their opinion."
"Debate and participation in the democratic process are good for our state," Werwie added. "Senate Democrats should try it out."
Werwie was taking a jab at the 14 Senate Democrats who fled the state to Illinois last week in protest of the anti-union bill, blocking action on the bill in the Senate. The budget showdown has captured the nation's attention and touched off a storm of protests in the past week.
Zielinski told FoxNews.com that Walker has ruled with an iron fist, threatening unions and anyone else, including Tea Party activists, who don't see eye to eye with him and using the National Guard for political ends.
"There's never been a Republican or Democratic governor who has so openly sought confrontation," Zielinski said. "It's not the state I recognize. We're not used to this warfare."
But Walker's camp has dismissed all the accusations as lies.
"The Democratic Party should spend less time lying about Gov. Walker and more time trying to get their AWOL state senators back to Wisconsin," Werwie said. "Of course the Democratic Party of Wisconsin won't do that because they are using the Senate Democrats' taxpayer funded vacation to Illinois to fill their campaign coffers."