Who is John Cox? 3 things to know about the California governor hopeful
Republican businessman John Cox is facing Lt. Gov. Gavin Newsom in California's gubernatorial race this year.
Cox, 63, came in second to Newsom in California's jungle primary in June, a system which allows the top two vote-getters to advance to the general election, no matter the political party.
Fox News has ranked the gubernatorial race as remaining likely Democrat in the election to replace Gov. Jerry Brown.
From President Trump's social media campaigning to Cox's connection to former President Barack Obama, read on for a look three things to know about the gubernatorial hopeful.
He's got Trump's support
Trump has offered his support for Cox multiple times on social media.
"I am hearing so many great things about the Republican Party's California Gubernatorial Candidate, John Cox," Trump said in an August tweet. "He is a very successful businessman who is tired of high Taxes & Crime. He will Make California Great Again & make you proud of your Great State again. Total Endorsement!"
In the 2016 election, Cox didn't vote for Trump; instead, he supported Libertarian Gary Johnson.
FOX NEWS MIDTERM ELECTIONS HEADQUARTERS
While Trump's endorsement certainly helped rally Republicans around him in the primary, it could hinder him in the general as Cox seeks to sway independent and Democratic voters away from Newsom.
Cox already faces long odds in November – no Republican has won statewide in the Golden State since 2006.
He's a wealthy businessman
On his campaign website, Cox highlights his business acumen, saying he "is a businessman – not a politician."
Cox "built his own business from scratch to a $200 million enterprise with almost 100 employees," his website states.
He garnered his wealth as a lawyer, accountant, wealth manager and investor in the Chicago area. He now owns thousands of apartment units in the Midwest.
He also has three homes in California.
OCTOBER SURPRISE? 5 THINGS THAT COULD ROCK THE MIDTERMS
"I want people to know I've made an investment here, I love it. I've been successful, I've been lucky, I'm not going to apologize for it," Cox said in December 2017 during a Public Policy Institute of California event.
Cox bought his first house in Rancho Santa Fe, outside San Diego, in 2007, and moved there full-time in 2011, spokesman Matt Shupe told The Associated Press.
As he is mostly self-funding his campaign, Cox has decried what he called the corrupting influence of special interests and focused heavily on California's high taxes and cost of living. He's a prominent backer of a ballot initiative that would repeal recent increases in gasoline and diesel taxes.
He's run for office before – and debated Obama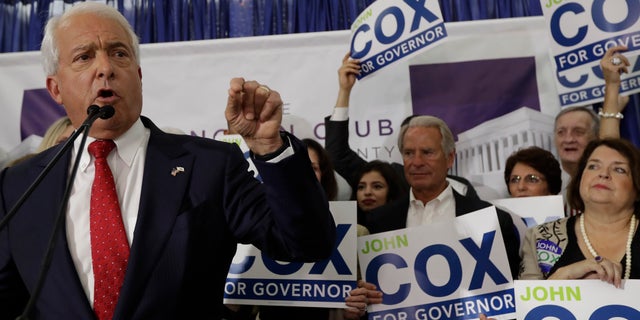 Cox has unsuccessfully run for office several times in the past, including Illinois Senate in 2004, according to the Sacramento Bee. At the time, Cox shared a debate stage with then-State Sen. Barack Obama, who would win the election.
In that debate, Cox sparred with the future president over the Iraq war.
According to the newspaper, Cox also ran for a Chicago House seat in 2000, U.S. Senate in 2002, Cook County Recorder of Deeds in 2004 and Illinois Republican Party chair in 2005. He also sought the GOP presidential nomination for the 2008 election.
WHAT TIME DO POLLS CLOSE ON ELECTION DAY?
He's reportedly said his position on politics stems from his upbringing. Cox was raised by a single mother, a public school teacher, on the south side of Chicago, The Los Angeles Times reported.
"My mom would come home at night, and she would sit on the sofa and literally cry. Why? Because she had to deal with some of the worst principals you could ever imagine in the Chicago public schools," Cox said at an event in Fresno, according to The Times. "Why were they principals? Because they were friends of [a city council member]. And that, ladies and gentlemen, is political corruption."
The Associated Press contributed to this report.