White House Urges Patience on Afghan War Strategy, After McChrystal Sounds Warning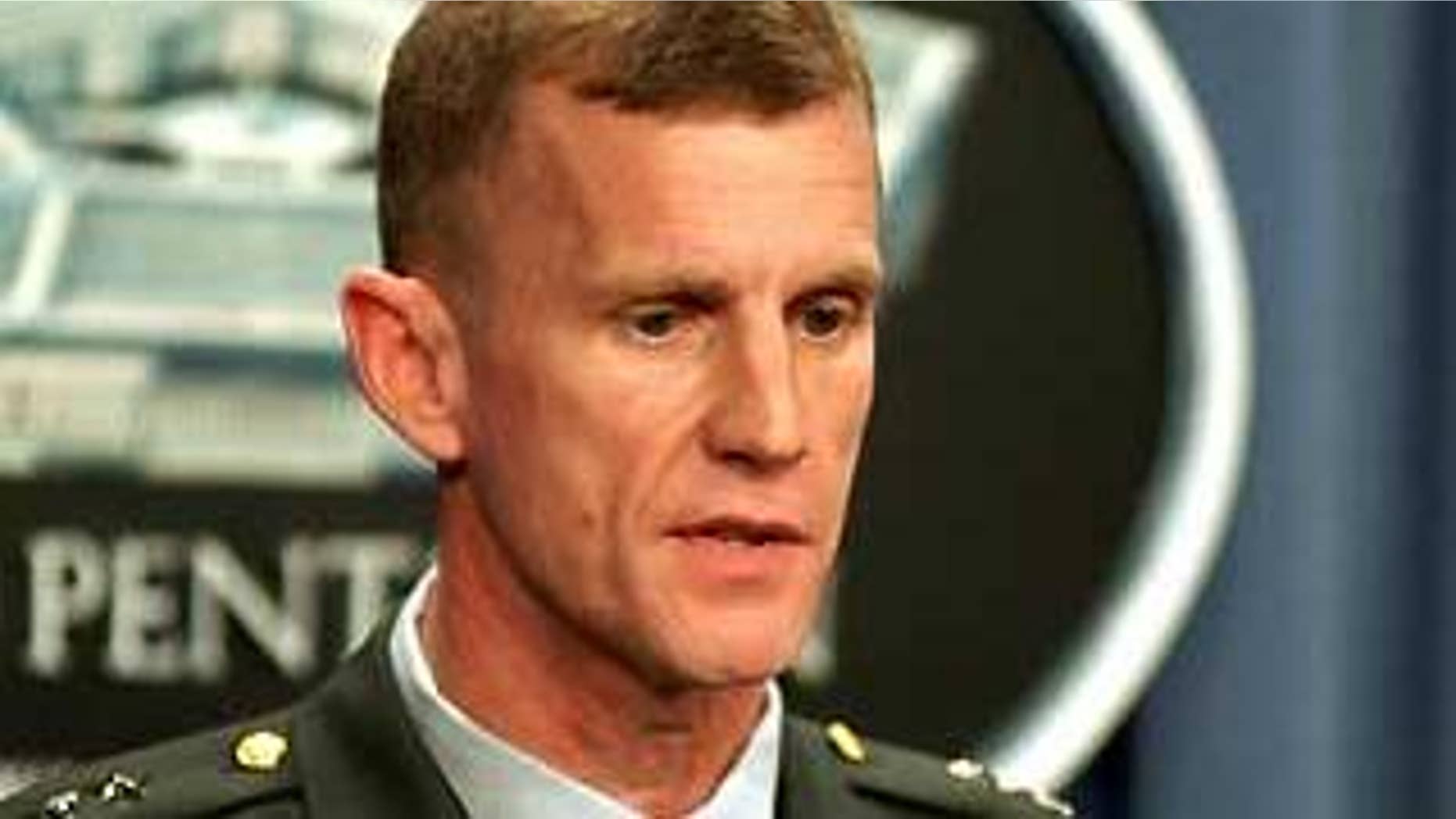 The White House on Monday tried to calm the controversy over a new report from the top U.S. commander in Afghanistan warning that the United States risks failure in the long-running war without more troops.
White House Press Secretary Robert Gibbs said that while President Obama has read Gen. Stanley McChrystal's assessment, he does not expect a formal request for more troops for a "little bit." And he said the president is not yet focused on resource decisions.
"We're going to conduct that strategic assessment and do that in a way that lays out the best path forward before we make resource decisions, rather than having this go the other way around where one makes resources decisions and then finds a strategy. That's not what we're doing," Gibbs said.
While Republicans are pressing for more troops, the prospect of a greater U.S. presence in Afghanistan makes Democrats uneasy.
But McChrystal warned about the risk of ignoring the need for more troops in a five-page Commander's Summary.
"Resources will not win this war, but under-resourcing could lose it," he wrote. His 66-page report, sent to Defense Secretary Robert Gates on Aug. 30, is now under review by Obama.
"Although considerable effort and sacrifice have resulted in some progress, many indicators suggest the overall effort is deteriorating," McChrystal said of the war's progress.
Geoff Morrell, a deputy assistant secretary of defense for communications issues, said in a statement the assessment "is a classified, pre-decisional document, intended to provide Obama and his national security team with the basis for a very important discussion about where we are now in Afghanistan and how best to get to where we want to be."
While asserting that more troops are needed, McChrystal also pointed out an "urgent need" to significantly revise strategy. The U.S. needs to interact better with the Afghan people, McChrystal said, and better organize its efforts with NATO allies.
"We run the risk of strategic defeat by pursuing tactical wins that cause civilian casualties or unnecessary collateral damage. The insurgents cannot defeat us militarily; but we can defeat ourselves," he wrote.
In his blunt assessment of the tenacious Taliban insurgency, McChrystal warned that unless the U.S. and its allies gain the initiative and reverse the momentum of the militants within the next year the U.S. "risks an outcome where defeating the insurgency is no longer possible."
Senate Armed Services Committee Chairman Carl Levin, D-Mich., said in a statement that he agrees with the call to revise strategy.
"General McChrystal is attempting to shift our focus toward adopting a revised strategy that will increase the prospects for success of our efforts in Afghanistan. Focusing on the resource question before we accomplish the strategic shift is a mistake General McChrystal is wisely avoiding," he said. Levin seemed to ignore certain portions of the report that deal with the danger in "under-resourcing" -- but he said that challenge should be addressed by expanding the size of the Afghan army and police.
The content of the report was first reported by The Washington Post, which said it withheld publication of portions of the document at the government's request.
Morrell confirmed the report, but said the Pentagon would not release McChrystal's assessment.
"While we would have much preferred none of this be made public at this time we appreciate the paper's willingness to edit out those passages which would likely have endangered personnel and operations in Afghanistan," Morrell said in an e-mail statement.
The Pentagon and the White House are awaiting a separate, more detailed request for additional troops and resources. Media reports Friday and Saturday said McChrystal has finished it but was told to pocket it, partly because of the charged politics surrounding the decision.
McChrystal's senior spokesman, Rear Adm. Gregory Smith, told The Associated Press on Sunday the report is not complete.
Obama is re-evaluating whether the renewed focus on hunting Al Qaeda that he announced just months ago has become blurred and whether more forces will do any good.
"Are we doing the right thing?" he asked during one of a series of interviews broadcast Sunday. "Are we pursuing the right strategy?"
A spokesman for Afghanistan's Defense Ministry said Sunday the Afghan government would not second-guess international military commanders on the need for more troops, but said that the greatest need is actually on the other side of the Afghan-Pakistan border.
"The focus should be on those points and areas where the insurgency is infiltrating Afghanistan," he said, referring to the Pakistan border region where Taliban and Al Qaeda fighters hide and plan attacks.
In Congress, the war has taken on a highly partisan edge. Senate Republicans are demanding more forces to turn around a war that soon will enter its ninth year, while members of Obama's own Democratic Party are trying to put on the brakes. Obama said in the Sunday interviews that he will not allow politics to govern his decision.
Nor has the president asked his top commander in Afghanistan to sit on a request for U.S. reinforcements in a backsliding war.
"No, no, no, no," Obama responded when asked whether he or aides had directed McChrystal to temporarily withhold a request for additional U.S. forces and other resources.
But he gave no deadline for making a decision about whether to send more Americans into harm's way.
"The only thing I've said to my folks is, 'A, I want an unvarnished assessment, but, B, I don't want to put the resource question before the strategy question,"' Obama said. "Because there is a natural inclination to say, 'If I get more, then I can do more."'
Adm. Mike Mullen, chairman of the Joint Chiefs of Staff, told Congress last week he expected McChrystal's request for additional forces and other resources "in the very near future."
The White House has remained vague about how long it would take to receive the report and act on it.
Obama spoke on CNN's "State of the Union," ABC's "This Week," NBC's "Meet the Press," and CBS' "Face the Nation."
The Associated Press contributed to this report.