White House Gives Mixed Message on State of the Recession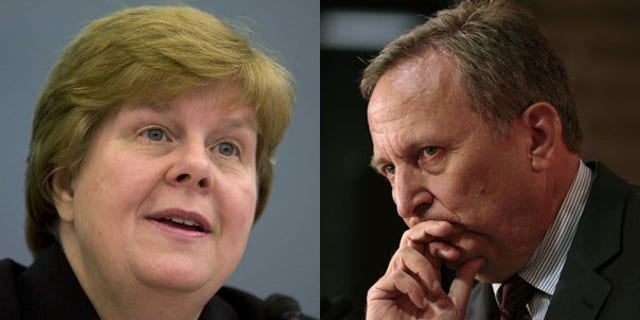 NEWYou can now listen to Fox News articles!
Is it a recession or isn't it?
Two top White House economic advisers gave conflicting opinions Sunday over whether the recession has in fact ended.
"Everybody agrees that the recession is over," said Larry Summers, director of the National Economic Council.
"Of course not," countered Council of Economic Advisers Chairwoman Christina Romer in a separate interview when asked if the recession is a thing of the past.
The clash spoke not just to the differing views on the economy within President Obama's inner circle but also to the sharply conflicting signals out of the economy itself.
A recession is technically defined as two or more consecutive quarters of economic decline. This recession boasted a whopping four straight quarters of decline. But that stopped in the third quarter, when the gross domestic product grew 2.8 percent according to the Commerce Department.
Many officials and economists say that means, as a technical matter, the recession is over even if two consecutive quarters of growth haven't been recorded yet.
And it sure doesn't feel like it for many who are part of the nation's 10 percent unemployment rate.
Romer appeared to be more politically sensitive to that fact, reflecting Obama's recent statement that he won't rest until all Americans who are looking for work can find jobs again.
Based on the "official definition," the economy has, "at least in terms of GDP, reached that point" where the recession has ended, she said. But given high unemployment which could go even higher, Romer offered a different response when asked if the recession was over "in your mind."
"Of course not," she said on NBC's "Meet the Press." "We have -- you know, for -- for the people on Main Street and throughout this country, they are still suffering. The unemployment rate is still 10 percent."
Peter Morici, a business professor at the University of Maryland, said from the standpoint of the American worker the recession feels to be in full force.
"The end of a recession is in the eye of the beholder. The economy is growing again, but most of that growth is in government jobs and in Wall Street bonuses -- for ordinary workers there's no more work, for small businesses there aren't any more customers," he told Fox News. "We still have unemployment at above 10 percent. This recession is technically over, but from the prospective of a worker, it continues and it continues hard."
While job growth often lags behind overall economic recovery following a period of decline, the current employment picture seems particularly lethargic.
A November survey out of the National Association for Business Economists, which declared the recession over in a survey of its forecasters a month earlier, predicted that the job market would hit its low point in the first quarter of 2010 and unemployment would remain "stubbornly high" through the year.
Summers appeared to cite such forecasts in explaining the stages of economic recovery. He referenced the fact that unemployment dropped from 10.2 percent to 10 percent last month and predicted more solid trends toward recovery next year.
"Today, everybody agrees that the recession is over, and the question is what the pace of the expansion is going to be," he said on ABC's "This Week." "These things happen in stages. First, GDP goes up. That has happened. Then, hours that are worked by workers who already have jobs go up. That's starting to happen. Then employment goes up. We got very close to that this year, this month, with only 11,000 jobs lost. And then unemployment starts to come down. So these problems weren't made in a month or a year, and they are going to take a substantial time to solve.
"But what we can take satisfaction from is that we've walked back from the brink. And you know, forget what we say. Most professional forecasters are now looking for a return to job growth by spring," he said.
Fox News' Wendell Goler contributed to this report.