White House Aiming for 'Bigness' in Deficit-Reduction Deal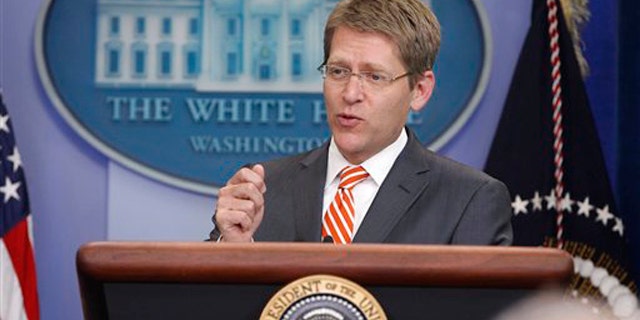 The Obama White House is making a public push for "significant" spending cuts as part of a deficit-reduction deal, marking an apparent departure from the days when President Obama urged lawmakers to use a "scalpel," not a "machete," to fix the nation's budget woes.
After being branded by Republicans for the last two-and-a-half years as a chronic big spender, Obama and his aides are talking about deficit cuts -- big ones -- as something they wholeheartedly endorse.
The rhetoric may reflect the reality that congressional Republicans are demanding such cuts as a condition for raising the $14.3 trillion debt ceiling before an Aug. 2 deadline. But the White House, while still at odds with the GOP over the prospect of tax hikes, has gone from complaining about Republican tactics to casting the talks as a unique opportunity to achieve historic cuts.
"Bigness is our target," White House Press Secretary Jay Carney said Thursday, after Obama finished meeting with eight congressional leaders at the White House. He compared the negotiations to those that yielded a balanced budget during the Clinton administration.
"The opportunity to do something this significant does not present itself very often. The stars, in some ways, have aligned here because of the circumstances of the economy, the dynamic in Washington, the recognition by members of both parties of what the problem is in a very real sense," Carney said.
"Often you get a situation here where one side thinks something is a very, very important issue and a big problem that needs to be solved, and the other side doesn't even accept the premise that there's a problem. And that's just not the case here. We saw this last in the mid-'90s."
Though he and the lawmakers involved in the talks would not get into the specifics about what is being discussed, Carney said savings would come from many fronts -- including "painful but necessary" cuts in programs, cuts in defense spending, cuts in entitlement spending, cuts in health care costs and tax increases.
Coming out of the talks, House Speaker John Boehner said he's optimistic that a deal can be struck with the president over the debt ceiling. Another meeting has been scheduled for Sunday.
But the White House move to put entitlement spending including Social Security on the table -- a position Carney insists is not new -- has drawn the ire of some Democrats.
Sen. Sheldon Whitehouse, D-R.I., said cuts to Social Security and Medicare should be off the table. House Minority Leader Nancy Pelosi also said Thursday that Democrats will oppose cuts to those two programs in any deficit-reduction deal.
But Obama is calling on both parties to give ground. He wants Republicans to drop their opposition to tax hikes -- GOP leaders have indicated a willingness to discuss tax "loopholes" -- and he may have to make a special appeal to Democrats on entitlements. Fox News has learned Pelosi will meet with Obama at the White House Friday morning.
"Everybody acknowledged that the issue of our debt and our deficits is something that needs to be tackled now," Obama said Thursday after the bipartisan meeting. "And everybody acknowledged there's going to be pain involved politically on all sides."
Though the White House is speaking with renewed urgency about deficit reduction, the president tried to underscore his commitment to that goal back in April when he outlined a plan to cut $4 trillion over 12 years. Democrats claimed at the time it was similar to a House GOP plan aimed at cutting $4.4 trillion over 10 years -- though the White House quietly estimated their plan would cut $2.9 trillion over a similar 10-year window.
But Democrats subsequently ramped up a tough campaign against the Republican proposal, describing it as extreme and harmful to seniors.
With the White House and Republicans -- at least in general terms -- now stressing the need to reduce the deficit, the leaders of the president's deficit-reduction panel on Thursday praised both sides for their efforts.
"We are very encouraged by the reports that the president and congressional leaders in both parties are discussing a serious, comprehensive deficit reduction plan with 'everything on the table,'" co-chairs Erskine Bowles and Alan Simpson, a former senator, said in a statement. "Let's pull together, not pull apart."