Virginia governor's race gains national attention for its fierceness, 2016 implications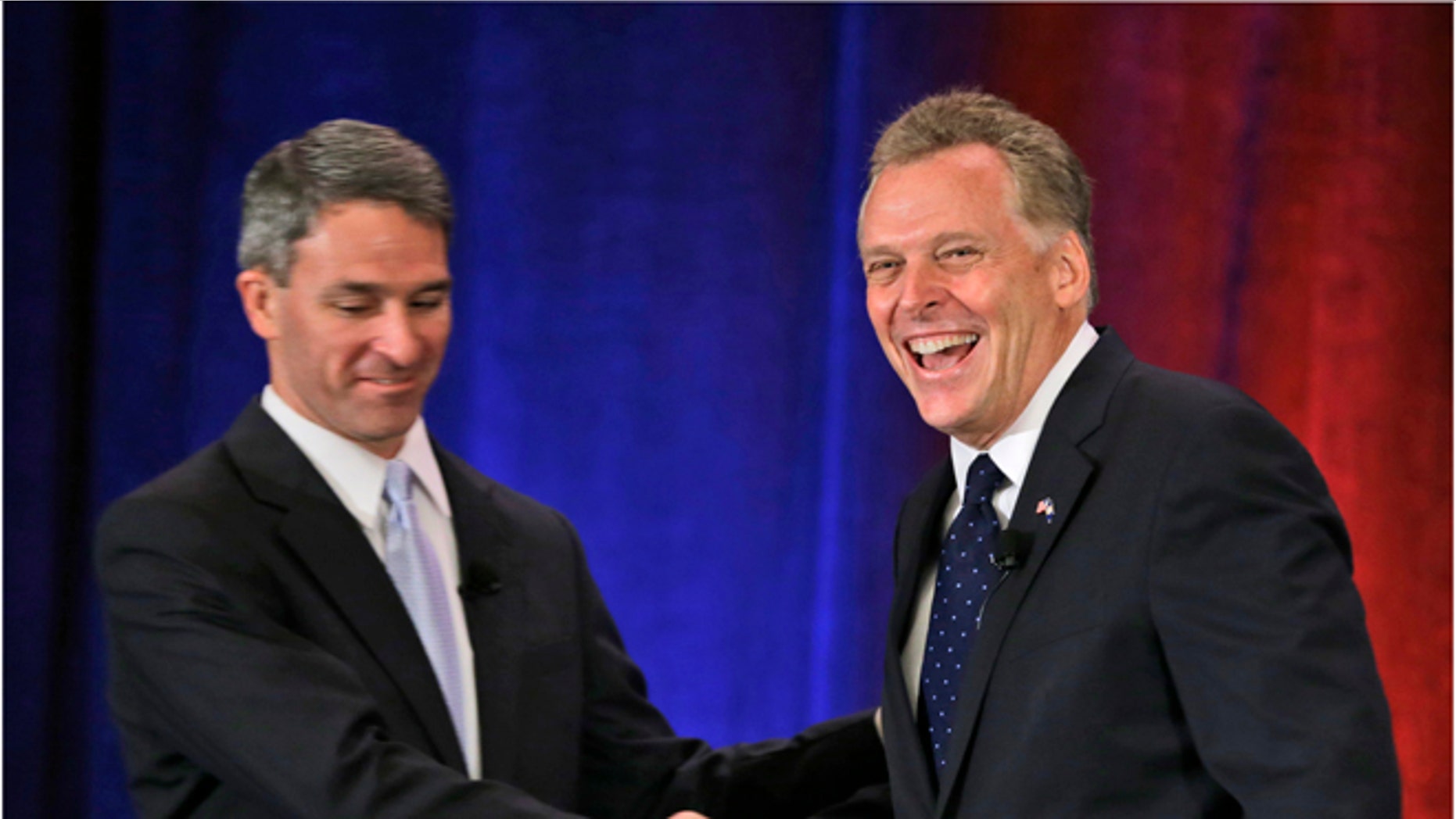 The Virginia governor's race is shaking up what has otherwise been a quiet, off-off election year.
To be sure, while political observers and most other Americans are looking ahead at whether Republicans can retake the Senate in 2014 or if Hillary Clinton will become a 2016 Democratic presidential candidate, the bare-knuckled Virginia race is attracting national attention.
Democratic nominee Terry McAuliffe is relatively new to running for office -- with one unsuccessful attempt, a 2009 try to become Virginia governor.
However, he is well known in national political circles as a prolific fundraiser for former President Clinton and Hillary Clinton and as a former Democratic National Committee chairman.
His Republican opponent is Virginia Attorney General and social conservative Ken Cuccinelli, creating a race that has drawn more than one comparison to a potential 2016 presidential match up.
"It's a prelude to Hillary Clinton's 2016 campaign," David Bossie, president of the conservative nonprofit Citizens United, told Fox News on Sunday.
The non-partisan Cook Political Report this month called the contest "the marquee race on the ballot nationally in November" and predicted "much will be read into the results as the 2014 cycle moves into high gear."
Both campaigns in the too-close-to-call race have attempted to ride this year's scandal wave – linking the rival candidate to questionable activities by either him or members of his party.
The biggest so far appears to focus on the relationship major political donor Jonnie Williams has with Cuccinelli and outgoing Virginia Republican Gov. Bob McDonnell.
News reports this month revealed Williams gave more than $120,000 in loans to McDonnell's wife and to a business the governor co-owned.
The revelations follow Cuccinelli amended four years' worth of reports in April to show gifts from Williams.
Among the unreported gifts were a $3,000 summer family retreat and a $1,500 family Thanksgiving dinner at Williams' lodge in Virginia's Blue Ridge Mountain foothills.
Richmond's commonwealth's attorney, Democrat Mike Herring, recently said he found no evidence that Cuccinelli violated the state ethics law.
McDonnell has repaid the loans, but the money and thousands of dollars in gifts from Williams remain at the center of two investigations.
Meanwhile, McAuliffe is facing criticism about two associated, green-energy businesses that have yet to become the job-creating firms he touted them to be.
One company, GreenTech Automotive, is an energy-efficient car manufacturer with a plant in Mississippi, not Virginia, whose output remains unclear after roughly three years.
McAuliffe critics last week tried to bring GreenTech into a purported federal investigation involving the director of U.S. Citizenship and Immigration Services, Alejandro Mayorkas, who also is President Obama's choice to be the No. 2 official at the Homeland Security Department.
Mayorkas is purportedly being investigated for possibly helping a company that funded GreenTech also secure an international investor visa, even after the application was denied and an appeal was rejected.
McAuliffe resigned as GreenTech chairman before starting his gubernatorial campaign.
The second company is Franklin Pellets, which was started in Virginia in 2010 but appears yet to have become operational.
Citizens United is out with a video this week titled "Fast Terry," a documentary about both companies.
Bossie argue the video doesn't mention the gubernatorial race and is intended only to "educate Americans about Terry McAuliffe," considering he "hangs his hat on his business background."
The McAuliffe campaign responded by saying it was not surprised by the video considering Citizens United has given the Cuccinelli campaign more than $100,000 through other groups.
Virginia has increasingly become a bellwether state, with its Washington suburbs voting largely Democrat and its rural southwestern region and Hampton Roads, with its many military bases, leaning Republican.
Though McDonnell is a Republican, the state's two previous governors, Mark Warner and Tim Kaine, are Democrats and are now Virginia's U.S. senators.
Cuccinelli and McAuliffe clashed hard in the first to what appears will be three debates.
McAuliffe attacked Cuccinelli over the Williams' gifts and supporting socially conservative activism.
He also criticized Cuccinelli for what he described as deterring Virginia's business growth.
"There are consequences to mean-spirited hatefulness," McAuliffe said, citing Cuccinelli's legal actions against a University of Virginia climate-change researcher; a 2010 letter telling state-supported colleges they couldn't enact anti-discrimination policies protecting gays; and actions to restrict abortions.
Cuccinelli accused McAuliffe of stiff-arming some of Virginia's most destitute regions by building the GreenTech plant in Mississippi.
"The only candidate in this race who has chased business out of Virginia is you," Cuccinelli said. "You walked right over the people of Martinsville on your way to Mississippi."
The Associated Press contributed to this report.