Victory Laps Offer Candidates Cold Comfort Ahead of Fall Election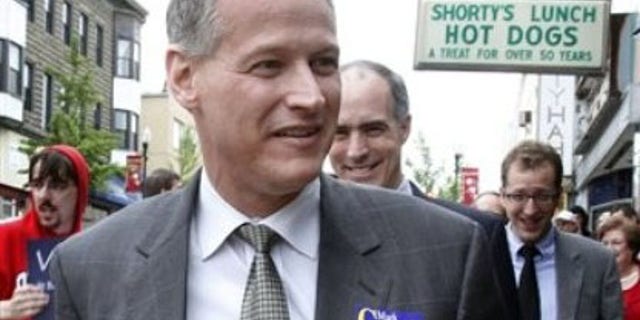 Two victories in special elections in the past week have left both Democrats and Republicans scrambling to find the formula for victory in the fall as trying to capture the public's mood from a few races remains an elusive skill.
On Saturday, Republican Charles Djou won a special election in Hawaii for the seat held by retired 11-term Rep. Neil Abercrombie, who is running for governor. Two Democrats were in the open race, splitting the Democratic vote. Democrats say a one-on-one race in November will prove the weekend turnover was a fluke.
Less than a week ago, Democrat Mark Critz defeated Republican Tim Burns for the seat held by the late Rep. Jack Murtha. Republicans had been hoping for a pick-up in that conservative-leaning but Democratic district, leading analysts to conclude that a call for "change" doesn't always translate into a winning slogan.
Critz's win should be a "wake-up call" for Republicans that they can't count on voter dissatisfaction with majority Democrats to guarantee Republican victory, Sarah Palin said on "Fox News Sunday."
The former GOP vice presidential candidate said it's no surprise that Critz, a longtime aide to Murtha, who held the seat for more than 36 years, won in a district that is two-to-one registered Democrats.
"Why wouldn't a lifetime Democrat vote for the Democrat who was anti-Obama in the race? That just makes sense," Palin said.
"It's a wake-up call in terms of anybody assuming that you can just take it for granted that the voters' mood will just, I guess, usher in all the Republicans. That's not -- that's not the case," she said.
Polls show several potential upsets in November between upstart candidates and entrenched lawmakers, and many of those surveys offer welcome news to Republicans.
According to aggregator Real Clear Politics, polls of U.S. Senate races show six Democratic seats leaning or likely to turn Republican in the fall. By contrast none of the seats leaning or likely Democratic are currently held by Republicans.
Polls of House races offer a similar with 22 Democratic-held House seats leaning or likely Republican compared to just two Republican-held seats leaning or likely Democratic. Dozens more Democratic seats are considered toss-ups compared to just one Republican toss-up seat, according to polling data.
Still, no one is guaranteed a seat at the floor.
"I think the best advice for anybody running is to be for change, and it's not just anti-incumbent, it's what that incumbency represents," said Minnesota Gov. Tim Pawlenty, chairman of the Republican Governors Association. "It's a dissatisfaction with the substance underneath it, and it really relates profoundly to the economy."
"There is a lot of anger out there, and it's usually visited on incumbents. And you are seeing it all over, either party, it doesn't make a difference," said Pennsylvania Gov. Ed Rendell, chairman of the Democratic Governors Association, who appeared with Pawlenty on CNN.
Going back to basics is a safe route political strategists are following. They say the outcome of the November election will rest on tangible factors like jobs and government spending.
"Our voters are energized after the passage of health care. With the economy improving, GDP growing again, we're going to pass soon in 2010 a mark where we will have created more jobs in the American economy in 2010 than in the entire eight years of the Bush administration. Things are looking up," said Democratic National Committee Chairman Tim Kaine.
But political philosophy on the role of government is a theme playing out in races across the nation. It has already monopolized the Kentucky Senate race between newly nominated Republican Rand Paul and Democrat Jack Conway, and it resonates in discussions about whether President Obama's policies are working.
"The difference between the mainstream and extreme, difference between going back to the past and moving towards the future where there's economic growth and new jobs being gained, and finally the difference between who stands on your side" will be the factors in November, said Democratic Senatorial Campaign Committee Chairman Robert Menendez on NBC's "Meet the Press.
"You know Republicans have shown the past year and a half that they stand with big banks, big oil, big insurance companies and Democrats have stood with the people," he said.
"This is not about blaming (George W.) Bush anymore. This is about holding this administration -- Barack Obama, Nancy Pelosi, Harry Reid -- accountable," Republican National Committee Chairman Michael Steele said on "Fox News Sunday," naming the president and Democratic House and Senate leaders.
"And we're very excited about working with the people to stop the Democrats' encroachment on our free enterprise markets and our -- and our liberties," Steele said.
One of the unknown quantities for several oddsmakers is the role of the Tea Party movement.
"I think Tea Party is an asset," said Texas Sen. John Cornyn, head of the National Republican Senatorial Committee. Cornyn said independents are sympathetic to the same issues rallying the Tea Partiers, and Democrats would be wise to not try to ostracize the movement.
"I think it's wrong to try to attack people who are concerned about their government and who are exercising their constitutional right to protest the direction of government. ... I respect their right to stand up and say no more and think they'll be a big influence in the upcoming election," Cornyn said.
But Rendell said the Tea Party's power is limited.
"I think the Tea Party movement, which is the anger that people feel towards incumbency, it has some power, particularly in Republican primaries," Rendell said. "But if you look at Pennsylvania 12 ... that was a special election, the Tea Party was not a factor in that election at all."
Also left up for debate is the role President Obama will play in November. The races he's stepped into have not gone well for his candidates, with the Pennsylvania Democratic Senate primary last week offering the latest example of Obama's inability to affect the outcome.
"I think the president is strong," Kaine said. "You look at polling in a tough time. He remains strong. We've been winning special elections in Congress very -- in a very convincing way over the last year and a half."
"It's a very short coat, and the president doesn't have the coattails to drive his policies through his candidates throughout their running as part of his ticket," Steele said. "The people are the ones who are driving this. The White House cannot change the dynamic on the ground."