Veterans, families, sue six banks claiming they helped Iran fund terror groups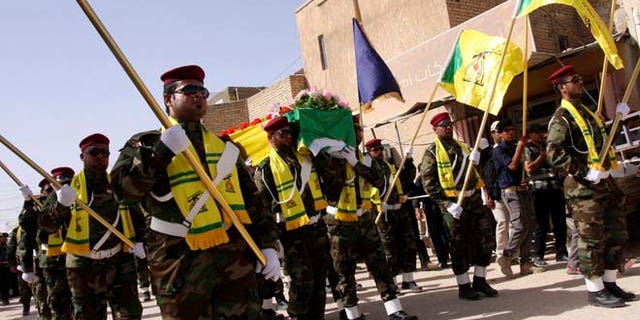 NEWYou can now listen to Fox News articles!
More than 200 veterans and their families have filed a lawsuit against six international banks, accusing them of helping Iran transfer millions of dollars to militant groups that targeted and killed U.S. soldiers during the Iraq war.
The suit, first reported by The Wall Street Journal, alleges that the banks helped Iran move billions of dollars through the U.S. financial system, with some of the money ending up with Iran's elite Revolutionary Guard Corps and its proxies like Hezbollah, which orchestrated attacks against U.S. forces in Iraq.
Five of the banks accused in the lawsuit, filed in federal court in Brooklyn Monday, are HSBC, Barclays, Standard Chartered, Royal Bank of Scotland, and Credit Suisse. A sixth bank named in the suit is the Britain-based subsidiary of Bank Saderat Iran.
The suit details one 2007 attack in Iraq by terrorists who, according to the suit, were trained and armed by Iran's Qods Force, with help from Hezbollah. In a brazen attack at a center about 30 miles south of Baghdad, they opened fire and threw grenades at U.S. and Iraqi forces. One American died after jumping on a grenade; four other Americans were abducted from the scene and later killed.
The attack is one of several detailed in the suit. The complaint alleges that as a result of the conspiracy, Iran and affiliated terror groups planned, funded and executed hundreds of terrorist attacks in Iraq between 2003 and 2011, killing hundreds of U.S. service members and civilians, and wounding many others.
The lawsuit reportedly comes on the heels of a September jury verdict that found Jordan's Arab Bank liable for providing financing to the Hamas terror group. In that case, the jury ruled that the bank must compensate victims of over two dozen attacks in Israel and the Palestinian territories linked to the group. Arab Bank is currently appealing the verdict.
The veterans' lawsuit asks for a jury trial and unspecified damages.
Some multinational banks have already paid millions of dollars to settle similar actions brought by the Justice Department. In 2010, Barclays paid $500 million to avoid prosecution for allegedly engaging in transactions with banks in countries targeted by U.S. sanctions, including Iran, Cuba, Libya, and Sudan. Earlier this year, France's largest lender, BNP Paribas agreed to pay $8.9 billion to settle claims it covered up $30 billion in transactions with Iran, Syria, and Sudan as recently as 2009.
Click for more from The Wall Street Journal.