Venezuela: Capriles Threatened With Jail As Inquiry Into Election Violence Continues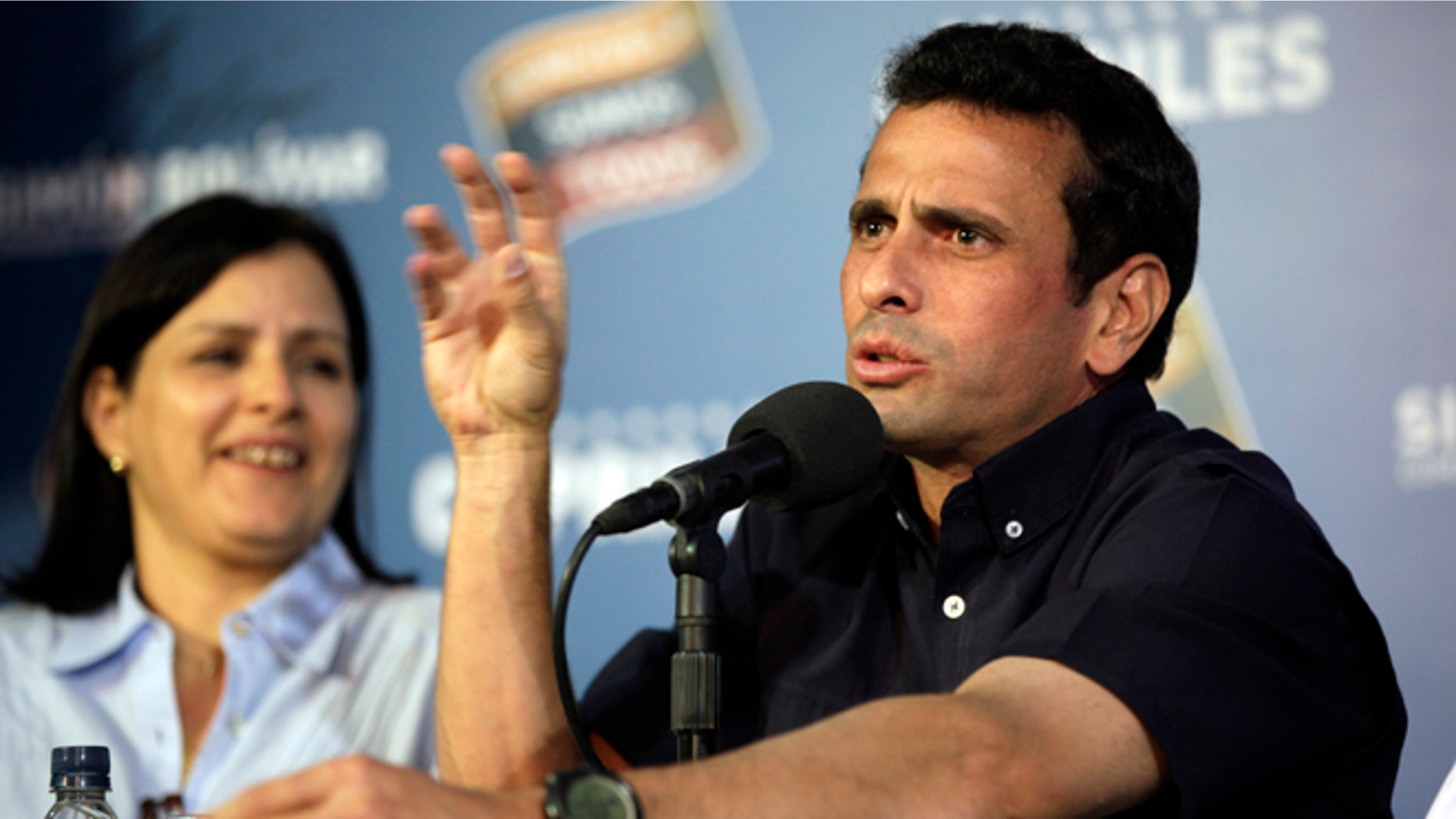 Caracas, Venezuela – The contested presidential election in Venezuela that saw Hugo Chávez's successor maintain control of the South American nation has shed light on the deep ideological divide within the country and raised questions over the legitimacy of Venezuela's state-run media.
Only days after President Nicolás Maduro narrowly defeated challenger Henrique Capriles, a national dispute is raging as the opposition wages a remarkably successful media counteroffensive showing government claims of post-election violence to be exaggerated and in some cases entirely false.
With meticulously dated amateur photos, opposition supporters have vividly illustrated how cellphone cameras, Twitter and Facebook can help even the playing field against a government that came to dominate broadcast media during the late Hugo Chávez's 14-year presidency.
The fight is fueling tension in a country that's deeply polarized and almost exactly divided between supporters of the government and an opposition that claims the April 14 election was stolen.
The chief of national prisons, Iris Varela, declared Tuesday that she was preparing a cell for Capriles for allegedly directing the purported attacks and other violence against government buildings and supporters.
Chávez had a history of making claims he never substantiated, denouncing dozens of alleged assassination plots before succumbing to cancer in March. Maduro has shown himself prone to even more grave accusations, including repeatedly claiming in the week before his election that Salvadoran and Colombian mercenaries had entered Venezuela to wreak havoc. The government hasn't presented any evidence to back up those claims.
Despite global criticism and the increasing use in Venezuela of web-based citizen journalism to skirt state censors, Maduro loyalists appear to be continuing their campaign to smear Capriles in the wake of widespread protests against the election results.
Venezuela's government-controlled parliament began an inquiry into the post-election violence, which authorities blamed Capriles for the nine deaths and dozens of injuries that resulted from the protests.
While the government said the post-election unrest was proof that Capriles was plotting a coup to overthrow Maduro, Capriles rejected the claims and added that the government used deaths from common crime to bolster their statistics.
"The government is desperately sowing lies," Capriles said, according to Reuters. "I have a clear conscience ... the people who stole the election want the country to stay divided."
The head of the country's penitentiary system, however, doesn't believe that Capriles has a clear conscience, as she recently accused him of inciting the violence and of being addicted to hallucinogenic drugs.
"The only good news for you is that the prison that's waiting for you, Capriles Radonski, won't be like the ones we inherited," said Iris Varela, in reference to the state of the country's prison in the pre-Hugo Chávez era.
Varela is one of a number of Maduro loyalists who have leveled charges against Capriles — some high-ranking government officials have openly discussed punishing political disloyalty among government employees.
The human rights wing of the coalition opposition headed by Capriles says it has received more than 300 complaints of people being fired from government jobs on suspicion of having voted for him. Another 1,000 or so public workers have complained about intimidation from supervisors and threats of punishment for supporting the opposition, the opposition's rights office said.
Government officials did not respond to requests from The Associated Press for comment on the allegations, but some have told Venezuelan media that the charges are pure invention by the opposition and media outlets that back it.
Those denials, however, conflict with a video posted on YouTube Saturday showing Housing Minister Ricardo Molina meeting with apparent co-workers and demanding complete political loyalty despite a legal prohibition against sanctioning workers for their political beliefs.
"What the labor laws say doesn't matter to me at all," Molina exhorts, his voice soaring. "Zero tolerance. I don't accept that anyone bad-mouths the revolution, that anyone bad-mouths Nicolas."
He added: "They need to quit. Because if they don't quit I personally will fire them."
The Associated Press contributed to this report. 
Follow us on twitter.com/foxnewslatino
Like us at facebook.com/foxnewslatino