VA execs finally demoted for scamming system, but lawmaker asks why no charges brought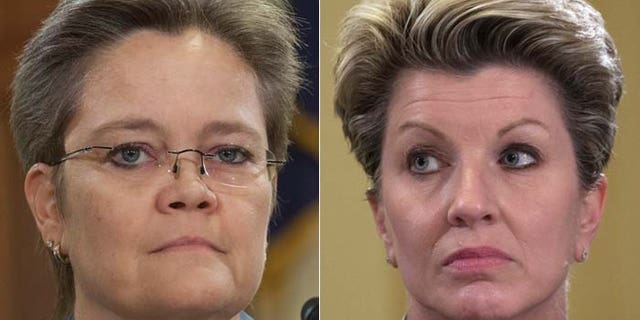 NEWYou can now listen to Fox News articles!
The Department of Veterans Affairs said Friday two high-ranking officials were finally demoted in response to a federal probe that found they manipulated the agency's personnel system for their own gain, but a key lawmaker is asking why they weren't prosecuted.
Federal prosecutors announced on Christmas Eve that they would not pursue charges in the case, but the Justice Department has not responded to Rep. Jeff Miller's inquiry into why no charges will be filed.
On Friday, the Department of Veterans Affairs said in a statement that it took "final action" to "demote" two Veterans Benefits Administration (VBA) Senior Executives to General Schedule positions.
Diana Rubens, director of VBA's Philadelphia regional office, and Kimberly Graves, director of VBA's St. Paul regional office, have been assigned to assistant director positions at other VBA regional offices, the VA said.
"These actions were originally initiated in October 2015 but had to be redone to correct an administrative error," the statement said.
Miller, R-Fla., and chairman of the House Committee on Veterans' Affairs, is pressing U.S. Attorney General Loretta Lynch for answers surrounding Graves and Rubens, who got $300,000 in taxpayer money for her home when it did not sell.
In a Dec. 22 letter penned to Lynch, Miller wrote, "A Sept. 28, 2015, VA Office of Inspector General report recommended that the U.S. Attorney's Office, District of Columbia, pursue criminal charges against two VA executives it found to have abused their positions in order to take jobs with less responsibility, while keeping higher salaries."
"The report detailed how the VA executives pressured subordinates to accept position transfers only to volunteer for the vacated jobs while keeping their original salaries and having the VA pay them more than $400,000 in taxpayer relocation benefits," he wrote.
"Will the DOJ pursue charges against these employess? If not, why not?" Miller questioned.
As of Friday, the DOJ had not responded to Miller's letter, according to his office.
The VA's acting inspector general said in a report this fall that Rubens and Graves forced lower-ranking regional managers to accept job transfers against their will. Rubens and Graves then stepped into the vacant positions themselves, keeping their pay while reducing their responsibilities.
Rubens and Graves refused to testify to Congress in November, telling lawmakers they were asserting their Fifth Amendment rights to protect themselves against self-incrimination.
Before taking the regional jobs, Rubens was a deputy undersecretary at the VA's Washington headquarters, while Graves was director of VBA's 14-state North Atlantic Region.
Rubens and Graves kept their salaries of $181,497 and $173,949, respectively, in their new positions, even though they had less responsibility and a lower pay range than their previous positions.
Rubens grew up near Philadelphia, while Graves has family in Minnesota, the IG's report said. In addition to naming themselves to vacancies, Rubens and Graves obtained more than $400,000 in questionable moving expenses through a relocation program for VA executives, the IG's report said.
A VA spokeswoman was not immediately available when contacted Friday. It remains unclear where the money used by Rubens and Graves will be paid back to the government.
The House Committee on Veterans' Affairs has already held two hearings that focused on this issue extensively. The first was held on Nov. 2, and Rubens and Graves, who were forced to attend via subpoena, invoked their Fifth Amendment right against self-incrimination.
The second was held on Dec. 9. At that hearing, Deputy Secretary of Veterans Affairs Sloan Gibson was questioned on his handling of the case, including his refusal to recoup the money and his decision to merely demote the two.
Miller's call for transparency extends beyond the hefty relocation fees. Miller said he is still demanding answers about the secret wait-list scandal that rocked the VA in June 2014.
"FBI Director James Comey waded into VA's secret wait-list scandal by announcing an investigation into the matter and vowing to pursue wrongdoing 'wherever the facts take us.,'" Miller said in a statement to FoxNews.com on Thursday.
"More than 18 months later, it's entirely unclear where the facts have taken the Department of Justice. The attorney general seems uninformed regarding even the most basic elements of the investigation, DoJ officials have refused to answer lawmakers' questions on the matter, and meanwhile the agency is slamming the door shut on investigations nearly as fast as VA's inspector general is referring them to DoJ," he said.
"That's why it's incumbent upon Attorney General Lynch to clear up the widespread confusion regarding this situation by promptly answering our questions," Miller continued. "Otherwise, we'll never be able to solve the mystery surrounding why just a handful of people have been punished for a scandal that rocked the entire VA. But perhaps that's just how the administration wants it."
The Associated Press contributed to this report.