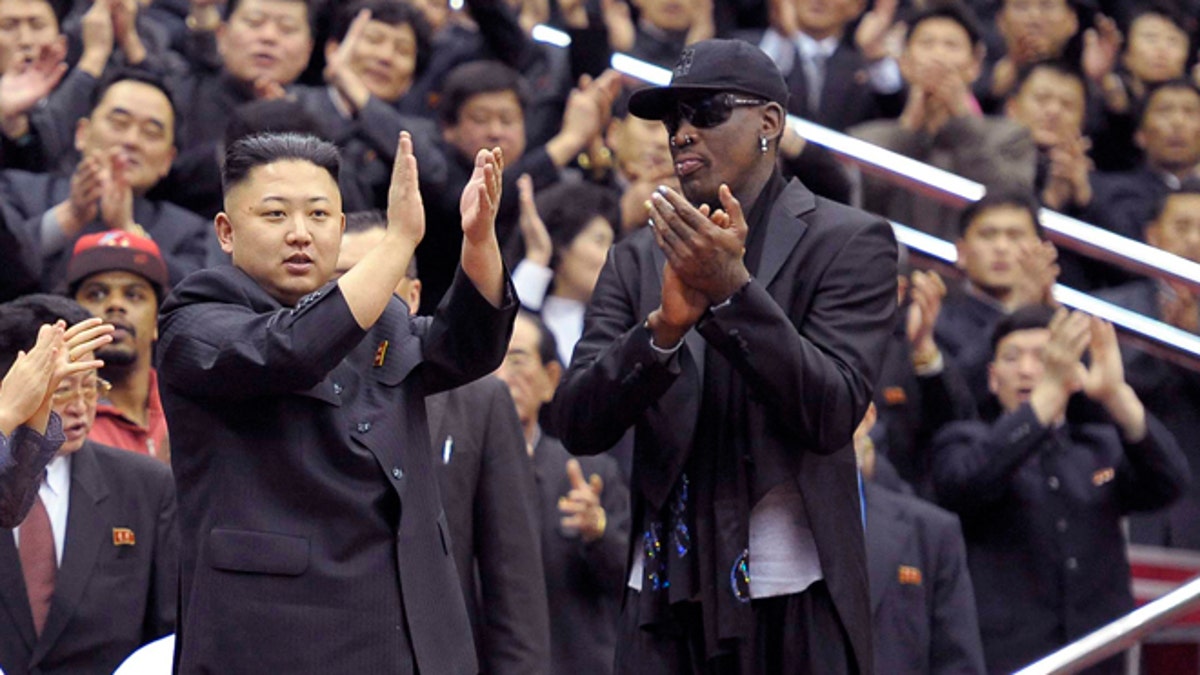 The United States' practice of sending powerful, high-profile Americans overseas to free fellow countrymen appears to have come down to Dennis Rodman going rogue.
The iconoclastic, former NBA star failed to secure the release of American Kenneth Bae during his non-official visit this month to North Korea, though he talked directly with Kim Jong Un, the leader of the isolated Communist country.
Meanwhile, Bae, a Christian missionary found guilty of trying to overthrow the North Korean government, remains on the substantive list of American political or religious prisoners around the world, as the United States appears to have abandoned, at least for now, its practice of using star power to bring home imprisoned Americans.
Among the other Americans held are Amir Mirza Hekmati, in an Iranian prison since 2012 for allegedly spying for the CIA, and Alan Gross, a federal contractor arrested in Cuba in 2009 for acts against that country and serving a 15-year prison sentence.
In addition, the U.S. continues to look for American Bob Levinson, a retired FBI agent and purported CIA agent who disappeared in Iran six years ago.
Critics of U.S. foreign policy say the Obama administration also has failed to use its position as a world power to secure the release of Christian pastor Saeed Abedini as part of nuclear talks with Iran.
"Failure to secure Mr. Abedini's freedom and return to the United States while executing an agreement with … Iran sends the unmistakable message that the United States will not protect its own citizens," attorney Jay Sekulow said in a November 2013 letter to Secretary of State John Kerry.
Sekulow is chief counsel of the American Center for Law and Justice, which represents Abendin's wife and two children.
Abedini, an American-Iranian citizen, was sentenced in January 2012 to eight years in prison on charges of undermining Iran's national security by participating in Christian evangelical activities.
Kerry had defended the administration's position, telling Congress in December that officials didn't directly link the release of Abedini and others to the nuclear issue because they didn't want them to become the "hostages or pawns" of the process.
"They deserve to be returned on a fundamental humanitarian basis," he said.
The United State has indeed used well-known Americans to bring home prisoners.
In August 2010, former President Carter traveled to North Korea and returned with Aijalon Gomes, a teacher and Christian missionary who was imprisoned four months after being found guilty of illegally entering that country.
About a year earlier, former President Clinton went to North Korea and brought home two U.S. television journalists -- Laura Ling and Euna Lee -- who were taken into custody after straying across the China border while making a documentary.
The State Department applauded Carter's humanitarian effort upon his return but made clear it was an "unofficial mission."
Earlier this week, the agency attempted to clarify its policies.
"The State Department helps all American citizens who are arrested overseas," an agency official told FoxNews.com.
The official also referred to the Justice Department's Foreign Affairs Manual, which includes detailed information for U.S. Embassy officers overseas trying to ensure the safety of arrested Americans overseas including "high-profile" cases.
The Carter Center decline a request to interview the former president about freelance diplomatic missions.
Despite calls for more of those missions, not all of them are successful.
In 2011, former U.N. Ambassador Bill Richardson went to Cuba but failed to bring back Gross.
He late admitted blowing the deal by going public with his case that Gross was a political prisoner.
"I screwed that one up," Richardson said on Newsmax TV.
This past summer, Bob King, the U.S. special envoy for North Korean human right issues, acknowledged he was going to Pyongyang to appeal for Bae's release, evidence the administration is working behind the scenes.
The administration has also been criticized for failing to respond strongly to Pakistani doctor Shakil Afridi being jailed for helping the U.S. find Osama bid Laden's Abbottabad hideout, where he was killed by U.S. special forces in 2011.
Kentucky Republican Sen. Rand Paul in a 2012 op-ed criticized Pakistan and called for the administration to suspend giving the country $1 billion in annual aid.
"I think it is a travesty," he wrote. "And I do not understand why this is being tolerated by Congress and the Obama administration."
Sekulow told FoxNews.com he doesn't want his group to have an adverse relationship with the administration.
"We need their help," he said. "They missed a huge opportunity in Iran, but the U.S. government is always powerful enough to bring up the issue again."