US Army general accused -- again -- of obstructing probe of grisly Afghan hospital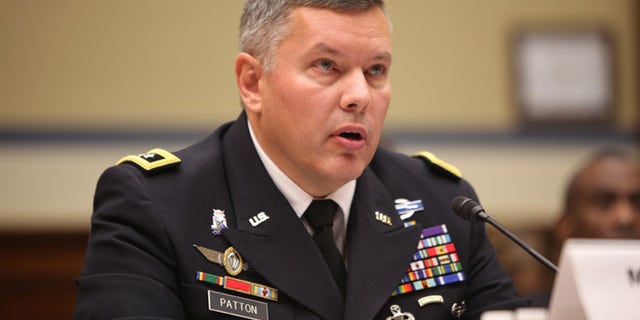 NEWYou can now listen to Fox News articles!
WASHINGTON – A two-star Army general, reprimanded once already for misconduct, is being accused of obstructing another investigation into patient abuse and fraud at a U.S.-funded hospital in Afghanistan made infamous for its grisly conditions, according to a new watchdog report.
The Project on Government Oversight recently published a redacted version of the Pentagon inspector general report on Maj. Gen. Gary S. Patton. It's the second time in less than a year Patton has been cited for his role in obstructing an official investigation into the conditions at Dawood National Military Hospital in Kabul, Afghanistan.
Dawood, which has gotten millions of dollars in U.S. taxpayer support, has been plagued by graphic accounts of abuse. Congressional hearings in 2012 aired accounts of "Auschwitz-like" conditions at the facility. Rep. Jason Chaffetz, R-Utah, at the time pointed to evidence of Afghan soldiers enduring starvation and "botched operations," and accounts that doctors conducted procedures "without anesthesia or painkillers." Doctors and nurses, he said, demanded bribes for care, and left patients who didn't pay to die "in their hospital beds."
But investigators say Patton stonewalled when questions were raised.
According to the newest July 28 inspector general report, Patton ordered a Navy officer who had been working at the hospital to stop talking to Department of Defense inspectors investigating reports of wrongdoing and negligence at the Afghan facility.
Patton twice told Lt. Cmdr. Jeremy Young to "stay in your f-----g lane" and told him "if you don't know about bones, don't talk about bones" – a comment made after the subordinate showed officials an X-ray of a broken femur that had been poorly patched up, according to the report.
Patton's order, made during a hospital tour – which included the patient ward, pharmacy and intensive care unit -- allegedly stopped the subordinate from telling the DOD investigative team touring Dawood about the rest of the conditions at the hospital, which U.S. taxpayers have spent $200 million supporting.
In its 19-page report, the IG recommended that "the Secretary of the Army take appropriate actions against MG Patton," but did not disclose what those actions should be.
The IG says its recommendation was based on personal interviews with Patton, Young, and 22 witnesses, in addition to reports and testimony from eight officials interviewed during previous investigations related to Dawood.
But to some lawmakers, the IG's office should have responded sooner.
"Based on the evidence to date, those involved should be held accountable, including the Inspector General's office which turned a blind eye to the corruption that triggered the whistleblowing," Sen. Chuck Grassley, R-Iowa, told FoxNews.com in a written statement.
Young was in charge of taking a group of Afghans and members from the DOD on a hospital tour. According to the IG report, he "identified significant issues regarding [Afghan] health care," including "grossly substandard care," "inability to procure medication and supplies," and patients "treated incorrectly" due to lack of knowledge or "possibly from some negligent decision."
The Dawood tour also was supposed to include stopping by the rooms of five patients who "would exemplify" how the hospital operated. However, after the first patient visit, the team could not locate the second patient "either because he was in surgery or had been moved."
The tour then led to a third patient's room where the lieutenant showed an X-ray to illustrate that the Afghan doctor did not do a good job during surgery to repair the man's femur. It was then that Patton "came storming out of the room," and reportedly told others waiting in the hallway, "We have to stop [informant] from briefing DODIG on this."
The latest allegations follow a finding in August 2013 that concluded Patton, along with his superior Lt. Gen. William B. Caldwell IV, tried to pressure others from contacting Pentagon investigators about patient fraud and neglect at Dawood.
"It appears that, along with previous independent testimony, another report has shown that Generals Caldwell and Patton engaged in a pattern of alleged misconduct in connection with whistleblowing at the Dawood National Military Hospital in Afghanistan," Grassley said.
Last December, following the results of the first finding of obstruction, Patton stepped down as the director of the Pentagon's Sexual Assault Prevention and Response Office.
Multiple requests to the Pentagon and Army for comment were not returned.