UN's scathing reports stoke US concerns about anti-Israel bias
The United Nations is publishing two reports criticizing Israel for its alleged mistreatment of Palestinians, just as U.S. Ambassador Nikki Haley is trying to curb any anti-Israel bias at the U.N.
Fox News obtained a copy of a report by Secretary General Antonio Guterres which was presented to the Security Council Tuesday by UN special coordinator Nickolay Mladenov.
The report was a response to a controversial resolution criticizing Israeli settlements that the Trump transition team unsuccessfully tried to stop in December 2016. The outgoing Obama administration declined to veto the resolution.
A Security Council diplomat told Fox News that there were several council members, including France and Sweden, that pushed for a written report, a common practice.
Axios, which first reported on the report, said that Haley had prevented the report from being published for 17 months and put pressure on Guterres not to publish a report.
"It was clear that certain members of the Security Council took advantage of the situation in Gaza to collect signatures for the letter organized by the French and Swedes," a separate source in the U.N. told Fox News.  "Once presented with such a letter, the Secretary General had little choice but to issue a written report."

The report paints a dire picture of the situation in Gaza and accuses Israel of undermining "the hopes and the practical prospects for establishing a viable Palestinian state."

In particular, it names the decision to build an additional 3,500 housing units in the West Bank as yet another obstacles to a two-state solution and says that settlement activity in "occupied Palestinian territory" constitutes a "flagrant violation under international law."

It also says that 135 Palestinians, including 16 children, were shot by the Israeli Defense Force between March and June during violent protests.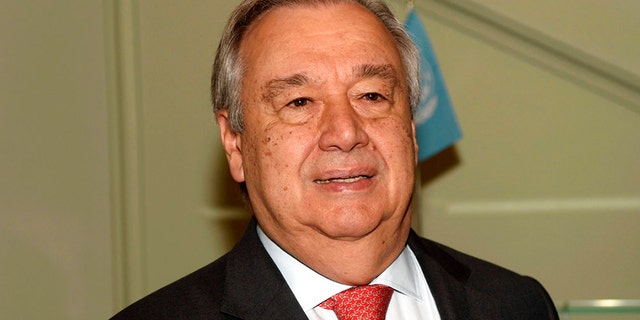 "Israel has a responsibility to exercise maximum restraint in the use of live fire, and to not use lethal force, except as a last resort against imminent threat of death or serious injury. It must protect its citizens, but it must do so with due respect of international humanitarian law," the report says.  

But Guterres, who has often tried to adopt a more moderate tone toward Israel than other hardliners within the United Nations, also criticizes Hamas particularly for its incitement of protesters, and for urging them to breach barriers and to "seek out martyrdom."

"The actions of Hamas and other militant groups put at risk not only the lives of Israelis and Palestinians, but also the efforts to restore dignity and the prospects of a liveable future for Palestinians in Gaza."

Another report, which was also obtained by Fox News, produced by the Economic and Social Commission for Western Asia (ESCWA) and transmitted by Guterres in response to a General Assembly resolution, criticizes the impact of Israeli policies on Palestinian living conditions.

ESCWA is one of the U.N.'s more notoriously anti-Israel bodies, and its previous head had to resign last year after coming under fire from Guterres and the U.S. for describing Israel as "an apartheid state."

But while this report uses no such inflammatory language, it is still scathing about Israeli practices,  from the demolition of Palestinian housing and what it says is "inherently discriminatory" application of different legal standards against Palestinians.

It also cites healthcare shortages, a high infant mortality rate, an energy crisis in Gaza that undermines basic services as well as severely overcrowded schools and refugee camps. 

The report claims that Israel's barrier on the West Bank is leading to a deteriorating health situation as access to Israel is sometimes denied and points the finger at Israel's policies.

"The impact of the prolonged occupation and the policies and practices of Israël on the Palestinian people, society and economy  is multilayered and  has accumulated negative effects over the years," the report says.

It also notes a "funding crisis" affecting the U.N.'s body for Palestinian refugees (UNRWA), which the Trump administration froze funding for in January over that body's anti-Israel stance. The report says that that lack of funding "only exacerbates the conditions of hundreds of thousands of Palestinians who already live in harsh conditions."

The Israeli mission said that it had not yet seen that report to the GA but pointed to a constant anti-Israel bias at the U.N.

"The anti-Israel bias at the U.N. is widespread and permeates into almost every U.N. body. Over the past weeks, we have seen that this automatic majority against Israel is not set in stone and can be eroded," Ambassador Danny Danon said in a statement to Fox News.
"We call on all U.N. officials and agencies to focus on the real crises plaguing the world and not to seek ways to illegitimately disparage the State of Israel."

The slew of reports focusing on Israel is likely to only further deteriorate the relationship between the Trump administration and the U.N. U.S. Ambassador Nikki Haley has repeatedly and vociferously called out what she sees as anti-Israel bias in the body's many different departments.
AFTER VOTE FAILS TO CONDEMN HAMAS, HALEY CALLS UN AN UNSERIOUS FORCE FOR MIDDLE EAST PEACE 

The Associated Press reported last week that the Trump administration is preparing to pull out of the Human Rights Council over its alleged anti-Israel bias, as well as restricting funding to the U.N.'s body for Palestinian refugees over the groups' anti-Israel bias -- and has repeatedly called out what she sees as bias from members of the U.N. and the Security Council.

Tuesday's report comes shortly after Haley slammed the U.N. General Assembly last week as "shameful" for failing to approve a U.S. amendment to a Palestinian-backed draft resolution that would condemned Hamas.

"It is no wonder that no one takes the U.N. seriously as a force for Middle East peace," she said, although she hailed the number of supporters for the amendment as a sign that "the common practice of turning a blind eye to the U.N.'s anti-Israel bias is changing."
Fox News' Ben Evansky contributed to this report.