Unions demand AFL-CIO cut ties with environmental activist billionaire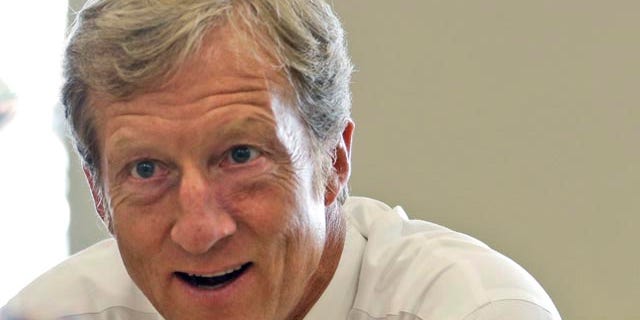 Seven unions have demanded that the AFL-CIO cut ties with Tom Steyer, the billionaire hedge fund manager and environmental activist, over his opposition to the Keystone Pipeline and other oil and gas projects.
In a letter sent to AFL-CIO President Richard Trumka Monday, union officials accused the labor confederation of becoming "infiltrated by financial and political interests that work in direct conflict to many of our members' — and yes, AFL-CIO dues paying members' lives."
In a rare clash between two of the Democratic Party's key constituencies, the union officials said they did not want their dues to go toward the For Our Future PAC. The PAC, backed by Steyer and the AFL-CIO, plans to raise $50 million for the Democratic candidate in this fall's presidential election.
Steyer, who spent more than $70 million during the 2014 midterm elections, was one of the most prominent opponents of the Keystone Pipeline, which would transport oil from Canada's tar sands pits to the Gulf Coast. The Obama administration rejected a permit application for the proposed 1,187-mile pipeline in November 2015.
The letter said that Steyer's opposition to such projects has disproportionately affected workers in the construction industry.
"A growing trend within the Federation seems to consistently minimize the importance of Building Trades jobs and our members' livelihoods in the pursuit of a coalition strategy with outside organizations that has produced mixed results at best and disastrous results at worst for our members and their employment prospects in many instances throughout the country," the letter says.
The seven union heads who signed the letter to Trumka, which was first reported by The Hill, represent 1.5 million workers. In all, the AFL-CIO represents approximately 12,7 million active and retired workers.
In a separate letter, first reported by The New York Times, Terry O'Sullivan, president of the Laborers' International Union of North America, called the For Our Future PAC a "politically bankrupt betrayal" and called Steyer a "job-killing hedge fund manager with a bag of cash."
There was no immediatey comment from the AFL-CIO. A spokesman for Steyer's nonprofit told the Times that For Our Future would "help elect progressive leaders who are committed to a just transition to a clean-energy economy that will benefit working families across the nation."