Under fire, HUD Secretary Julián Castro expected to change controversial loan program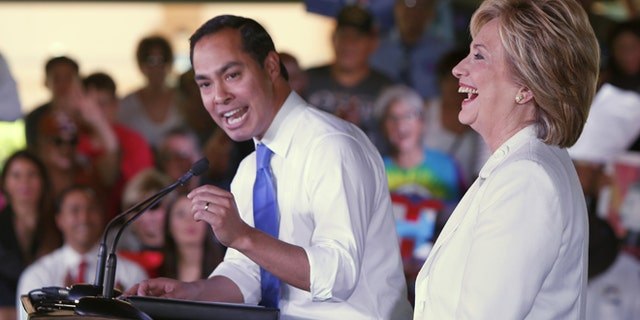 NEWYou can now listen to Fox News articles!
Secretary of Housing and Urban Development Julián Castro is expected to unveil changes to a controversial federal program that sells flawed mortgages.
The changes must get final approval by agency lawyers before they can be published in the Federal Register, according to Politico.
The changes involve amending the Distressed Asset Stabilization Program to require that investors who purchase mortgages make available opportunities to reduce the principal and to freeze any loan modifications to mortgages for at least five years.
Many view the plan, which Politico says Castro may announce as soon as Tuesday, as a response to criticism from activists and progressive Democrats such as Sen. Elizabeth Warren (D-Massachusetts), some of whom feel that the secretary's previous inaction on the matter should preclude him from being considered as a potential vice president.
Castro has been rumored to be among a short list of people Democratic front runner Hillary Clinton is considering as a running mate.
HUD officials dismiss any connection between the new plan and the possibility of Castro being on the Democratic ticket this November.
"It has always been our goal to get the policy right, regardless of arbitrary deadlines, and we expect to announce those changes this week," HUD press secretary Cameron French told Politico.
The new plan follows two years of a push by activists for a revamping DASP. Critics say that under Castro's leadership, HUD sold problem mortgages mainly to the Wall Street firms that were blamed for causing the housing crisis.
Housing activists are planning a national day of action on the issue on Tuesday in front of HUD offices in New York, Philadelphia, Los Angeles, San Francisco and Newark.
"I would say we're cautiously optimistic, but we don't know – and what we need to see is a plan that will lead to substantially more mortgages not getting into the hands of bad actors and saving more homes from foreclosure," said Amy Schur, campaign director for the Alliance of Californians for Community Empowerment. "Unless we see that, it's going to be a problem."
The activists have set up a website, DontSellOurHomestoWallStreet.org
"Some of you all may have seen recent concerns that were voiced about DASP," Castro said recently in a speech he delivered to the National Association of Realtors, according to Politico.
"We're improving that and have been working to do that to ensure that folks are able to stay in their homes longer because they're offered principal reduction in certain instances," Castro said. "[So] that we get better outcomes for neighborhoods by making sure that folks who secure those loans aren't able to just walk away from those properties and by instituting something that we refer to [as] 'payment shock protection' to make sure that once payments are modified, that they don't just jump up a couple of years later."