UN roughs up, ejects, bans reporter from headquarters: Caught on tape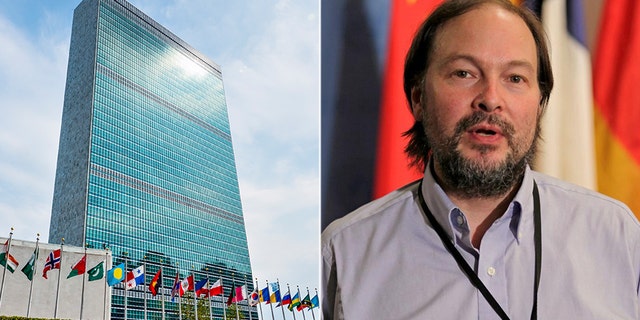 NEW YORK – United Nations security allegedly roughed up, tossed out and temporarily banned a reporter from its New York headquarters this week -- the latest incident in what a watchdog has described as a "long history of harassment" against him.
Matthew Lee, who runs the online Inner City Press blog, has long been a thorn in the side of many U.N. officials with his combative and relentless style of reporting. "ICP" puts out several lengthy stories a day about U.N. proceedings, with a particular emphasis on corruption, incompetence and lack of accountability at the international body.

The content is often deeply in the weeds of U.N. activity with no hearing, speech or photo op too small or dry for Lee's coverage, and he is regularly seen zipping through the building and typing on his laptop in any nook or cranny he can find. He uses Periscope to livestream events and offers running commentaries of the day's proceedings as he walks home through New York City at night.
And so on Tuesday, Lee hovered outside a late-night, closed-door hearing on the U.N. peacekeeping budget. Other outlets had reported that the budget had been agreed on over the weekend, suggesting a looming stalemate had been broken. But Lee's reporting suggested things might not be so clear cut.

Partial video of the incident taken on his phone shows Lee chatting with a committee member -- but it then cuts to a few minutes later when a scuffle can be heard. He claims that his shirt was torn, his computer damaged and his arm twisted by a security guard as he was trying to write a story about his conversation.

A man he identified as an assistant secretary general can be heard telling him the committee hearing is closed, though Lee said he never tried to enter the room and was just reporting near the room.

"I'm a journalist, I'm a journalist," he can be heard yelling in the footage. "You see what's happening here?"

On Thursday, he returned to work but was denied access to the building, though he was not informed why or if it was a temporary or permanent restriction.

"I've been told nothing," he told Fox News outside the building as he paced through tourists. "It's totally corrupt."

A security guard at the gate confirmed Lee had been banned from the building, but would not say why or for how long.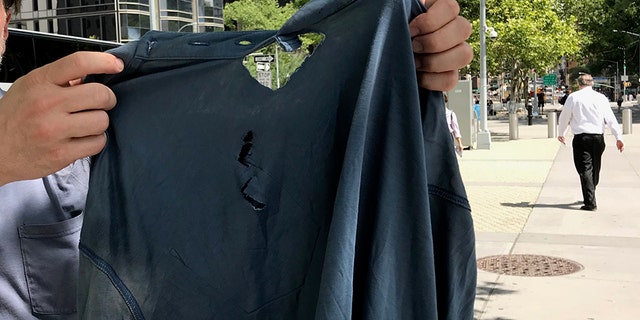 In a statement to Fox News, though, United Nations Secretary General spokesman Farhan Haq said that Lee was in violation of rules for non-resident correspondents and had been "loud and belligerent" when asked to leave.

"On the evening of 3 July, U.N. Security was alerted to a violation in the use of an access card, in which a person was using his access card to enter an off-limits area," Haq said.
"When security followed up, they found Matthew Lee to be in the building past 9 p.m., well after the hours for a non-resident correspondent, and they informed him that he was not allowed to roam around the UN compound at that hour. They informed him that he would be required to leave the premises.

"At that point, Mr. Lee became loud and belligerent, and resisted the instructions of UN security officers. He was then escorted outside the building, along with his laptop and backpack.
"Based on his unacceptable behavior, and the fact that he was a repeat offender, having been similarly removed from the building on 22 June 2018, Matthew Lee has been temporarily barred from the premises pending a full review of this incident," he said.

Certainly, Lee is no stranger to spats with U.N. officials and also some fellow journalists. He had his credentials downgraded from resident correspondent to non-resident correspondent in 2016 after a spat over coverage, and was last month ejected from the building after being told he had to leave also for allegedly breaching rules surrounding when non-resident correspondents can be in the building.

Guidelines states that non-resident correspondents "only have access to UNHQ on weekends or after hours accompanied by a resident correspondent or when a meeting is advised as taking place." Lee claims that because a budget meeting was indeed taking place, he was within his rights to be there.

After he was removed from the building last month, the Government Accountability Project expressed alarm over the incident, saying it was unexplained and part of a "long history of harassment" against Lee.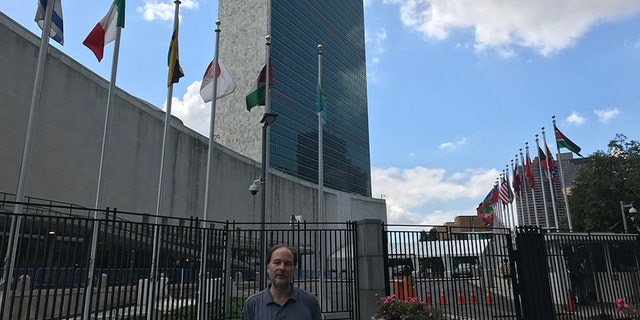 The GAP noted that he had broken stories about the role of U.N. peacekeepers in bringing cholera to Haiti, as well as war crimes in Sri Lanka, Burundi and Sudan.

"The Government Accountability Project is deeply concerned about the mistreatment of Matthew Lee for two reasons. First, he has covered U.N. whistleblower cases accurately and in detail, and we regard the mistreatment of him as retaliatory," the GAP said.
"Secondly, his exclusion from the UN premises because of capricious, unannounced and unknown decisions of senior managers bodes ill for the treatment of journalists in U.N. Member States."

Lee agrees, saying he thinks it was a retaliatory act from a body that has shown itself allergic to accountability and scrutiny.

"Absolutely they sent a message," he told Fox News Wednesday before the ban was announced. "If you screw with us you're not going to have an office and you're going to be hunted down and thrown out of the building."

"It's really nasty."
In 2007, The New York Times described Lee as "a gadfly with accreditation" and "like a bull in the carefully diplomatic china shop of the United Nations press corp." That statement remains true today, and Lee frequently spars with U.N. officials unused to aggressive questioning of the kind more commonplace in Washington.
A number of supportive officials and diplomats approached Lee as he was prowling outside the U.N. headquarters Thursday awaiting information, though did not want to go on record.

"Everyone in there reads him," one official who declined to identify himself told Fox News, pointing to the looming U.N. building. "Everyone."