UN official resigns over nixed anti-Israel report after pressure from Haley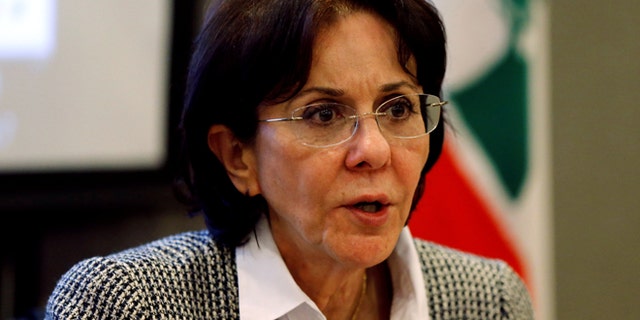 A U.N. official resigned Friday after her commission came under fire from U.S. Ambassador Nikki Haley for releasing a report, authored by an anti-Israel scholar, which called Israel an "apartheid state" – a report Haley demanded withdrawn and that has since been removed from the commission's website.
Rima Khalaf, who was Executive Secretary of the U.N. Economic and Social Commission for Western Asia, said in a press conference she had resigned after U.N. Secretary-General António Guterres demanded she retract the controversial report.
"It was expected, naturally, that Israel and its allies would exercise immense pressure on the U.N. secretary general to distance himself from the report and to ask for it to be withdrawn," she said, referring to fierce objections from Israeli and U.S. officials.
By Friday afternoon, the report had nevertheless been removed from the commission's website. The report said Israel's policies in regards to Palestine today meet the definition of "an institutionalized regime of systematic oppression and domination" by one racial group over another.
"Aware of the seriousness of this allegation, the authors of the report conclude that available evidence establishes beyond a reasonable doubt that Israel is guilty of policies and practices that constitute the crime of apartheid as legally defined in instruments of international law," the report said.
Particularly egregious for U.S. and Israeli officials was the decision to get controversial scholar Richard Falk to author the report.
U.N. COMMISSION PUSHES LEGAL AND PROPAGANDA OFFENSIVE AGAINST ISRAEL
Falk, a former U.N. special rapporteur to the Palestinian territories, is known for outlandish criticisms of both America and Israel, particularly on matters of Islamist terrorism. After the 2013 Boston Bombings, Falk remarked: "The American global domination project is bound to generate all kinds of resistance in the post-colonial world."
Falk repeatedly has questioned what he calls "the official version of 9/11." In 2013, he told a radio show host about "gaps" in the standard 9/11 narrative.
"That [the report] was drafted by Richard Falk, a man who has repeatedly made biased and deeply offensive comments about Israel and espoused ridiculous conspiracy theories, including about the 9/11 terrorist attacks, is equally unsurprising," Haley said in a statement Wednesday, in which she also called on Guterres to withdraw the report.
Guterres initially only distanced himself from the report, and said via a spokesman that it was published without prior consultation with U.N. headquarters. On Friday, his spokesman said that Guterres had demanded the report scrapped because of the lack of consultation.
"This is not about content, this is about process," spokesman Stephane Dujarric told reporters. "The Secretary-General cannot accept that an under secretary-general or any other senior U.N. official that reports to him would authorize the publication under the U.N. name under the U.N. logo without consulting the competent departments and even himself."
Haley, who had blasted the report as "anti-Israel propaganda," released a statement after Khalaf's resignation, praising Guterres' decision.
"When someone issues a false and defamatory report in the name of the UN, it is appropriate that the person resign. UN agencies must do a better job of eliminating false and biased work, and I applaud the Secretary-General's decision to distance his good office from it," she said.
Among the report's recommendations was a call to "broaden support for boycott, divestment and sanctions initiatives among civil society actors." It also called for the secretary-general to recommend to the General Assembly and Security Council that a "global conference" be convened to determine what action should be taken by the U.N.
The controversy over the reports comes as the Trump administration has been taking a tougher line against the international body. The Trump administration is already considering pulling back support for and participation in various U.N. programs, in part due to its perceived anti-Israel stance.
In an interview with "America's Newsroom" Friday, Haley reiterated that the administration intends to take a hard stance with the U.N.
"The U.N. has been Israel-bashing for decades and what we are trying to do is make sure they understand that there's a new administration in town and we're not going to put up with it," she said.
Israeli diplomat Eitan Weiss praised Haley and said the removal of the report was a sign that, "the winds of change are blowing in the [corridors] of the U.N."