UN Ambassador Nikki Haley warns North Korea America has 'considerable military options'
NEWYou can now listen to Fox News articles!
Nikki Haley, the U.S. Ambassador to the United Nations, warned North Korea Wednesday that America has considerable military options at its disposal, following that country's intercontinental ballistic missile launch Tuesday.
Her remarks came during an emergency Security Council meeting on North Korea.
Haley warned Pyongyang that while the U.S. doesn't seek conflict, it is prepared to use force if necessary.
"One of our capabilities lies with our considerable military forces. We will use them if must, but we prefer not to have to go in that direction," she said.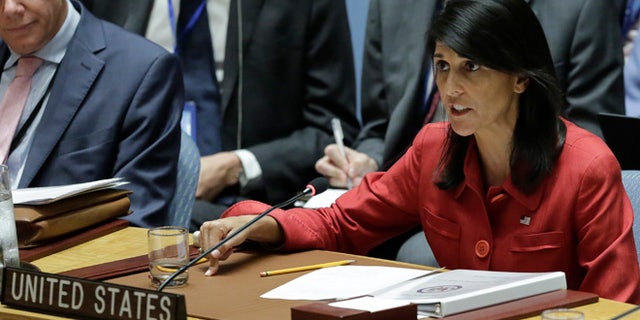 One senior Western diplomat told Fox News that North Korea is the biggest threat to international peace and security right now.
NORTH KOREA'S NUCLEAR WEAPONS PROGRAM HAS GROWN WITH EACH KIM REGIME
Haley reminded Council members about the tragic death of American student Otto Warmbier at the hands of the Pyongyang regime and said that Tuesday's launch was a "dark day," and had made the world a much more dangerous place.
"Their illegal missile launch was not only dangerous, but reckless and irresponsible," she said. "It showed that North Korea does not want to be part of a peaceful world. They have cast a dark shadow of conflict on all nations that strive for peace."
Haley told the Council that the U.S. would bring a new draft resolution against North Korea in the coming days, which would further sanction the rogue regime.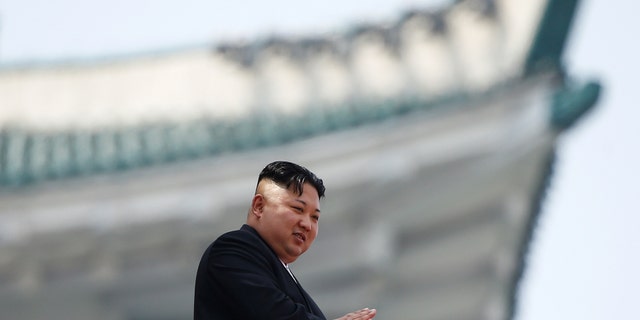 While several members of the Security Council said they would most likely support a new resolution,both Russia and China didn't seem as supportive.
"We are against any statements or action which could lead to an escalation and hardening of antagonisms," said Russian deputy Ambassador Vladimir Safronkov, who called for more dialogue for a comprehensive solution for the Korean Peninsula.
"Sanctions will not resolve the issue. In that manner we simply rush towards a stalemate just as any attempts to resolve the situation through force are inadmissible," he said.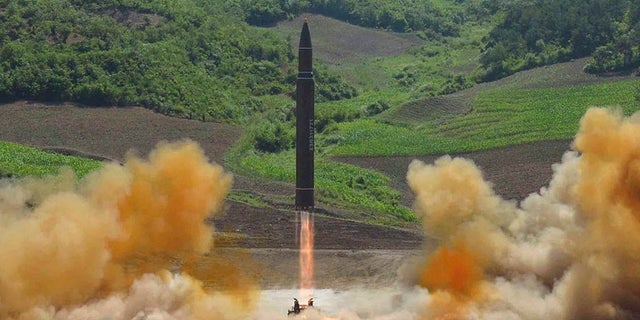 China's UN Ambassador, Liu Jieyi, who is this month's Security Council president, said that China's goal is to realize the denuclearization of the Korean Peninsula and criticized, along with his Russian counterpart, the deployment of the Thaad anti-missile system in South Korea. He urged the immediate cancellation of their deployment to the area.
"China has always been firmly opposed to chaos and conflict on the peninsula. Military means must not be an option, in this regard the deployment of Thaad anti-missile system in North-East Asia seriously undermines the strategic security interests of regional countries including China," he said.
US WATCHED NORTH KOREA PREPARE FOR ICBM LAUNCH
Both China and Russia have pushed for a way to ease tensions and are coordinating on a suspension for suspension basis, which would mean North Korea suspends its nuclear and ballistic testing while the U.S. and South Korea would suspend their military exercises.
Haley, who asked to speak a second time, cautioned fellow Security Council members that a vote against a new resolution would show support for North Korea.
"It's time for us to all stand together and say we will not put up with this action, to sit there and oppose sanctions, or to sit there and go in defiance of a new resolution means you are holding the hands of Kim Jong-un," she said.