U.S. Threatens Veto in U.N. on Palestinian Statehood Even as Radio Ad Uses Obama's Voice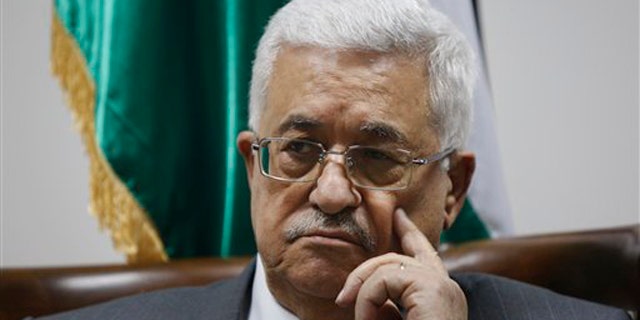 President Obama's own words on Palestinian statehood are being used in a new radio ad airing in the Middle East even as the State Department announced Thursday that the U.S. would veto any bid for recognition in the United Nations of a new Palestine.
Thursday's announcement that the U.S. will veto an effort in the U.N. Security Council to give Palestinians their own country comes after Reuters reported that a new ad produced for the Palestinian Authority references remarks the president made in 2010 before the U.N. General Assembly.
At the time, Obama said: "When we come back here next year, we can have an agreement that can lead to a new member of the United Nations, an independent, sovereign state of Palestine living in peace with Israel."
In the ad, Palestinian Authority President Mahmoud Abbas says, "He must have meant it."
The president, though, has called for statehood to be determined as part of negotiations. And in the 2010 speech, Obama was talking about what could happen if both sides put aside "posturing" and "petty politics" and "draw upon the teachings of tolerance" to come together.
Since that time, peace talks between Palestinians and Israel have broken apart; Israeli Prime Minister Benjamin Netanyahu pushed back on Obama's call to return to the pre-1967 borders; peace-talks partner Hosni Mubarak was ousted as president of Egypt; Palestinian ruling party Fatah and terror group Hamas have forged a unity government; and Palestinians coming through the Sinai Peninsula last month launched a string of attacks on Israelis.
Israel has long opposed the statehood push if it's done absent a result of negotiations, which include where Israel would redraw its borders.
The White House has been pushing hard against the upcoming vote, claiming the U.N. is not the correct avenue through which to seek statehood.
"The administration believes, as you know, that the Palestinians cannot achieve statehood through a U.N. mandate," White House Press Secretary Jay Carney said Sunday. "The only way to do that is through direct negotiations. And the administration has continued to urge both sides to negotiate a peace that will lead to Palestinian statehood."
A U.S. veto is about the only thing that would prevent a vote in the U.N. supporting a unilateral declaration of statehood for the Palestinians. If it were secured, an affirmative statehood vote in the General Assembly would give the Palestinians status as a non-member state.