U.S. Forces Over Libya Receiving Hazard Pay, Despite Claim Mission Not 'Hostilities'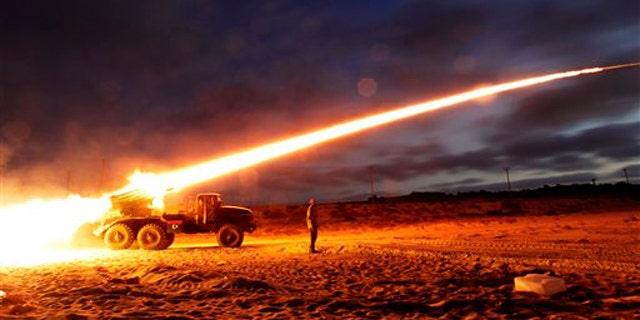 U.S. military personnel serving in the Libya mission are receiving hazard pay, though the Obama administration continues to claim the air campaign against Muammar al-Qaddafi's forces does not amount to "hostilities."
The Pentagon confirmed Tuesday that the mission in Libya is dangerous enough to warrant what's known as "imminent danger pay" for those serving in the region.
"The designation is based on an assessment of the imminent danger to members on official duty in this part of the world where they are subject to the threat of physical harm because of civil insurrection, civil war, terrorism or wartime conditions," Pentagon spokesman Col. Dave Lapan told Fox News.
"Imminent danger pay" is not solely reserved for troops serving in war zones. While troops in Afghanistan and Iraq receive the extra pay, so do U.S. forces in countries ranging from Colombia to Kenya to Kuwait. The designation of an "imminent danger" area is made by a top Pentagon official in the Personnel and Readiness office. The Pentagon opted not to give forces over Libya a separate kind of supplemental pay known as "hostile fire pay."
Lapan, in confirming the "imminent danger" designation, contradicted concerns expressed by Sen. John McCain, R-Ariz., that U.S. forces might not be receiving any hazard pay, which adds up to an extra $225 per month.
But the designation of the airspace over Libya and elsewhere as an "imminent danger" zone adds another layer of complexity -- and for some, confusion -- to the administration's description of the Libya mission.
The administration argues that the air campaign over Libya does not amount to hostilities and therefore does not need congressional approval to proceed -- as would otherwise be required under the 1973 War Powers Resolution.
But even McCain, who supports the Libya intervention, doesn't buy that argument. He said Tuesday it would defy common sense to claim a campaign that entails limited airstrike missions and Predator drone attacks does not constitute hostilities. McCain and Sen. John Kerry, D-Mass., on Tuesday introduced a resolution to authorize U.S. involvement in Libya.
Click here to read more about the McCain-Kerry resolution.