U.S.-Cuba Migration Talks Were Productive, Official Says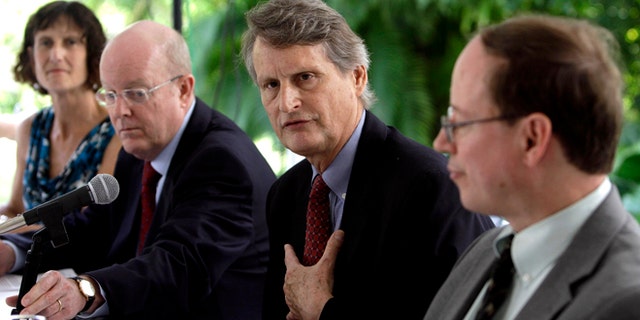 HAVANA (AP) – A senior U.S. State Department official said Friday that migration talks with the Cuban government this week have been productive and yielded "some positive outcomes," but did not give concrete details of any agreements or breakthroughs.
Alex Lee, deputy assistant secretary at the State Department's Bureau of Western Hemisphere Affairs, told reporters that the Obama administration is open to seeking a new relationship with Havana, but it should go hand-in-hand with more political freedom in the Communist-run nation.
"We at the same time want to have that opening reflect from the Cuban side a respect for Cubans who express themselves freely," Lee said. "To be able to petition their government with grievances without the danger of them being arrested. ... In the meantime, we are working on these sets of rather narrowly defined areas of cooperation."
The migration talks took place Thursday in the Cuban capital and ranged to cover other topics of mutual interest for the Cold War foes, including aviation safety, maritime search and rescue protocols and consular document fraud.
Lee said Washington welcomed a year-old Cuban migratory policy change eliminating a longstanding exit visa requirement under which islanders had to ask their government's permission to travel abroad.
He said that during three days in Havana, he met with foreign diplomats and members of so-called civil society — primarily independent journalists, writers and political activists.
Lee also visited imprisoned U.S. government subcontractor Alan Gross, who is serving a 15-year sentence on a conviction for crimes against the Cuban state related to his work setting up hard-to-detect Internet networks for the island's tiny Jewish community.
He declined to give details of their private discussion, and repeated Washington's previous calls for Gross' freedom.
"We believe that Alan should be released. ... We do not see any reason why he received such a harsh sentence," Lee said.
He added that during his discussions with Josefina Vidal, Josefina Vidal, director of the U.S. Division at Cuba's Foreign Ministry, and other island officials, they raised their concerns about four Cuban intelligence agents serving long terms in the United States.
"We took note," Lee said.
The migration talks have in the past been used as a rare chance for dialogue between two countries that have not had full diplomatic relations for decades.
They were suspended in 2011, the same year Cuba sentenced Gross to prison, but resumed last July. Cuban and American officials also met multiple times in 2013 on re-establishing direct mail service, and Lee said there have been conversations in areas such as counter-narcotics cooperation, oil spill preparation and transportation.
"Despite our historically difficult relationship ... we have been able to speak to each other in a respectful and thoughtful manner," he added.
Follow us on twitter.com/foxnewslatino
Like us at facebook.com/foxnewslatino