Turmoil grips conservative Schlafly organization, amid Trump-Cruz tensions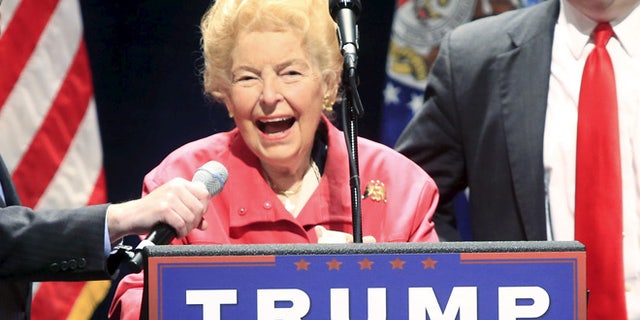 The decades-old, conservative juggernaut Eagle Forum is engulfed in a personal and political power struggle allegedly sparked by iconic founder Phyllis Schlafly endorsing Donald Trump for president.
The 91-year-old Schlafly endorsed Trump several weeks ago, which purportedly led some Ted Cruz supporters on the Eagle Forum board of directors to contact the Texas GOP senator's presidential campaign.
What has followed is weeks of turmoil and infighting, including attempts to oust forum president Ed Martin and a Schlafly family feud, according to numerous interviews and other accounts.
Martin told FoxNews.com on Tuesday that at least one board member leaked internal emails to the Cruz campaign that were critical of the candidate.
He said those emails resulted in a sharp response from the Cruz camp and an attempt by his group's board to take away his control of Eagle Forum's 501(c)(4) -- a tax-exempt, nonprofit that promotes the group's social issues. Martin says he maintains control, though that, too, is a matter of ongoing dispute.
However, Martin says he's not convinced the turmoil was entirely the result of the Trump endorsement.
"They haven't consistently suggested what their objection is. Phyllis asked," he said. "Some of it was Ed Martin, a new accounting system. … But they won't answer the question."
Schlafly started the network in 1972, which focuses on pro-family and socially conservative issues and now has an estimated 80,000 members. Her positions against mainstream feminism throughout the '70s were critical in the defeat of the Equal Rights Amendment.
Schlafly released a video last week in an attempt to calm the waters.
"I'm glad I have the chance to talk to you personally," she says in the video. "There seems to be a lot of confusion on what is going on in the ranks. …. I'm still in charge."
However, the turmoil continues, despite Schlafly, Martin and others' assurance that all is well.
Schlafly has asked daughter Anne Cori and several other board members to resign, according to an April 10 letter obtained by the nonprofit Center for Public Integrity.
One of the members, Cathie Adams, told The Daily Beast she was behind the leak to the Cruz campaign of at least one "ugly" email critical of the Texas senator.
And she said Cruz supporters at Eagle Forum gave the group's membership-contact information to the Cruz campaign, according to the publication -- which also suggested the Cruz camp has fueled the internal discord.
The Cruz campaign did not responsd to a request for comment.
Adams referred FoxNews.com's request for comment to Cori, Schlafly's daughter and another anti-Martin board member.
Martin said the board's efforts to oust him failed because members tried to organize the move, including the seizure of a $4 million bank account, through an "improper" and hastily called meeting last week via conference call.
"Nothing has changed at Eagle Forum," said Martin, hired by the board in January 2015.
However, Cori told FoxNews.com Tuesday that the board acted within its bylaws and Martin won't accept that he no longer runs the nonprofit.
Cori said the board cannot discuss why it no longer wants Martin to be in charge, citing privacy rules about personnel decisions.
However, she said he still runs the other part of Eagle Forum's conglomerate -- the group's charitable nonprofit.
And she refuted the allegation that the changes were the result of the endorsement. "It had nothing to do with that," Cori said. "It was about the management of Eagle Forum. Sometimes things just don't work out."
As for her relationship with her mother, she told FoxNews.com: "I talk to my mother regularly. We have a great relationship. I love my mother dearly."