Trump's DACA demands met with outrage from 'Chuck and Nancy'
President Trump's political dalliance with "Chuck and Nancy" already is running into problems, as the top congressional Democrats balk at the president's new terms for a deal to help the roughly 800,000 young illegal immigrants known as 'Dreamers.'
"This proposal fails to represent any attempt at compromise," House Democratic Leader Nancy Pelosi and Senate Democratic Leader Chuck Schumer said in a joint statement, after the administration announced the demands Sunday night.
The friction comes roughly three weeks after Pelosi and Schumer left a White House dinner with Trump saying they'd agreed to a framework deal to help the young illegal immigrants, as Trump moves to end their protections under the Obama-era Deferred Action for Childhood Arrivals program (DACA).
The Trump administration outlined an extensive list of conditions late Sunday.
"The administration can't be serious about compromise," Pelosi, of California, and Schumer, of New York, also said in their Sunday night statement. "We told the president at our meeting that we were open to reasonable border security measures … but this list goes so far beyond what is reasonable."
Kellyanne Conway, counselor to the president, on Monday questioned what Schumer thinks is "reasonable."
"You have people who are losing loved ones because they are killed by an illegal immigrant," Conway said on "Fox & Friends." "What's reasonable is to stop the flow of illegal immigrants and drugs over the border. I'd like to know what Chuck Schumer thinks is reasonable."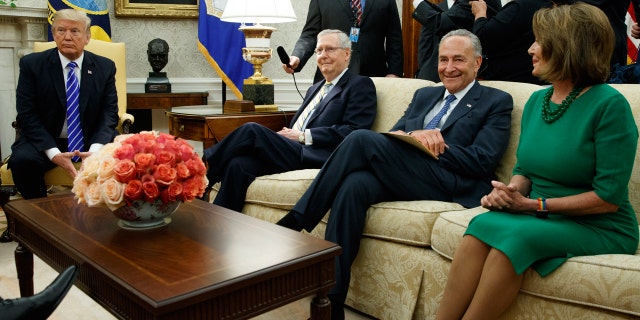 Trump in recent weeks has turned to Schumer and Pelosi amid frustration with Senate Republicans, after they repeatedly failed to repeal and replace ObamaCare, denying him a major legislative victory and the ability to fulfill a top campaign promise.
Trump left the earlier meeting touting his efforts with "Chuck and Nancy" but was not specific about whether wall funding was a necessity.
The administration's requirements announced Sunday include additional crackdowns on "sanctuary cities" that protect illegal immigrants; reducing the number of incoming refugees; 10,000 more Customs and Border Patrol agents; and new initiatives curbing the number of unaccompanied immigrants who come to the U.S. illegally as children.
"Over the last several decades, respect for the rule of law has broken down and immigration enforcement has been sacrificed for the sake of political expediency," Attorney General Jeff Sessions said after the announcement. "This plan will work."
House Speaker Paul Ryan's spokesman Doug Andres said the GOP-controlled chamber's immigration working group would review the roughly 70-point White House list, then consult with the entire Republican caucus and the administration.
The White House plan is considered a starting point for congressional negotiations.
While the plan is already being embraced by Capitol Hill's most conservative members, including a number of immigration hawks, backlash is growing among Democrats.
"It is immoral for the president to use the lives of these young people as bargaining chips in his quest to impose his cruel, anti-immigrant and un-American agenda on our nation," said New Mexico Rep. Michelle Lujan Grisham, chairwoman of the Congressional Hispanic Caucus.
The House Freedom Caucus, the chamber's most conservative wing, is backing the plan.
"We applaud the administration's leadership on principles that will be critical to any immigration policy changes," said caucus Chairman Mark Meadows, R-N.C. "We look forward to the administration's insistence on these principles in any deal that is signed into law."
In dismantling DACA, the administration has argued it was forced to act because federal courts were ready to rule the program was unconstitutional, which would have put the Dreamers' future in jeopardy.
Trump, in announcing the end of DACA, gave Congress six months to find a legislative alternative.
The White House on Sunday night also asked to limit family-based green cards to spouses and the minor children of U.S. citizens and lawful permanent residents, in addition to creating a point-based system.
And it called for boosting fees at border crossings, making it easier to deport gang members and unaccompanied children, and overhauling the asylum system.
Conway also said Monday that the White House requests are the result of collaborations with such agencies as the departments of Justice, Homeland Security and Health and Human Services as well as Immigration and Customs Enforcement and Border Patrol.
Fox News' Jennifer Bowman, Mike Emanuel, Jason Donner, Jake Gibson, Serafin Gomez, Chad Pergram and Joseph Weber and The Associated Press contributed to this report.