Trump To File Necessary Financial Reports (If He Runs)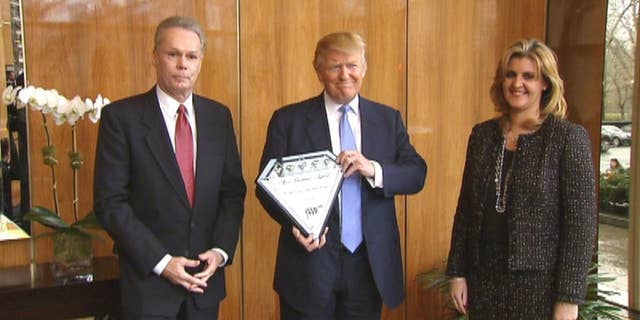 NEWYou can now listen to Fox News articles!
If Billionaire businessman Donald Trump runs for President, he's ready to open his wallet and reveal the contents for all to see.
"I will actually be filing financial reports, as you have to if you run for this very high office," Trump said Thursday.
The Office of Government Ethics requires all Presidential candidates to declare the details of all their finances within 30 days of declaring their candidacy. Mr. Trump has said he will make an announcement, one way or the other, prior to June. If he runs, he says people may be pleasantly surprised by his state of business.
"We are going to file all of the requisite papers. I think people will be very surprised, on the upside," Trump said gesturing upwards with his thumb.
Fox caught up with Mr. Trump at the Trump International Hotel & Tower where AAA President Dennis Crossley presented Trump with AAA's Five Diamond Award, making the property the only AAA Five-Diamond-Forbes Five-Star hotel in New York.
It's another feather in the cap for Trump who's seen his shares of successes, and failures. He says he is ready for reporters to start snooping around for details that haven't already made headlines.
"I look forward to that, I mean, I really look forward to that because I have a great company. It's an unbelievable company. Lots of cash. Lots of success."
He expects reporters and others to look at his books, as they would any candidate. "Otherwise I wouldn't run," Trump said, "Believe me, because I expect people, I want people to look into finances."
Trump has said he is more serious about a possible run in 2012, than any of the other three times he's thought about it.
"Well I never really considered very strongly running for the presidency," Trump said, "But the country has never been in trouble like it is now."