Trump says Mexico's president violated agreement after their private meeting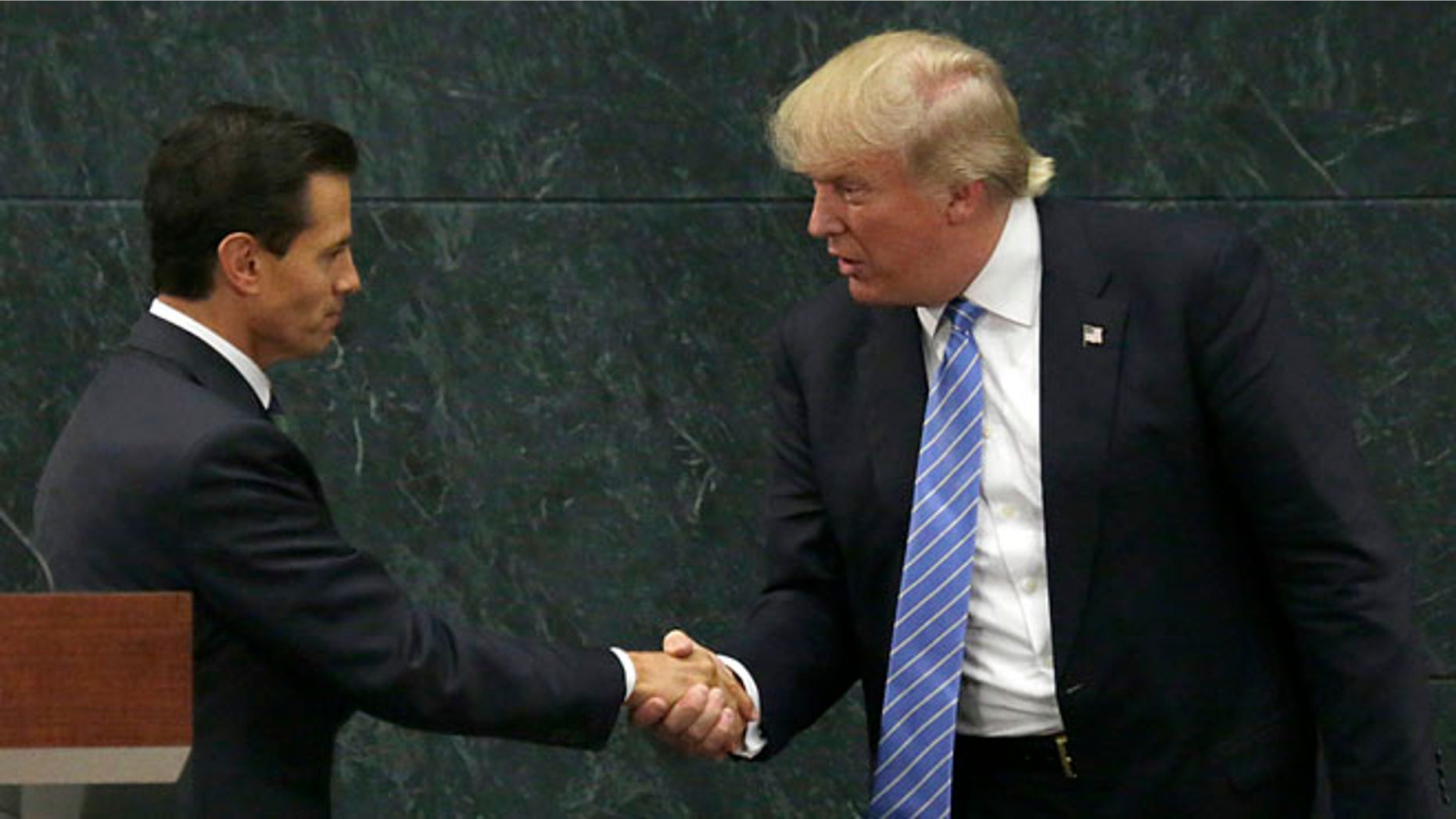 Donald Trump says the Mexican president betrayed him.
In an interview Tuesday morning on ABC, Trump said that he and Mexico President Enrique Peña Nieto did, in fact, bring up the GOP presidential nominee's plan to build a wall along the southern border and have Mexico foot the bill, but that they decided not to discuss it in depth nor in public.
After the two men's private meeting last Wednesday in Mexico, they held a press conference in which in answer to a reporter's question about the wall, Trump said it was not discussed. The nominee's response raised eyebrows since the wall has been a cornerstone of his campaign.
But after Trump left Mexico that same day, Peña Nieto tweeted that the two men actually had discussed the wall and that he "made it clear" to the billionaire that Mexico was not going to pay for it.
Trump told ABC: "It was discussed that it wouldn't be discussed, but they know my stance and I know their stance."
He said: "See who wins in the end, who will win. A hundred percent, they will pay for the wall."
In an interview on CNN Sunday, former New York City Mayor Rudolph Giuliani, who is campaigning for Trump, said that Peña Nieto had breached an agreement between the two men's staffs.
"We had ground rules for this meeting and one of the ground rules was we weren't going to discuss paying for the wall, because that's not something we're going to agree about," Giuliani said.
He said the objective of the meeting – which arose from an invitation that Peña Nieto made to both Trump and his Democratic opponent, nominee Hillary Clinton, to visit Mexico – was to find areas of common ground where both countries could work together.
Clinton said this weekend she had declined Peña Nieto's invitation.
"What we wanted to do was find areas of common agreement," Giuliani said. "And maybe the president's staff didn't brief him on it — maybe the president forgot it. But he brought it up. It wasn't at the beginning. It was sort of in the middle of the sentence, and I just briefly said, 'that's not on the table.' And the reality is they have a disagreement over that."
Like us on Facebook