Trump says his concerns about Mexican-American judge were 'misconstrued'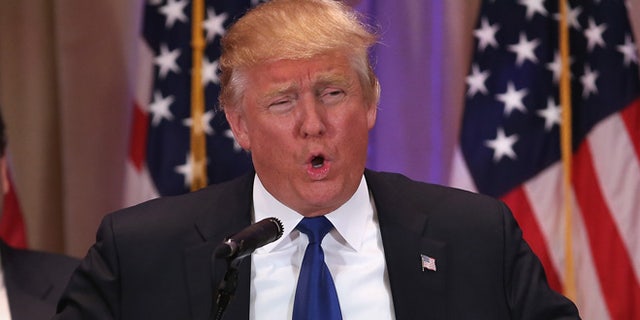 Donald Trump said Tuesday that his remarks about how the Mexican heritage of a federal judge who is presiding over a fraud case against him were "misconstrued" as a swipe at all Mexicans.
The presumptive Republican presidential nominee said that he employs thousands of Latinos, including people of Mexican descent, and that he counts them among his friends.
Trump said he does not see ethnic heritage in general as something that compromises the ability to be objective.
But, he quickly added, he has a legitimate basis for questioning the ability of Judge Gonzalo Curiel to be fair to him in the class-action lawsuit before him that alleges that Trump University fleeced students with an empty promise to teach them the real estate business.
Trump alleges that the judge has made a series of rulings in the case that are unfair to him. Trump came under fire after he said at a campaign rally in California – and has repeated time and again in media interviews since – that Curiel, who was born in Indiana to Mexican parents, is a Mexican and cannot be fair to Trump because of his hard line stance on illegal immigration and his vow to build a wall along the U.S.-Mexico border.
"The American justice system relies on fair and impartial judges," Trump said in a long statement emailed from his campaign's account. "All judges should be held to that standard. I do not feel that one's heritage makes them incapable of being impartial, but, based on the rulings that I have received in the Trump University civil case, I feel justified in questioning whether I am receiving a fair trial."
"Given my unique circumstances as nominee of the Republican Party," the statement read, "I have concerns as to my ability to receive a fair trial."
Trump's attacks on Curiel's impartiality have sparked a backlash among members of the GOP, with House Speaker Paul Ryan saying Tuesday they are "the textbook definition of racist comments."
Without directly referring to Curiel's heritage, Trump in his statement on Tuesday again mentioned his positions on immigration and unfair trade – which he has said involves Mexico and China, among other places – and questioned wether the judge could be fair.
Trump said at the conclusion of the statement that he doesn't intend to comment "on this matter any further."
The Associated Press contributed to this report.
Like us on Facebook
Follow us on Twitter & Instagram