Trump, pitching his DC hotel, tells press he's winning over the establishment
NEWYou can now listen to Fox News articles!
I was lucky that I escaped without a smack to the head.
Donald Trump had just finished a news conference in the soaring atrium of what Washingtonians still think of as the Old Post Office, the historic Pennsylvania Avenue edifice that he is renovating into what he called "one of the great hotels in the world," with "the largest luxury ballroom in the Washington area."
I joined the press mob as he led a brief tour of the hotel because I wanted to see what happened next—and indeed, Trump answered more political questions. But so many journalists were elbowing each other in a confined space that I nearly got whacked twice by television cameras, and did have a body blow from a guy with a big backpack. It was journalism as if conducted on a rush-hour subway.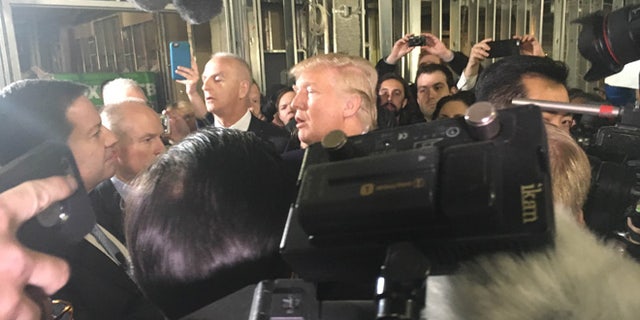 Trump was sending a clear message to the establishment with his whirlwind visit to the capital. At the presser, he said he will "easily" amass 1,237 delegates, and that politicians denouncing him on television are privately calling him for meetings. And if conservatives unhappy with his nomination launch a third-party bid, he said, it "would destroy the country."
He had just come from a meeting at the blue-chip Jones Day law firm with Sen. Jeff Sessions and several other members and former members of Congress, including Newt Gingrich, who has been sympathetic to his candidacy. Another was former senator Jim DeMint, who now heads the Heritage Foundation. And a surprise attendee was Bob Livingston, who was on the verge of succeeding Gingrich as speaker when he quit the House after the disclosure of extramarital affairs (this after Bill Clinton had just been impeached).
Trump also sat down with the Washington Post editorial board, which surprised me because of its very tough stance against the billionaire. In calling on Republican leaders to unite against him, the editorial page said: "This is a front-runner with no credible agenda and no suitable experience. He wants the United States to commit war crimes… He admires Russian dictator Vladimir Putin…He would round up and deport 11 million people…He has, during the course of his campaign, denigrated women, Jews, Muslims, Mexicans, people with disabilities and many more."
But I guess it's time to mend fences.
Trump gave the Post a mini-scoop, providing some names of his foreign policy advisory team, including counterterrorism expert Walid Phares, a Fox News contributor. This is a better response than what he told Mika Brzezinski days ago when she asked for such names: "I'm speaking with myself, number one, because I have a very good brain."
The centerpiece of his Washington visit was an evening speech to AIPAC, the pro-Israel group that had given a rousing reception to Hillary Clinton as she vowed to defend Israel and criticized Trump (though not by name) for taking an approach that "everything's negotiable."
Trump told the Verizon Center crowd that he is a "true friend of Israel" but that he didn't come there to "pander." In scripted remarks, Trump said his top priority is "to dismantle the disastrous deal with Iran" (the groundwork for which was laid by Clinton) and said he would dismantle its global terror network. He also said Clinton was a "total disaster" who had treated Israel "very, very badly," and that President Obama "may be the worst thing ever to happen to Israel."
The businessman has taken heat for earlier saying he would try to be "neutral" in seeking a deal between Israel and the Palestinians. I took that as him saying the U.S. would have to be an honest broker to hammer out a peace agreement, but his rivals ripped him as insufficiently pro-Israel.
The speech was one of those moments, with few of his off-the-cuff remarks, when you had to imagine Trump addressing the nation on a major international issue. In the arena, he was repeatedly interrupted by cheers and applause.
Trump is acting like a man ready to unite warring domestic factions, despite the deep skepticism toward his candidacy from his party and much of the media.
Politico greeted Trump's arrival with this story: "Donald Trump is on the verge of two things once thought to be impossible: winning the Republican presidential nomination, and putting Republicans' historically large House majority in danger." I'm a little skeptical, given the magnitude of the GOP's edge.
In sum, yesterday was a rather conventional day for this most unconventional of candidates. He met with party leaders, visited an editorial board, held a news conference and delivered prepared remarks to the nation's most influential Jewish group.
And if he loses? When a reporter raised that prospect, Trump waved his arms across the vast atrium of his hotel, five blocks from the White House, flashed a grain and said: "Then I go back to this."