Trump: 'Not one more American life should be given up in the name of open borders'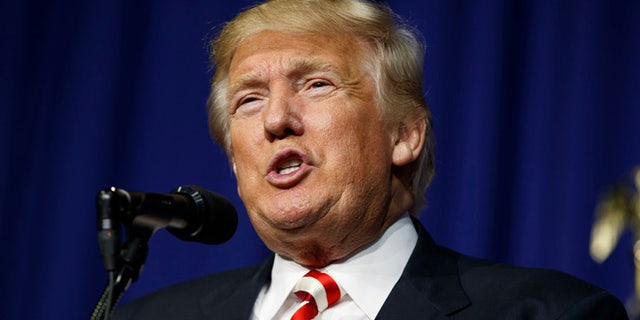 NEWYou can now listen to Fox News articles!
HOUSTON (AP) – Donald Trump, who has made a hard-line stance on immigration a centerpiece of his presidential campaign, asserted Saturday that "not one more American life should be given up in the name of open borders."
"All across this country, dining room tables have an empty seat because the government abandoned its duty and has not enforced its basic laws," the Republican presidential nominee told a gathering of the Remembrance Project, a group founded to remember those killed by people living illegally in the U.S. and to press for tougher laws. "This has to end. This will end if I become president."
Two dozen members of the organization sat behind Trump as he spoke, and several told their stories, often gruesome, of how their loved ones lost their lives. Trump has appeared with members of the group several times, including during the speech to lay out his immigration policy in Arizona last month. He vowed to continue to "shine a national spotlight" on their work.
"Politicians ignore your cries, but I never will," Trump said.
Maria Espinoza, founder of the group and daughter of a Mexican immigrant, praised Trump's advocacy. But the Houston-based group has come under scrutiny for some of its pronouncements, including Espinoza's false assertion that immigrants who are in the U.S. illegally kill 25 Americans a day.
Trump has long talked tough on immigration, deriding Mexico as a source of rapists and criminals in his campaign kick-off speech last year and vowing to build an impenetrable wall on the nation's southern border. He is not proposing a pathway to legal status for people living in the country illegally but has backed away from his call for the mass deportation of millions of people who have not committed crimes beyond their immigration offenses. But he also ruled out what he dismissed as "amnesty," saying those who want to live legally in the U.S. will need to leave and head to the back of the line in their home countries.
Later Saturday, Trump hit back at the former defense secretary who called the Republican nominee "beyond repair" when it comes to national security.
Robert Gates, who served under presidents of both parties, wrote in The Wall Street Journal Saturday that Trump is "stubbornly uninformed" about the world. Trump, at a rally in Colorado Springs, Colorado, called Gates "an absolute clown," insinuated that "probably has a problem we don't know about" and then claimed that he would be "so much better at what he's doing" than the former Cabinet member.
But Trump made no mention Saturday of either controversy that dominated the political world a day earlier: he did not address his decision to finally acknowledge that President Barack Obama was born in the United States or his call for Hillary Clinton's Secret Service agents to drop their guns and then "let's see what happens."
Trump's running mate, Indiana Gov. Mike Pence, released a two-page letter from his doctor Saturday vouching for his "excellent" health, summarizing his medical history and results of a July physical exam. Pence, 57, released the letter after Trump, Democrat Hillary Clinton and her running mate, Tim Kaine, also provided some details of their medical history. The health of the candidates has become an issue since Clinton stumbled at a 9/11 memorial event and revealed afterward that she had been diagnosed with pneumonia.
Pence's doctor disclosed that Pence had basal cell carcinomas — skin cancer — removed from his face in 2002 and 2010. He also had surgery in August 2015 to repair a hernia. The doctor said the only medication Pence takes is Claritin for seasonal allergies, he does not smoke or drink alcohol, has diet-controlled heartburn and exercises four times a week.
Pence campaigned Saturday in The Villages, a sprawling retirement community northwest of Orlando, before tailgating with Florida Gators fans before their game against North Texas.
Like us on Facebook
Follow us on Twitter & Instagram