Trump may be causing spike in immigrants seeking U.S. citizenship in time to vote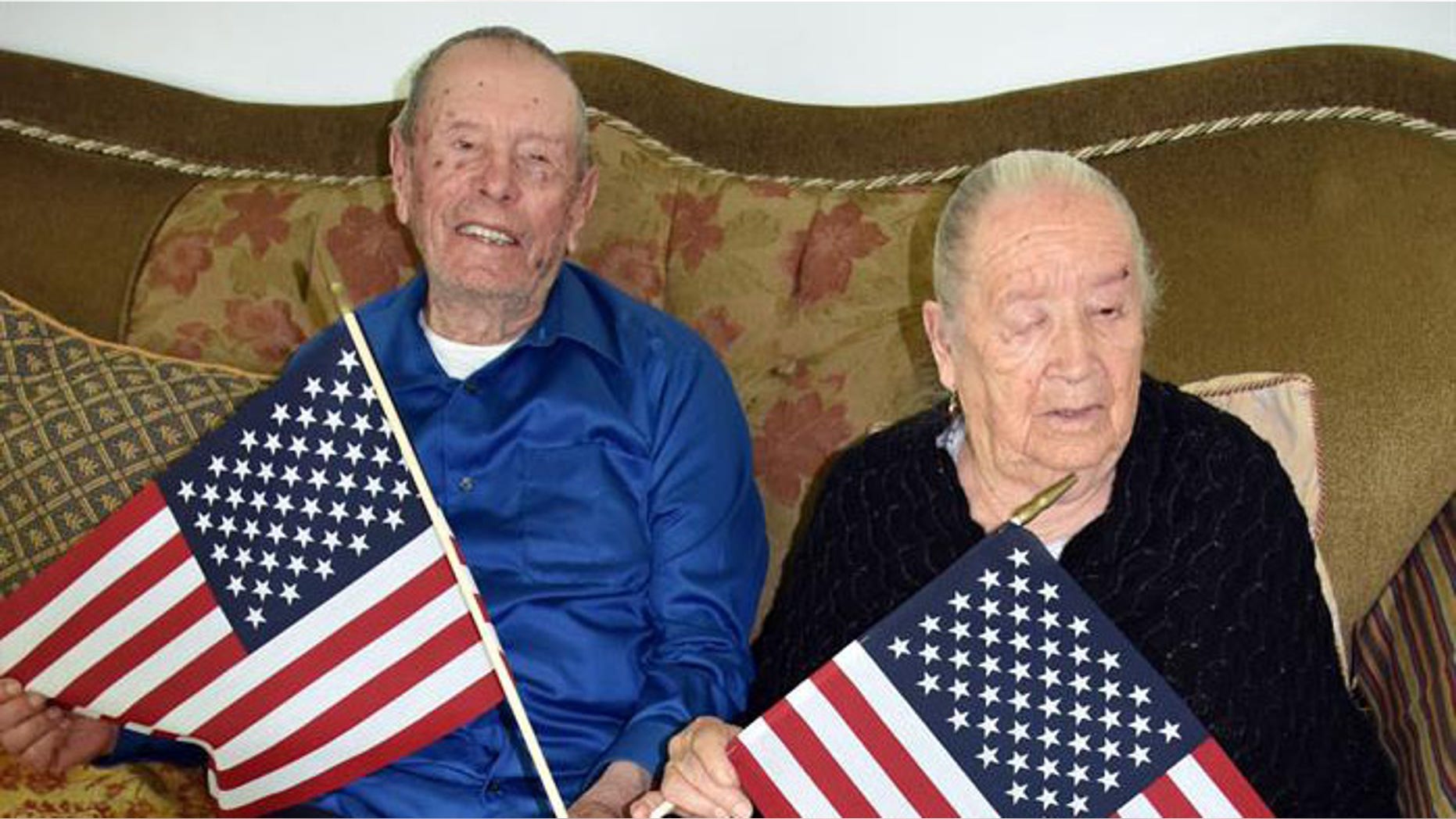 Omary and Daniel Enriquez have lived in the United States for 15 years, but the legal permanent residents, who are from Cuba and now live in South Florida, never felt any urgency to become naturalized citizens – until now. Until Donald Trump.
Omary Enriquez said she and her husband feel compelled, even if they are just two people, to do their part to help stop Trump from becoming the president of their adopted homeland.
The couple, from Hialeah, is studying to take the citizenship exam in the hope of taking the oath and registering to vote in time for the general election.
"It's one vote, but each vote can make a difference," she said.
Mexican-born Ignacio Villegas, 101, and his wife, 94-year-old Maria Guadalupe Correa, have been living in California since 1968 but never felt compelled to become citizens. Until last year. Now they are both naturalized.
"We are citizens and we feel very secure living here," said the couple's daughter, Evalia Navarro, adding that there are people who would be in a risky situation if Trump takes the Oval Office.
The two families are among a number of immigrants around the country who activists and leaders of various ethnic communities say appear unusually driven to become American citizens for two reasons: so that they can vote in the presidential election this year and because they are uneasy about what would happen to them once Trump becomes president.
Trump, who on Thursday passed the required 1,237 delegate count needed to win the Republican nomination outright, has enraged many Latinos and other immigrants by denouncing Mexico as a country that dumps rapists and drug dealers on the U.S., and by vowing to take draconian steps to go after undocumented immigrants. But even those here legally who never felt the urgency to become U.S. citizens are becoming worried that their legal standing in the country could become shaky if Trump becomes president.
Evelyn Perez-Verdia, a Miami-based political analyst who writes a blog titled "Political Pasión," says Trump's rhetoric is having a chilling effect among groups far beyond undocumented immigrants.
"In the 14 years I have being working as a consultant in government and politics, I have never seen [Latinos] so awake," Perez-Verdia told FNL.
"The undocumented are not the only fearful ones – others fear that laws will be changed for legal permanent residents and are studying to become citizens," Perez-Verdia said. "Even with the lack of understanding that most Hispanics have about voting or government, they are wanting to vote and are [finding out] how."
In various parts of the country, political and community leaders report seeing Latinos naturalizing and registering to vote in higher numbers than previous years, including previous presidential elections. More than 252,000 citizenship applications were filed in the first quarter of 2016, from January to March, according to newly released data by United States Citizenship and Immigration Services. That's an increase of nearly 28 percent over the same period of fiscal year 2015.
The data also shows a 14 percent rise in the last quarter of 2015 over the last quarter of 2014.
"If this rate continues, then we will see 952,800 new citizens and potential voters this year," said the National Partnership for New Americans in a statement.
The Washington Post said that of the people naturalizing more are then taking the step to register to vote than before.
Several organizations have joined forces to launch naturalization workshops and voter registration drives.
One coalition effort that includes groups such as Mi Familia Vota, Latino Victory Foundation and Service Employees International Union and is titled "Stand Up to Hate," announced the campaign by saying, "The stakes are incredibly high for Latinos and immigrants in the 2016 election. Now is the time to naturalize, register, mobilize and energize Latino voters to head to the polls and remind presidential candidates of the power Latinos harness when they make their voices heard."
In April, more than 400 legal permanent residents attended a two-day citizenship drive at a mall in Florida, according to the coalition. In a statement about the event, the coalition said, "A line of over 100 Jamaican, Haitian, Dominican and Latino immigrants had already formed and wrapped around the building Saturday morning by 9 a.m. before the doors opened."
Rep. Luis Gutierrez, an Illinois Democrat who is one of the most vocal advocates for immigrants in Congress, told Fox News Latino that hundreds of immigrants attended a citizenship workshop in Chicago.
"There is something unique and significant happening in immigrant communities and more broadly in the Latino community," Gutierrez told FNL. "There is a hunger for citizenship, and it is driven by the desire to participate in this year's presidential election."
He added, "I have done events on citizenship throughout my career, but there is something new going on now, and I think we all know that the tone and tenor of the presidential race has a lot to do with it."
But not all analysts are convinced this will necessarily translate into many more Latinos going to the polls.
Mark Hugo Lopez, the director of Hispanic research at the Pew Research Center, said there usually is an uptick in citizenship and voter registration activity in presidential years.
"It doesn't seem to be up that much compared to what we've seen in previous years, such as 2007" when naturalization rates rose in response to plans by immigration authorities to raise fees.
"People started applying to beat the fee increase," Lopez said. "This year perhaps is outpacing 2012, but it's not rising like it did in 2007, when there were 1.5 million."
Many things deter people from naturalizing, Lopez noted, among them the costs of naturalizing, which runs into the hundreds of dollars. There's also a fear of not being able to pass the test, and there are emotional reasons, with people feeling like they are betraying their native land by taking on another nation's citizenship.
"Many Mexicans want to continue as Mexican citizens," Lopez said. "They're the biggest Latino immigrant group, but the ones who have the lowest naturalization rate – below 40 percent."
EFE contributed to this report.