Trump lawyers consider possible interview of president by Mueller team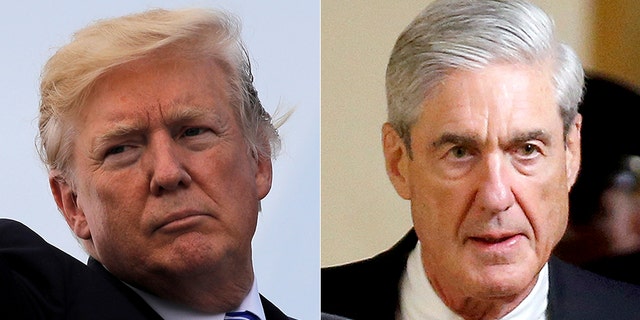 NEWYou can now listen to Fox News articles!
President Trump's lawyers are preparing for the possibility that Special Counsel Robert Mueller's team will ask to conduct an interview with the president himself as part of the Russia probe, Fox News has learned.
There has been no official request by Mueller's office to interview the president yet, but Trump's lawyers are anticipating that Mueller may request information from Trump before winding down the investigation into Russia's attempted meddling in the 2016 election.
According to sources, conversations with Mueller's team about an interview are in the early stage. It is still possible an interview won't even take place.
But the president's legal team is considering a number of possible options for such an interview, including an in-person interview of Trump, written responses to questions submitted by Mueller's investigative team or an affidavit signed by the president stating his position on the case.
In a statement to Fox News, Trump lawyer John Dowd wouldn't comment on the legal team's communications with the special counsel's office.
"The White House does not comment on communications with the OSC out of respect for the OSC and its process," Dowd said. "The White House is continuing its full cooperation with the OSC in order to facilitate the earliest possible resolution."
At Camp David on Saturday, Trump suggested he is willing to speak with Mueller if asked, when asked by a reporter if he's committed to being interview by the special counsel.
"Yeah," the president said. "Just so you understand -- just so you understand, there's been no collusion; there's been no crime. And in theory, everybody tells me I'm not under investigation."
NBC News first reported the talks between Trump's lawyers and Mueller's team about an interview.
Fox News' Alex Pappas contributed to this report.