Trump deflects Fox questions, rivals fail to capitalize in Detroit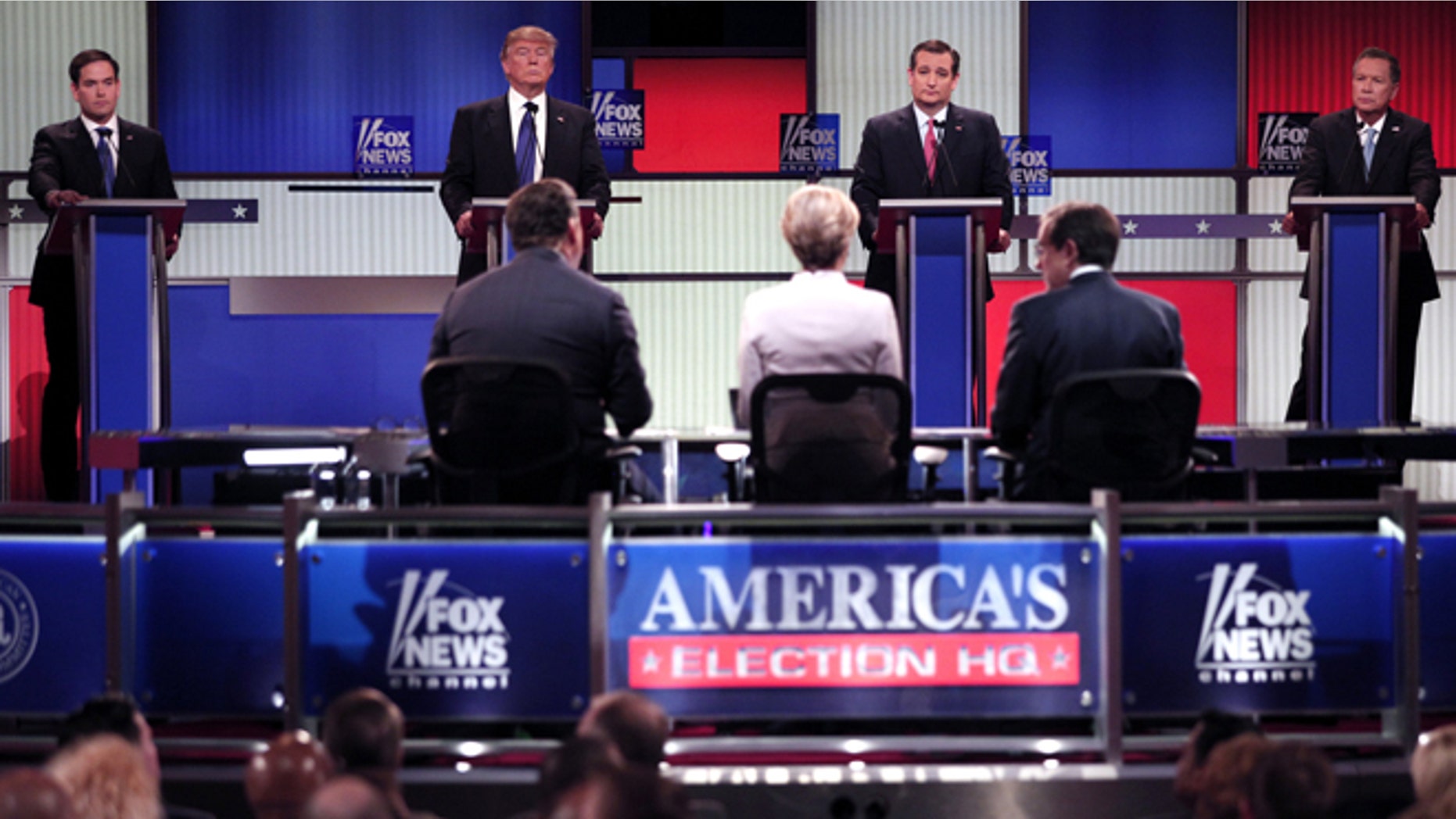 Donald Trump began the Republican debate here in Detroit by deflecting two hardball questions and one attack.
Trump the insult machine was absent. In his place was a more seasoned politician taking a somewhat higher road.
Trump briefly responded to a litany of Mitt Romney attacks, quoted by Chris Wallace—bullying, greed, misogyny—by quickly calling him a failed candidate and pivoting to trade. He again disavowed David Duke and the KKK without challenging the question.
And when Marco Rubio reprised his "small hands" jibe at Trump, The Donald retracted his "lightweight" label for the senator, defended his hands and became the first presidential candidate in history to refer to the size of his package. (Though moments later, when Marco Rubio hit him for inherited money and making clothing abroad, Trump said that "this little guy has lied so much about my record" and then kept calling him "Little Marco.")
Trump's goal coming into the Fox News debate, as the overwhelming front-runner, had to be to emerge with only minor scratches that would not undermine that status. And since he skipped the last Fox debate in Iowa, many media outlets, from Drudge to the New York Times, billed it as a rematch between Trump and Megyn Kelly. (She said hi, he said nice to see you, and they moved on to a question about that off-the-record New York Times discussion of immigration.)
Ted Cruz hit Trump as not being a real conservative and tried to tie him to government "corruption" because of his past support of Democrats. John Kasich said "you all wrote me off." And the overall tone was less bitingly personal—and the combat less raucous—than in the out-of-control CNN debate. Perhaps each candidate realized he had gone too far. Plus, the Fox moderators controlled the agenda and the pacing through carefully pointed questions, such as when Wallace pressed Trump on his budget math using graphics. He has learned to pivot from uncomfortable questions back to his packaged points.
Trump's game plan was to stay on the high road but Rubio got under his skin early and he was back to "Little Marco." He didn't have great answers on the budget math but largely emerged unscathed, especially on the Romney and KKK questions.
Cruz's effort to tie Trump to government "corruption" by citing his past support of Democrats fell flat and broke no new ground. He was solid and confident as usual, but not as strong a presence here as in most of the previous debates. He made no mistakes but kept getting bogged down in poll questions, which enabled Trump to cite his superior numbers.
Rubio was again the most aggressive on the stage, but his slams against Trump seemed recycled. He jumped in when Kelly asked about Trump's off-the-record discussion of immigration with the New York Times, with the senator asking the billionaire to authorize release of the tape. Trump said a little "give and take" on issues was fine, and said his respect for the pledge of "off the record" prevented him from making the editorial board session public.
Rubio never really scored a direct punch or created a moment as he did in the last debate.
Kasich tried to avoid the squabbles, drawing cheers when he spoke of making government work, but as a result he often seemed like an afterthought.
The high point of the debate was Trump's handling of a video montage presented by Kelly. The clips showed the front-runner changing his position on Afghanistan, Syrian refugees and weapons of mass destruction in Iraq. Trump calmly conceded that he had changed his positions, based, he said, on new information.
Kelly quickly got to the nub of the matter: Does Trump have a core?
Trump, unruffled, said that he does but that a politician has to show a certain degree of flexibility.
There was a lengthy back and forth about allegations involving Trump University, which kept him on the defensive but the details about affidavits and refunds were hard for the audience to follow.
Overall, it was a spirited and substantive debate. But I expected more blood on the floor.
Bottom line: Nothing that happened here in the Fox Theater altered the situation in which the Republican establishment is still desperately trying to derail the Trump express.