Trump arrives in Mexico to meet with President Peña Nieto ahead of immigration speech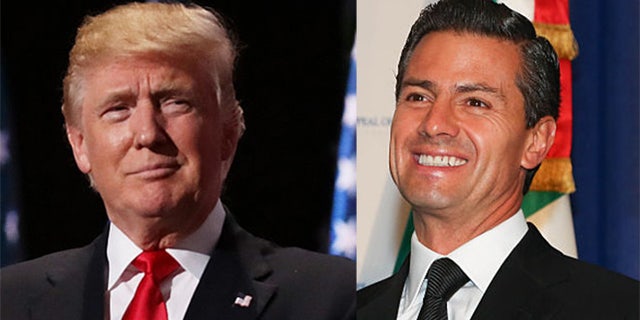 NEWYou can now listen to Fox News articles!
For more than a year, Republican presidential nominee Donald Trump has derided Mexico as an exporter of rapists and criminals and a country that is stealing jobs and money away from the United States. The billionaire businessman's rhetoric has angered many Latinos across the U.S. and in Mexico, whose president even once compared him to Adolf Hitler.
So many were surprised when, in a late night tweet, Trump announced he had accepted an invitation by President Enrique Peña Nieto to a private meeting in Mexico City on Wednesday, just hours ahead of the candidate's highly-anticipated on immigration.
Peña Nieto extended invitations to both Trump and his opponent, Democratic nominee Hillary Clinton, on Friday.
In the past week, Trump has suggested he might be open to "softening" his hard-line stance on immigration, which at one point he said would include the creation of a "deportation force" to expel all of the estimated 11 million people living in the country illegally.
But in the days since, Trump and his staff have broadcast varied and conflicting messages — though on Wednesday Conway appeared to make clear that Trump had decided against allowing immigrants in the U.S. illegally to stay.
"(T)he point that Mr. Trump has made again and again is that you don't get amnesty and you don't get legalization since you broke the law to be here in the first place. But then he also respects it's a complex issue," Trump's campaign manager Kellyanne Conway said in an interview with MSNBC. She added that Trump's plan would be "the toughest on illegal immigration than anyone's ever been and he means it, he's meant it from day one."
On the eve of Wednesday speech, Trump's campaign added a new wrinkle with news that he would be paying a surprise visit to Mexico City.
Trump took to Twitter on Tuesday night to say he looks "very much forward" to meeting with Peña Nieto.
Soon afterward, Hillary Clinton's campaign delivered the following statement:
"From the first days of his campaign, Donald Trump has painted Mexicans as 'rapists' and criminals and has promised to deport 16 million people, including children and U.S. citizens. He has said we should force Mexico to pay for his giant border wall. He has said we should ban remittances to families in Mexico if Mexico doesn't pay up. What ultimately matters is what Donald Trump says to voters in Arizona, not Mexico, and whether he remains committed to the splitting up of families and deportation of millions."
Peña Nieto has been sharply critical of Trump's original immigration policy, particularly the Republican's plan to build a wall along the length of the southern border and his insistence that Mexico would pay for it. But he cast a different tone late Tuesday, writing on Twitter of the visit, "I believe in dialogue to promote Mexico's interests in the world and, principally, to protect Mexicans wherever they are."
While Trump's visit came as a surprise, New Jersey Gov. Chris Christie, a close Trump adviser, has been among those pushing Trump to make the trip, according to a person familiar with their conversations who spoke on the condition of anonymity in order to discuss them publicly. Christie made his own successful trip to Mexico City in September 2014 and has a warm relationship with the Mexican president.
Trump's short stop in Mexico would mark his second visit to a foreign country during his campaign. Earlier this summer, Trump traveled to Scotland to attend the re-opening of one of his golf resorts, but notably didn't meet with any U.K. political leaders while there.
The Republican has faced a torrent of criticism from Clinton, a former secretary of state, about his preparedness to lead on the world stage. Several Republican foreign policy experts have also warned that Trump is unprepared for the numerous international issues that land on a president's desk.
Clinton's campaign has urged voters to not "be fooled" by what it calls Trump's attempts to disguise his immigration policies.
"What ultimately matters is what Donald Trump says to voters in Arizona, not Mexico, and whether he remains committed to the splitting up of families and deportation of millions," said Clinton campaign communications director Jennifer Palmieri.
Like us on Facebook
Follow us on Twitter & Instagram