Trump aide John McEntee escorted out of White House, moves to campaign
President Trump's longtime personal aide was unceremoniously escorted from the White House Monday and moved to a position at Trump's 2020 campaign -- the latest in a series of rapid-fire personnel departures.
The Trump campaign announced Tuesday that John McEntee, a former UConn quarterback, would be the new senior adviser for campaign operations.
A White House official told Fox News that McEntee was escorted out of the building on Monday. The Wall Street Journal first reported on McEntee's departure, citing an unspecified security issue.
CNN, meanwhile, reported that he was under investigation by the Department of Homeland Security for financial crimes. The Secret Service offered "no comment" when asked to confirm that report. Sources also told Fox News that security clearance was not the issue.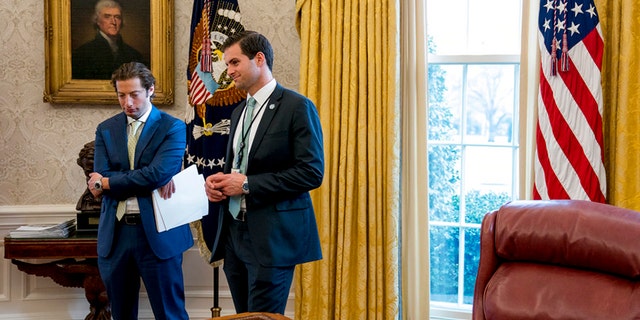 The Journal reported that McEntee was a constant presence by Trump's side, making sure he had markers to sign autographs, delivering messages and even ensuring the White House clocks were adjusted to daylight-saving time.
The outlet reported that McEntee was not allowed to collect his belongings and even left without his jacket.
McEntee's departure marks the latest in a shakeup of personnel in the administration.
On Tuesday, the White House announced that Secretary of State Rex Tillerson was leaving his post, to be replaced by CIA Director Mike Pompeo.
Fox News'  Serafin Gomez, John Roberts and Peter Doocy contributed to this report